DCEU's high-ranking official and the Director of A.R.G.U.S. will finally get her own series. Waller, which is the spinoff of the Suicide Squad HBO Max series Peacemaker, will be one of the first TV shows that will be produced under James Gunn's and Peter Safran's DC universe, Chapter One, Gods and Monsters.
Since Gunn will be busy working on Superman: Legacy, season 2 of Peacemaker will be put on hold. In the meantime, "team Peacemaker" will appear alongside Viola Davis as a "continuation" of the show, Gunn has confirmed, as reported by Deadline.
WALLER GETTING NEW TELEVISION SERIES
According to Gunn, the series will center on Amanda Waller, who is a senior civil servant/director of A.R.G.U.S. She established the Suicide Squad where she assembles a team of expendable metahumans who would be used to execute operations against threats. 
Watchmen EP Christal Henry is set to be writing and executive producing, Gunn and Safran have also announced that Doom Patrol creator Jeremy Carver is joining her to write the Waller series.
"We're using the same actors; this is a continuation of Peacemaker. I'm working on Superman, so we can't do Peacemaker season 2. We're working on Waller in between."

James Gunn via Deadline.
CREATURE COMMANDOS ANIMATED SHOW IN THE WORKS
With the announcement of Waller, Gunn and Safran have also revealed a new animated series called Creature Commandos. The seven-episode series has already been fully written by Gunn himself and is currently in the process of selecting the cast members.
RELATED: JAMES GUNN ANNOUNCES OFFICIAL TITLE AND RELEASE DATE FOR NEW SUPERMAN FILM IN 2025 ALONG WITH SO MUCH MORE!
It was also announced that the interconnected DC Universe will factor in animated movies and series, which means the team will be looking for people who can also portray their characters in live-action form when the time comes.
Creature Commandos is currently in the early stages of production, Gunn revealed what characters from the comic book series will be in the television series: Rick Flag Sr., Nina Mazursky, Dr. Phosphorus, Eric Frankenstein, G.I. Robot, and Weasel. It was also announced the lead character will be The bride of Frankenstein.
CONNECTIONS BETWEEN CREATURE COMMANDOS AND WALLER
Creature Commandos will be the series that will kick off Amanda Waller creating a black ops team formed by the monstrous creatures. During the press conference, Safran praised Gunn's writing of the series, stating that he's "staggered at the caliber of the scripts. We'll see how everything else comes, but the screenplays are amazing."
It's been noted that with the characters that will be in Creature Commandos that there will be some possible connections for the upcoming projects in the DCU. Dr. Phosphorus is one of Batman's villains from the comics. Also, with Batman, Robin, and the extended Bat Family that will be arriving on the big and small screen, there's a likely chance that these two will connect.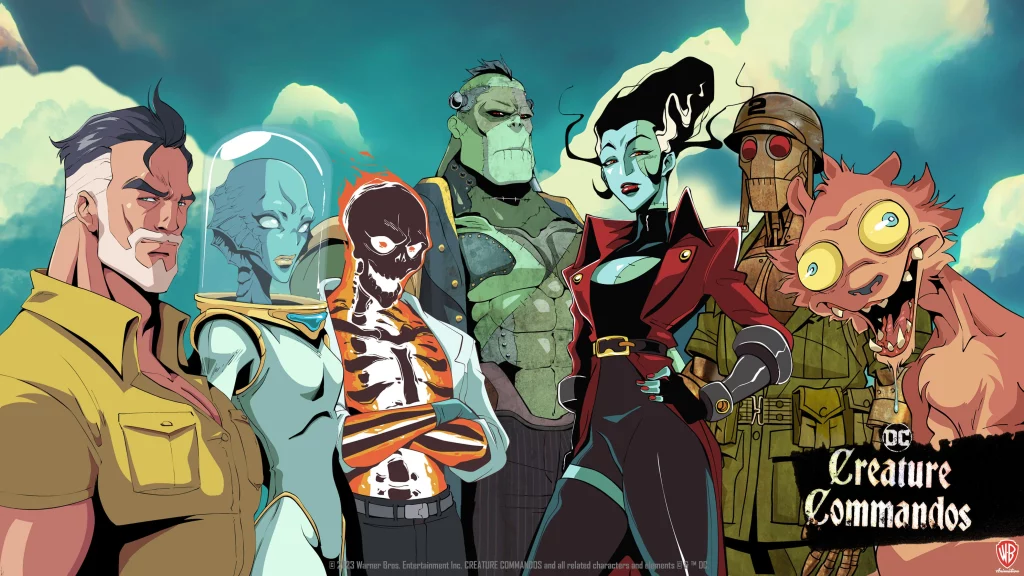 The Creature Commandos has some hint of Suicide Squad vibes and with Gunn taking over both this series and Waller, it seems like this series will be in good hands when it comes to the DC projects.
Both Waller and Creature Commandos are expected to premiere sometime before 2025 as "aperitifs" to the next Superman installment.
RELATED: DC ELSEWORLDS BRAND ESTABLISHED FOR FILMS SET OUTSIDE DCU; THE BATMAN 2 RELEASE DATE REVEALED!
What do you guys think? Are you excited for both Waller and Creature Commandos? Which one are you most interested to watch? What do you think about the DC slate? Let us know in the comments or tweet us your answers at @The_Illuminerdi. Don't forget to follow us on all of our socials so you can stay up to date with the latest pop culture news!
KEEP READING: EDITORIAL: HENRY CAVILL LEAVING SUPERMAN WAS A NECESSARY EVIL