The third annual X-Men Fan Vote is here and it's time to find out which mutants will be participating. Fans are able to vote for their favorite candidate to join the X-Men team. The first year, we were able to see Polaris win the popular X-Men fan vote followed by Firestar the following year.
This year six X-Men are currently up on the ballot. The characters are as follows: Cannonball, Dazzler, Frenzy, Jubilee, Juggernaut, and Prodigy. Polaris joined in Gerry Duggan and Pepe Larraz's X-Men while Firestar starred in Duggan, C.F. Villa, and Joshua Cassara's X-Men. Here are the descriptions for each of the characters.
Jubilee
Jubilee joined the X-Men as a teenage runaway. Jubilation Lee was shooting explosive fireworks out of her hands for many years until she lost her powers on M-Day. Even when she lost her powers, that never stopped her from fighting for what was right. She first started as a New Warrior using a power suit and later on as a vampire, she would go against the monstrous urge that came with the transformation.
RELATED: Loki: The Awesome Jonathan Majors Might Play This [SPOILER] Surprise Variant In Season 2
Now that she has been cured of the curse and her mutant powers returning to her, Jubilee deserves to reclaim her spot on the X-team. She is the daughter of two Hong Kong immigrants, she was born and raised in Beverly Hills, California. While she went to school, she discovered her talent for gymnastics.
Sadly, her parents were killed in a mysterious car accident, which led to her being sent to an orphanage resulting in her eventually running away and meeting the X-Men.
Dazzler
Born to Carter and Katherine Blaire, Alison Blaire's parents had a very tense relationship. While her father was a stoic law student, her mother was a free-spirited entertainer. Katherine ended up walking out on both Carter and Alison, leaving Carter to take care of his daughter with the help of his mother, Bella Blaire. Once Alison entered her teenage years, she dreamed of becoming a singer. Carter, who was now a judge at this time, refused that idea.
RELATED: Marvel's Thunderbolts Casts Breakout Star Ayo Edebiri
He wanted her to follow the same career path as his but Alison's grandmother was more kind and allowed young Alison to explore her creative side. Her powers soon manifested her mutant abilities while she was performing at a junior high school dance, blinding all in attendance. She made her first appearance on the scene as a pop star by using her powers to transform sound into light as part of her performance.
Once she joined the X-Men, she became a hero because she learned to use her ability to dazzle as an offensive weapon. She's been a S.H.I.E.L.D. agent, a freedom fighter, a mother to a time paradox, and a vampire hunter.
Cannonball
Samuel Zachary Guthrie was the eldest son of a large farming Kentucky family. He helped out his family by working in a coal mine after his father had died inhaling coal dust. On the first day he began working, Sam and his father's friend Lewis, were trapped in a cave-in. This ultimately led to his mutant powers manifesting, which allowed him to blast his way out of the cave with Lewis.
RELATED: Chloe Bennet Fires Back Against Twitter Critic, Potentially Hinting at Surprising MCU Return
With this incident, Donald Pierce, a cybernetically-enhanced human, recruited Guthrie to attack a young group of mutants Professor X had assembled. He eventually came to his senses and turned against Pierce. With this, Professor X invited him to join the New Mutants.
He's able to transform into a human cannonball and became one of the original New mutants who were the second class of students at the Xavier School.
Juggernaut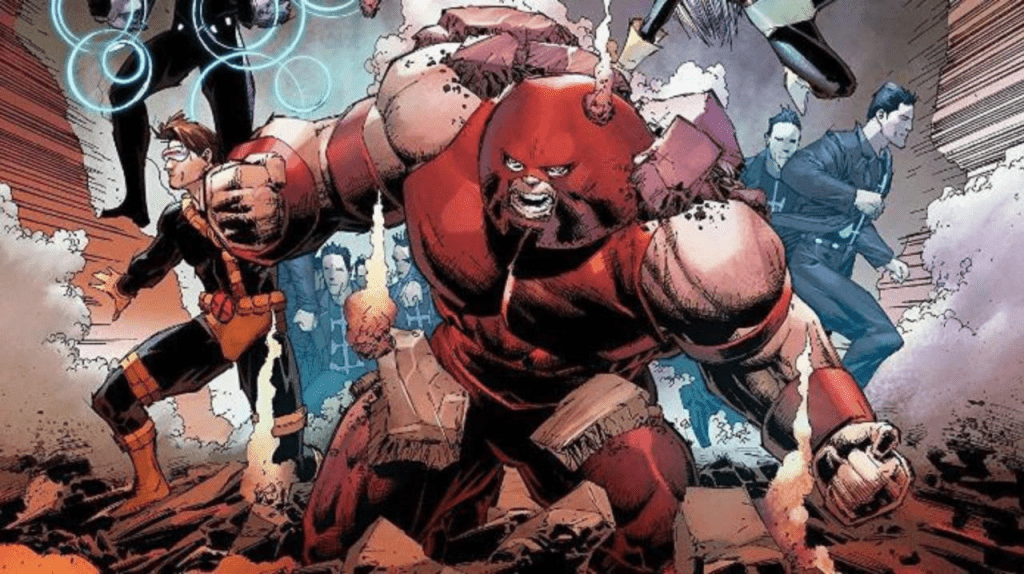 He's the non-mutant stepbrother of Professor X, Cain Marko was able to claim the gem of the ancient God Cyttorak. He was able to transform himself as the unstoppable Juggernaut. For many years, he was a problem for the X-Men. He would frequently rampage through their lives and wreak havoc.
RELATED: Blade Reboot Gets a New Rumored Production Start After Unfortunate Delays
Recently, Marko has shaken the influence of the dark master, claiming his power back under his own terms and making amends for his past deeds. As a child, Marko was regularly abused by his alcoholic father. Xavier was treated better and he also exceeded Marko in studies and sports.
He does have a villainous past but after years of being a villain and a terrorist, he started to reform. He eventually reconciled with Xavier, joining the X-Men and later the Excalibur.
Prodigy
David Alleyne was always bright and intelligent. When his mutant powers activated, he soon realized that he had the ability to telepathically absorb the knowledge and skill of anyone nearby. He kept his powers hidden while taking college courses in high school and started working with Karma at the university library until he was outed by a hate group called Purity.
RELATED: New Guardians of the Galaxy Vol. 3 Funko Pops!, Soda Pops!, Plushes, and More
He was eventually enrolled in the Xavier Institute, given the codename Prodigy where he was placed with Danielle Moonstar's New mutants Training Squad. Prodigy was appointed as team leader but declined. He has the ability to retain knowledge from sources, which makes him a formidable mutant.
He's brilliant at biology, computers, martial arts, and strategic planning.
Frenzy
Joanna Cargill is a night-invulnerable mutant. She suffered abuse from her father, which led her to run away from home after accidentally killing him after her powers formed. She rebelled against humanity and joined Apocalypse, taking on the name Frenzy as an alias with the group Alliance of Evil.
RELATED: Ant-Man and The Wasp: Quantumania Unveil 7 Amazing Character Posters… Sadly No Luis
She has superhuman strength, speed, stamina, agility, reflexes, and durability which makes her a great opponent to those who cross her. Even though she joined multiple villain groups, she eventually landed on the good side of the Jean Grey School.
This led her to become an intergalactic ambassador with S.W.O.R.D. which makes her a great addition to the X-Men if fans decide to choose her.
The polls to choose your favorite character to be part of the X-Men are now open. They opened on Tuesday January 31 and they will run until 11:59 pm EST on Friday, February 3. The voting will take place at marvel.com/xmenvote so don't forget to go and cast your vote before it's too late!
What do you guys think? Will you be casting your vote during this year's X-Men fan vote event? Who will you cast your vote on? Let us know in the comments or tweet us at @The_Illuminerdi. Don't forget to follow all of our socials so you don't miss any upcoming pop culture news.
Source: Marvel
KEEP READING: Invincible Season 2 Will Release Late in 2023 With a Showdown with Immortal