Violent Night has a lot of great action sequences, but how do the writers write them to existence?
The greatest Christmas movie of all time, Universal Studios' Violent Night, has everything… Which is why it is the greatest Christmas movie of all time. It brings families together, it has holiday hijinks and loads of great action sequences. Regardless of how great a book or other text-based medium is, action is always better on film (digital/screens/whatever way you get to see it). Seeing the action unfold is always a magical experience in which cinema easily reigns supreme. But movies work off scripts, so how do movies translate words into the dodge, duck, dip, dive, and dodging we see on screen?
I asked the writers of Violent Night, Josh Miller and Patrick Casey, their process of bringing action scenes going from their minds to the page, to the screen, and they share some great insight and also their secret weapon, 87North.
How Violent Night Writers Wrote the Action Sequences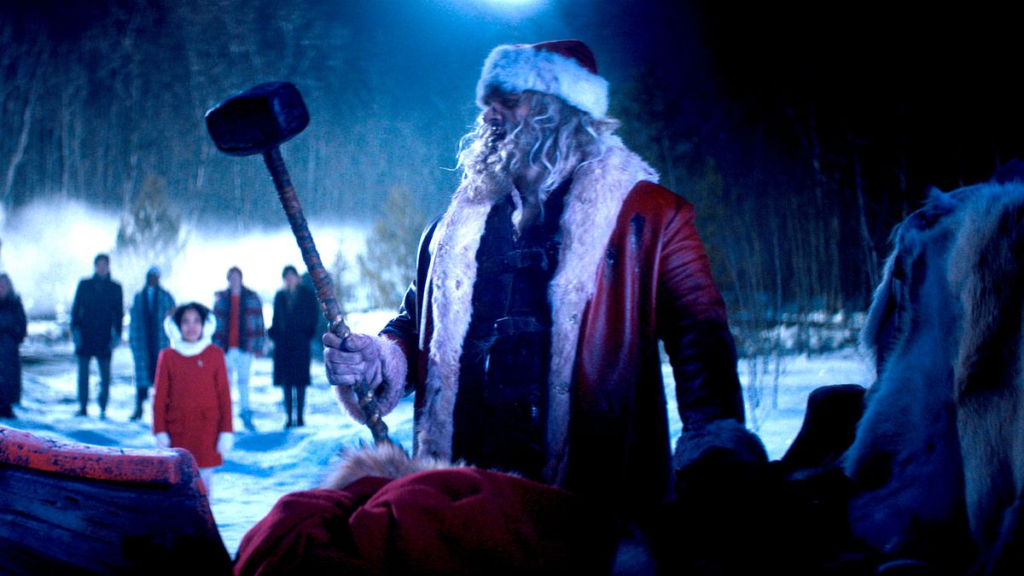 The Illuminerdi: There are some really intricate action scenes in the film. How do you translate it from your mind to the page? Is there a way that you set it up so 87North can bring it to life?
With 87North already on board, it was pretty easy for us to just be like, well, regardless of what we write here, they're going to do something even cooler. So we took the approach of kind of just giving each fight sort of a gimmick, usually based on its setting, you know, like, Oh, this is the fight where he's using things he pulls out of the Christmas sack as weapons.

Josh Miller, Co-Writer of Violent Night
RELATED: Violent Night 2 Not Officially Green-Lit, But Writers Are Optimistic and Have Magnificent Ideas
Basically knowing they were working with 87North, Miller gave them a direction to and just let the 87North team run with it. Movies are a collaborative process, and with the trust and abilities of those involved, the collaboration yielded some of the most iconic fights in any holiday film ever created. Patrick Casey elaborates more on the collaboration.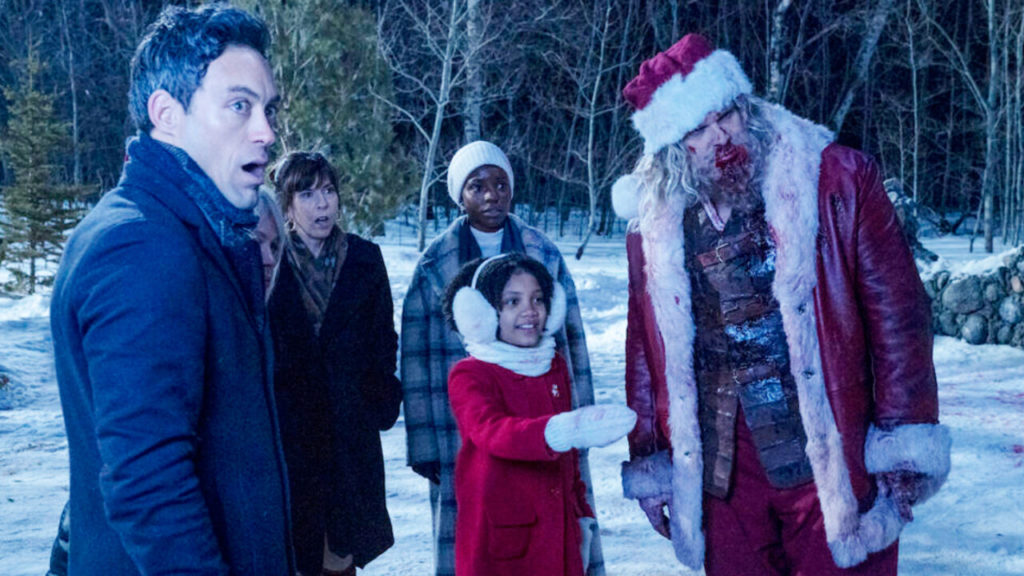 Yeah, we knew that 87North is like, they're obviously the best at what they do. So we didn't, you know, try and choreograph every punch or kick because that would be stupid. But rather gonna give them a template and let those guys build upon it. And it is a true collaboration. I mean, we try to set them up to help them look good. And then it becomes their job to make us look good. And they did a great job.

Patrick Casey, Co-Writer of Violent Night
RELATED: Violent Night Writers Share Their Secrets About Going from Fans to Creators
Hearing Casey and Miller talk about the collaboration was inspiring. There's something about working with others who do something very different from you do and getting to see something greater than the sum of its parts come out of it. It's even better when it gets greatly applauded by fans and critics alike.
Violent Night is available now on Blu-Ray, DVD, and digital on demand.
ABOUT VIOLENT NIGHT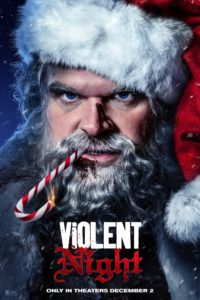 Availability: Currently available on Blu-Ray, DVD, and digital on demand
Director: Tommy Wirkola
Screenplay: Josh Miller, Patrick Casey
Producers: David Leitch, Kelly McCormick, Guy Danella, Annie Marter
Production Companies: 87North Productions, Perfect World Pictures, 87North
Cinematography: Matthew Weston
Cast: David Harbour, John Leguizamo, Cam Gigandet, Alex Hassell, Alexis Louder, Edi Patterson, and Beverly D'Angelo
Synopsis:
When a team of mercenaries breaks into a wealthy family compound on Christmas Eve, taking everyone inside hostage, the team isn't prepared for a surprise combatant: Santa Claus (David Harbour, Black Widow, Stranger Things series) is on the grounds, and he's about to show why this Nick is no saint.
Is Violent Night your favorite Christmas movie? Or do you have a bad choice as your favorite Christmas movie? Do you believe Die Hard is a Christmas movie? Share your reactions to the film and your thoughts on Christmas movies with us on social media.
KEEP READING: Ant-Man and the Wasp: Quantumania Review – Marvel Begins A New Dynasty