The final John Wick: Chapter 4 trailer is a rhymic symphony of bass, beats, and bloodshed.
John Wick accepts a one-on-one fight for his life and freedom from The High Table, but the entire organization seems hell-bent on ensuring he does not make his duel. But it seems Wick is recruiting anyone and everyone he can to take the fight back to them. Watch Keanu Reeves span the globe fighting, recruiting, and killing, in an incredibly choreographed, brilliantly imaginative, and head-bobbingly rhythmic final trailer for John Wick: Chapter 4.
John Wick: Chapter 4 Final Trailer
RELATED: Violent Night Writers Detail Incredible Process of Writing Action Scenes
Set to a new cut Nas's "Got Yourself a Gun," Keanu Reeves is shooting and killing hordes of people all around the world. The signature neon-lit rooms are mixed with expansive environments around the world, giving the film a grand scope and infinite playground to let the assassins of the John Wick world run wild. 87North looks to have elevated their work yet again by utilizing the environment and even fighting in traffic at the famous Arc de Triomphe Roundabout in Paris, France. Plus, it looks like Wick gets a new dog! It doesn't look like he knew the dog before it saved his life, but how are they not going to be best friends after That?
Character Posters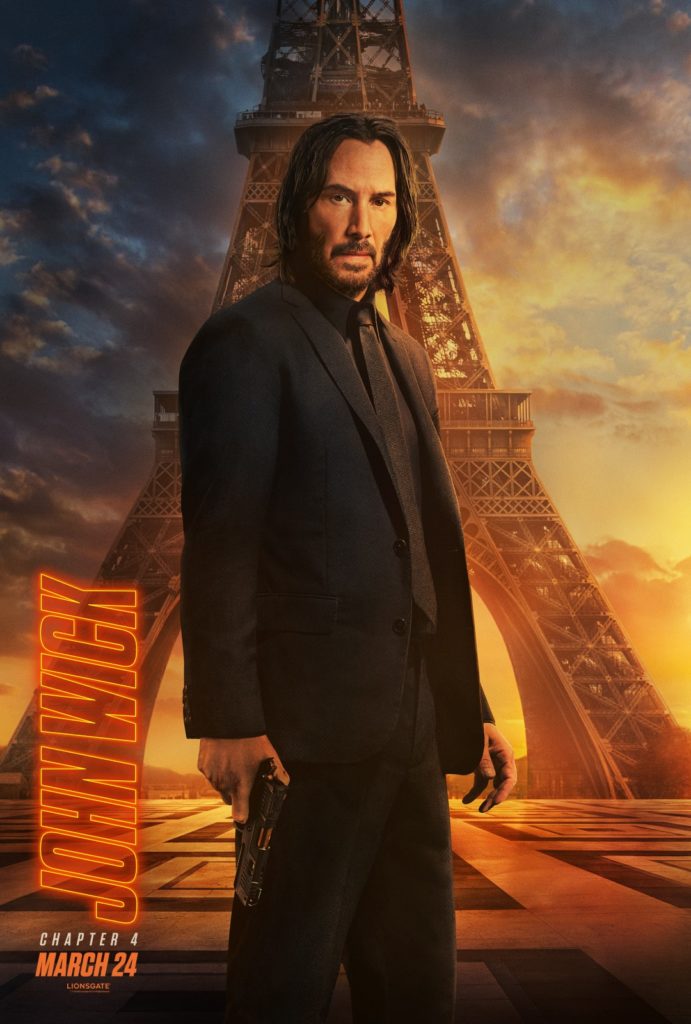 RELATED: Everything Everywhere All At Once Extended Final Fight Scene Features 2 More Opponents
In addition to the final trailer, character posters were released yesterday. Aside from Wick, 10 characters are featured, some familiar, others aren't, the trick is to figure out who is a friend and or who is an ally. Marquis, Caine, and Tracker have all been shown fighting wing, so it's unlikely they are. Killa seems like a name too obvious for an antagonist so he might be an ally. Winston shot Wick off a room, but they're also talking. Bowery King has a suit and gun for Wick so he's got to be a friend. Charon is as questionable as Winston. It's really hard to tell, but it keeps the intrigue and excitement for the film at an all-time high.
We'll soon find out who Wick can trust, and who has to be taken off the board, when John Wick: Chapter 4 releases exclusively in theaters on March 24, 2023
About John Wick: Chapter 4
Release Date: March 24, 2024
Directed by: Chad Stahelski
Screenplay by: Shay Hatten and Michael Finch
Based on Characters Created by: Derek Kolstad
Produced by: Basil Iwanyk, Erica Lee, Chad Stahelski
Executive Producers: Keanu Reeves, Louise Rosner, David Leitch, Michael Paseorn
Runtime: 2h 49m
MPAA Rating: R
Cast: Keanu Reeves, Donnie Yen, Bill Skarsgård, Laurence Fishburne, Hiroyuki Sanada, Shamier Anderson, Lance Reddick, Rina Sawayama, Scott Adkins, and Ian McShane
Logline:
John Wick (Keanu Reeves) takes on his most lethal adversaries yet in the upcoming fourth installment of the series. With the price on his head ever increasing, Wick takes his fight against the High Table global as he seeks out the most powerful players in the underworld, from New York to Paris to Osaka to Berlin.
Are you excited about John Wick: Chapter 4? Do you think he will be able to earn his life back? Will there be a Ballerina tease within the movie? Let us know your thoughts and theories on social media!
Source: Lionsgate
KEEP READING: Deadpool 3: Emma Corrin Cast in Lead Role In Marvel Studios Sequel