The Omega Rangers are joining Hasbro's prestigious Lightning Collection, the pantheon of action figures and collectibles dedicated to the Power Rangers.
For years Boom Studios has been releasing comics based on characters and plot points from the iconic three-season run of Mighty Morphin Power Rangers. These comics have taken those elements and created brand new suits, Zords, and storylines to add to the overall franchise history. One of the more recent and popular additions to the lore Boom Studios has added is the Omega Rangers.
WHO ARE THE OMEGA RANGERS?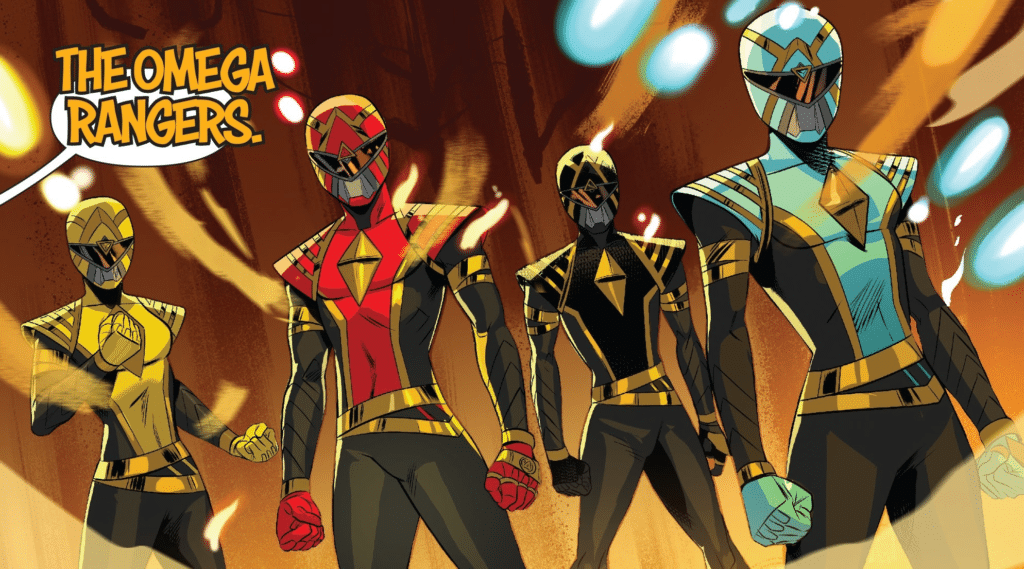 Created for 2019's Necessary Evil storyline beginning with Issue 40, the Omega Rangers were introduced as new Ranger forms for the classic characters of Jason, Zack, and Trini. Back in Season 2 of the original show, these characters left the show when the actors departed following a pay dispute. The show wrote them off with the explanation that the teens were chosen to go to an international peace conference and then were never seen again until future team-up appearances. 
RELATED: MIGHTY MORPHIN POWER RANGERS #103: A FAMILIAR EVIL AWAITS IN BOOM STUDIOS' LATEST EPIC
The comics changed this explanation into revealing this was all a front for a secret mission given to them by Zordon, now becoming the Omega Rangers. They were joined by a fourth member, the alien Kiya, as the Omega Blue Ranger, who would later turn against the team. Each Omega Ranger is based on one of the four elements: Fire, Earth, Air, and Water.
Now later this year, Hasbro will be adding these suits to their Power Rangers Lightning Collection in a new 4-pack. Similar to the Psycho and Alien Rangers before them, this team will all be released at once in this upcoming yet-to-be-revealed set. Because of this, there will not be civilian swappable heads included in this release, something that is unfortunate for brand new characters like Kiya but not as big of a deal for Jason, Zack, and Trini, who are all characters released before with heads that could be used for their Omega figures. 
FROM PAGE TO FIGURE
Jason and Trini just received new comic-based head sculpts in 2022 thanks to the GameStop Color Swap 2 pack release so it's nice to see Hasbro finally diving into more Boom Studios comic figures besides the popular Lord Drakkon, Ranger Slayer, and a few more here and there. 
RELATED: POWER RANGERS LIGHTNING COLLECTION ALIEN RANGER 5 PACK COMING IN 2023
The Omega Rangers have been included in other Power Rangers products, such as the Legacy Wars mobile game, and have had replicas of their helmets on display at different conventions.
While heads won't be included, the unique weapons used by the Omega Rangers will, in fact, be included in this set that currently has an unknown release date or price point but due to the $24.99 retail price for regular figures, it can be assumed this set will retail for close to $100.
Not included in this set are other Omega Rangers such as Yale, the cat-alien who became the next user of Omega Blue after Kiya or the new Death Ranger, who was previously the Gold Omega Ranger, but with the original Omega Ranger lineup coming to the Lightning Collection one can hope the others will be soon behind. 
The Omega Rangers went from being introduced in an older story arc to becoming the main team leading the Power Rangers comic series for 2 years, while Mighty Morphin Power Rangers was split into 2 different series. Due to their role, figures of the Omega Rangers have been highly requested figures from fans of the Lightning Collection, so it's nice to see Hasbro is finally going to be delivering later this year. 
To stay up to date with all the news for the Power Rangers Lightning Collection, fans can check out The Illuminerdi's Josh Perry on his weekly Lightning Storm YouTube series every Saturday at 9:00 am Pacific or on Twitter at @LightningFigPR.
What do you think of the latest news for the Lightning Collection? Which Boom Studios figures do you want to see Hasbro make? Leave your thoughts in the comments below. Also, be sure to follow The Illuminerdi on social media to be notified of more Power Rangers news and updates in the future!
KEEP READING: POWER RANGERS LIGHTNING COLLECTION: TAKING A LOOK QUALITY THE RAMPANT CONTROL ISSUES