HasLab is developing wild new Power Rangers Lightning Collection weapons that you will want to see!
---
Recently, The Illuminerdi reported on the info that Hasbro will be taking a hiatus for their Power Rangers Lightning Collection toy line in 2024. Soon after this report, Hasbro confirmed it to those present at San Diego Comic-Con in July stating that the line would be on hold until entertainment developments following the upcoming Power Rangers Cosmic Fury came to fruition. However, thanks to info gathered from a number of sources, there is one more, or technically two more big items planned for the Lightning Collection before it goes away for a while. 
WHAT IS HASLAB?
HasLab is finally tackling Power Rangers. Launched in 2019, HasLab is a program found on Hasbro Pulse where big expensive figures and vehicles from their numerous brands get the chance to actually be made for collectors by launching pre-orders in a crowdfunding format. Every few months a brand takes a turn proposing an idea for some large item, usually with a large price tag to go with it, that will go into production only if the minimum amount of backers are met by the end of a 45 day period.
RELATED: Hasbro's Power Rangers Lightning Collection to Take A Break In 2024: Exclusive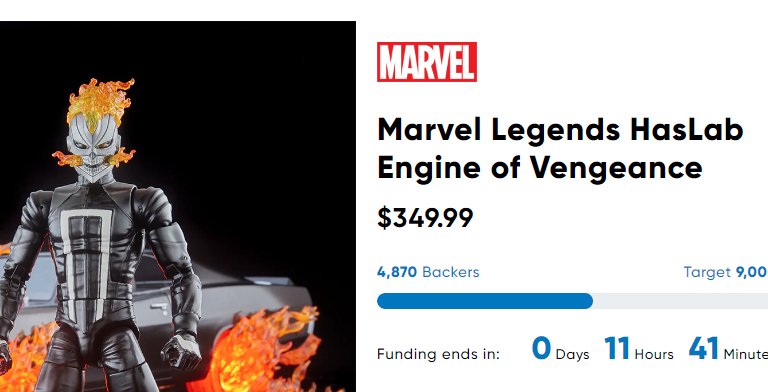 THE RISKS
Over the years nearly every major Hasbro brand has given HasLab a try for better or for worse results. Brands such as GI Joe and Marvel have found huge successes with their campaigns, while others such as Star Wars have had some duds. Currently, Star Wars has a campaign running for the Ghost spaceship from Star Wars: Rebels and the upcoming Star Wars: Ahsoka that has already met its minimum goal.
RELATED: Get Your First Look at The Mighty Morphin Power Rangers 30th Anniversary Comic Special
A few months back the Marvel Legends team hinted at an Avengers-themed HasLab item in the pipeline to celebrate the 60th Anniversary of the comic team. Now, The Illuminerdi can exclusively report that Power Rangers will be joining that pipeline with a role play entry. 

WHAT TO EXPECT
Ideas for Power Rangers HasLabs have been thrown around by fans for years, from team packs, to large Zords like Serpentara but we hear the plan that was decided on is the replica Power Bow and Power Axe. These weapons of the Pink and Black Rangers are the final Power Weapons needed to be released by Hasbro in order to make a fully combined collector Power Blaster piece, something many have been asking for. It's assumed these are going to be offered in a bundle together for a price we are hearing to be around $450.
RELATED: Power Rangers x Funko Series 2 Digital Pop! Drop Features Pops! From the Original MMPR Movie
Currently it is unknown what the backer total will be in order for these weapons to actually go into production, nor the date the campaign will launch. A safe bet would be a teaser from Hasbro themselves during the Power Rangers panel at Hasbro Pulse Con 2023, the online event taking place on Friday September 22nd. 
KEEP READING: POKEMON WORLD CHAMPIONSHIPS CONCLUDE: WINNERS, POKEMON BRAND UPDATES, AND MORE FROM THE 2023 EVENT
Historically Hasbro has launched HasLabs with stretch goals for more unlocked accessories if the items hit the minimum goal. At this time it's unknown what those would be for this but it could be something like the pieces to combine all 5 weapons or a stand or maybe even a giant effect part.
But if whatever the goal is does not get met within 45 days of the launch, these 2 weapons will never be manufactured.
What do you think of this development? Do you collect the Power Rangers Lightning Collection? Let us know and be sure to follow The Illuminerdi on social media to be notified of more Power Rangers news and updates in the future!
KEEP READING: HASBRO ENTERTAINMENT RISES FROM THE ASHES OF EONE WITH 3 EXECUTIVES TO LEAD A NEW WAY