Prime Video's The Consultant is a twistedly weird, but uncannily accurate, portrayal of the modern workplace.
In a time where layoffs are happening at historic rates, likely to create a situation where people will be desperate enough to go back to committing themselves to commute to office spaces, a bad bass seems to be a regular occurrence. Even when times are good, bad bosses are always around. Is it because in this capitalist society, the real way to succeed is to do the bare minimum, be likable, then get hired somewhere else for 20% more pay? Meaning everyone "loyal" to the company probably had no option to leave and that's why they suck? Hard to tell, but The Consultant perfectly captures a bad boss who technically gets the job done.
The Consultant Perfectly Captures The Workplace Dynamic
While there are a good number of fans who believe critics tend to be paid for their opinions, a good portion of us have day jobs and do stuff like this on the side for the love of film and television. I have worked many a corporate job, one of my longest stints was at a mobile gaming company like that featured in this show. And without a doubt, the angst, the resentment, the general waste of everyone's massive potential, and the obvious ineptitude of the boss are perfectly captured by The Consultant. At least in the series, Regus Patoff (Christoph Waltz) as an outside consultant makes sense why he does not know anything. That's rarely the case in reality.
RELATED: Harlem Season 2 Review- So Much Hot Tea You'll Need 2 Cups
What really sells the workplace dynamic is the performers. Christoph Waltz as Regus Patoff, the outside consultant who takes over the company during a tumultuous time is an eccentric leader who might not know the company but knows how to get employees to do their jobs. Brittany O'Grady as Elaine is the rockstar assistant who initially lied on her resume, but it turned out to be true so it is all good. Then Nat Wolff as the jaded Craig. Craig has been broken by the system but given just enough to try once in a while, before being broken by it again. These are all archetypes that can be found in most corporate jobs, especially in the gaming industry.
Each actor does a tremendous job highlighting their characters' emotional turmoil throughout the series. They wonderfully capture the frustration of working for a greedy self-aggrandizing company that exploits its workforce, the falling and submitting to manipulative leadership, and the personal cost people pay to just survive their personal lives. The latter is only experienced by Elaine and Craig. Regus Patoff gets to do whatever he likes since all the cost is being paid from the employees' end, and he receives the credit and controls who gets to experience the benefit. The situation is bad, but the performances are excellent and really highlight how bad it is.
Synergy Might Be Off
RELATED: Beef – Official 1st Look at A24 & Netflix's Dark Comedy Pitting Ali Wong Against Steven Yeun
Where I think The Consultant may not catch an audience, is the uneven commitment to the various elements of the story. The workplace drama is apt and the strongest part of the series. It is very grounded and feels as if it would take place in the real world. However, there are aspects of the story that are supernatural, almost magical. At the very least it is extremely advanced technology. These elements could be explained logically, with stretches of the imagination. However, most are not addressed some do not resolve and create this heir of mysticism that clashes with the more grounded tension created by these different classes of people.
Work-Life Balance
RELATED: The Peripheral Exclusive Interview with T'Nia Miller and JJ Feild
The messy line of professional and personal life where The Consultant is brilliant. Waltz as Patoff crosses a lot of lines that would definitely be brought up to HR, but would likely result in the offended party being reprimanded. Patoff plays jump rope with that line, personally attacking his employees, however, it is not quite personal. Waltz found the sweet spot to deliver these objectively offensive questions and comments but sell them as professional. It is morally/ethically wrong in feeling, but professionally it almost seems necessary. It's definitely a superpower only the shadiest or most successful bosses are capable of.
Unfortunately, The Consultant does not match Waltz ability to play with personal and professional lives narratively. It is a compelling thriller with morbidly dark humor but may be a little too biting and unsynergistic for the mass audience.
Hoping For an Extension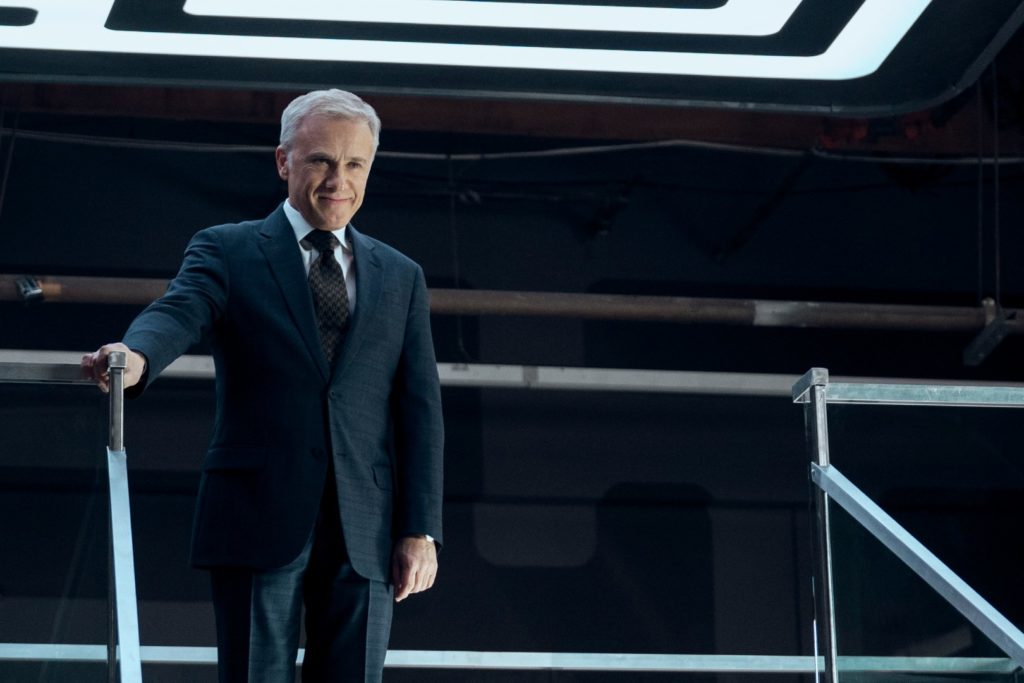 RELATED: Invincible Season 2 Will Release Late in 2023 With a Showdown with Immortal
The Consultant is a viciously dark comedy-thriller that will resonate with undervalued employees everywhere. It might not land all of its ambitious narratives, but the strong performers and poignancy are worth the watch. The indictment and honoring of the modern corporate culture are brilliant. It perfectly stokes the hate many in the corporate culture live daily, but it also highlights the numerous opportunities for success for determined individuals who are willing to sacrifice. You can see the evil corrupt some employees, while it destroys others, all the while a likely sociopathic white guy is ready to take all the credit and accolades or shove blame down the line.
I give The Consultant a 6/10
The Consultant premieres exclusively on Prime Video on February 24, 2023.
About The Consultant
Release Date: February 24, 2023, exclusively on Prime Video
Created By: Tony Basgallop
Directed By: Matt Shakman, Dan Attias, Alexis Ostrander, Charlotte Brändström, Karyn Kusama
Executive Produced By: Tony Basgallop, Matt Shakman, Christoph Waltz, Steve Stark, and Andrew Mittman
Production Companies: MGM Television and Amazon Studios
Number of Episodes: 8
Cast: Christoph Waltz, Nat Wolff, Brittany O'Grady, and Aimee Carrero

Synopsis
The Consultant is a twisted, comedic-thriller series that explores the sinister relationship between boss and employee. When a new consultant, Regus Patoff (Christoph Waltz), is hired to improve the business at the App-based gaming company CompWare, employees experience new demands and challenges that put everything into question… including their lives.
Are you ready to binge The Consultant? What is the worst thing about your boss? Why are mobile game companies always evil? Let us know your thoughts and reactions on social media!
KEEP READING: Sweet and Sugary Legend of Vox Machina Cereal is the Next Goal for Critical Role