Boy meets girl, gets Ghosted, and ends up in an international espionage ring.
A few years following Knives Out and only months since The Gray Man, Chris Evans and Ana de Armas are back together for a third time! Apple TV+ just released the trailer for the adventure flick that sees Cole (Evans) and Sadie (Armas) meet for the first time in a cute interaction that involves coffee and a failed attempt at using a seatbelt. Things quickly take a turn as Cole doesn't hear from Sadie after their first encounter in the upcoming action rom-com, Ghosted.
The title, which most would have initially associated with a ghost or something scary, is a newer term that became popular within the last eight to ten years. Being "ghosted" essentially means that someone is no longer responding to your calls or texts, Cole being the victim of exactly that. It's possible we all know someone who has gotten ghosted, right? See what we're talking about in the trailer.
Ghosted Official Trailer
RELATED: Tetris Official Trailer Showcases The Unbelievable Origin of the World's Most Popular Game
This flick isn't what we're typically used to getting from Evans. Early on in his career, his charming ways and good looks got him cast in rom-coms as love interests (What's Your Number really got him on the radar). As of late, we've seen him in more tough guy parts, but his character in Ghosted is anything but that as the roles are reversed. Cole discovers that Sadie is a CIA agent and the two embark on an adventure of a lifetime. While the trailer does give us a glimpse of Evans kicking butt, there are many instances where Armas is protecting him in a more dominant way.
I think we can all agree that he is no Steve Rogers in this one, right guys?
RELATED: The Lost City Finds Rom-Com Gold
It is no secret that audiences these days crave unique movies as well as sequels and have often shunned them away from predictable ones. But Ghosted seems to have the potential to be really entertaining, especially being led by two A-listers that can do no wrong on screen. Chicks dig Chris and guys swoon over Ana so sounds like a perfect date night movie. Nonetheless, Apple TV+ puts their money where their mouth is so we can expect the action sequences to be top notch with the visuals being nothing short of spectacular.
Aside from the box office, Evans and Armas have both been quite successful on streaming platforms. As mentioned earlier, both starred in The Gray Man, while Armas appeared as Marilyn Monroe in Blonde, both films are on Netflix. It's important to note that her performance was enough to earn her first Academy Award nomination.
Ghosted releases on April 21, 2023, exclusively on Apple TV+.
ABOUT GHOSTED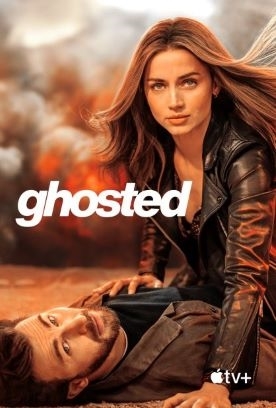 Release Date: April 21, 2023, exclusively on Apple TV+
Directed By: Dexter Fletcher
Produced By: David Ellison, Dana Goldberg, Don Granger, Chris Evans, Jules Daly, Paul Wernick, Rhett Reese
Co-Producer: Dalia Ibelhauptaité
Writers: Rhett Reese & Paul Wernick and Chris McKenna & Erik Sommers
Executive Produced By: Donald J. Lee Jr., Brian Bell, Ana de Armas
Cast: Chris Evans, Ana de Armas, Adrien Brody, Mike Moh, Amy Sedaris, Tate Donovan

Synopsis: Salt-of-the-earth Cole (Chris Evans) falls head over heels for enigmatic Sadie (Ana de Armas) —but then makes the shocking discovery that she's a secret agent. Before they can decide on a second date, Cole and Sadie are swept away on an international adventure to save the world.
Will you be tuning in to see Evans and Armas burn up the screen on April 21 in Ghosted? Let us know in the comments below and on social media!
KEEP READING: HBO Max and Climax and Share the Love this Valentine's Day with These 9 Lovely Programs