Hot Wheels: Rift Rally brings your Hot Wheels collection to life.
Mixed reality experiences are becoming more popular and accessible. It is an exciting time where fandom, collecting, and technology are coming together in ways never before possible. Velan Studios and Mattel have joined forces to bring one of those experiences to life with our beloved Hot Wheels collection with Hot Wheels: Rift Rally. With this mixed reality experience, players/collectors are able to bring just about their entire Hot Wheels car collection to life in the real world through the aptly named "Chameleon" remote-controlled car.
Players choose their car and the Chameleon adapts its properties stats and even its look via augmented reality.
There are 3 key components to the experience. The car, the Chameleon, the track, and the actual game itself, Hot Wheels: Rift Rally. The way I did it, is I set up my track, via the pylons provided, then loaded up the game, connected the Chameleon, then loaded up a car, and drove through the pylons to program the track into the game. Now For all levels and game modes, the track is set. So all levels and game modes will be programmed to that track and setup until you decide you want to change it up. It sounds complicated, but the setup guide is very intuitive and after the first attempt it becomes second nature.
Hot Wheels: Rift Rally's Chameleon
I've had a few remote control cars in my day. The Tantrum and Sidewinder are particular favorites, something about a car that can't be flipped over. But the Chameleon outclasses those cars in every way. It's faster, the battery lasts way longer, and it is far more intuitive to operate. It's great when you have a turbo button at actually makes the car go faster. None of those Tyco RC cars ever felt like the turbo button did anything. The Chameleon definitely has a feeling that you are attuned to it and that lets you really feel like you are in control and can learn, understand, and really know the car's capabilities.
RELATED: Aliens: Dark Descent Gameplay Reveal and June 20 Release Date
What is great about the Chameleon, is that you have a nearly infinite collection of different cars it can be. While it may not change visually, the different car choices change the way the car operates entirely. All of those different cars you've collected can now be driven in the real world, and if you really want to see them, you will see them through your screen. All the details will appear on your vehicle in augmented reality, and even your point of view will change with every car choice.
So if you pick a car with the engine popping out you will see, and if you pick a car that is higher or lower to the ground, you will also see that difference.
The Game
Hot Wheels: Rift Rally offers a number of different game modes, which as a racing game are very fun. The fantastical AR elements combined with the ability to see your car in reality adds an incredible layer of depth to the game, making it feel more real. So say you see a giant dragon on screen, even though it is not there in reality, it feels like it is there because you can feel the effects it has on your track and Chameleon, and you can see your Chameleon reacting in reality. It's something players will have to experience to fully appreciate.
The Possibilities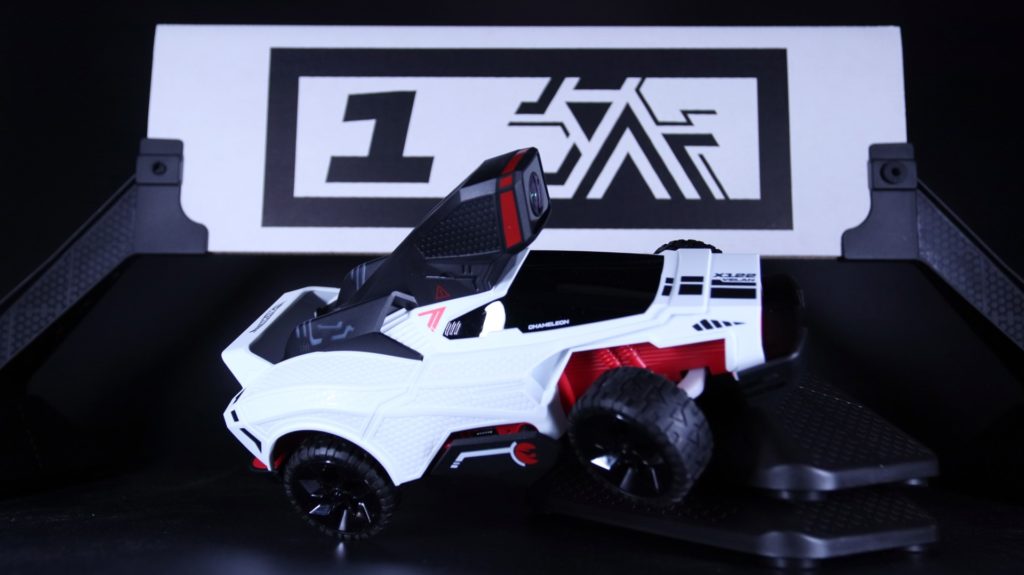 The gameplay is solid, but where Hot Wheels: Rift Rally really impresses are the possibilities. There are the track possibilities and the infinite car choices, but then there is what you can do with all of that. Ideally, the best way to operate the vehicle is with a controller of an iOS device so you can literally be anywhere, rather than bound to your PlayStation 4 or 5. But imagine you and your friends setting up a crazy track through a park or even just having a high-def camera on an incredibly intuitive remote control car. The play and content possibilities are infinite.
RELATED: Atlas Fallen New Gameplay Reveal Trailer Showcases the Epic Way Players Take On Giant Beasts
The ability to stream what you're doing with your Chameleon was a priority for the Velan Team, and they love seeing everything users do with the car. While there are definite warnings and things you should not do to stay within the warranty, if it is cool enough, they may just send you another one. Also, since the updates are all going to be through the game, it will constantly be given new upgrades which can enhance its capabilities.
The Ultimate Remote Control Car
Hot Wheels: Rift Rally is the remote control car people did not know they need. It is not an experience I think most millennials and older would have ever thought of, but it is an experience I think anyone and everyone will instantly fall in love with. While the age on the box says "6+," definitely focus on the "+." As I have only seen adults use it, and there is not one whose inner child resurfaced and brought huge smiles and caused repeated uncontrolled giggles.
If you have ever wanted to play with a remote control car, want to know what driving a Shark Cruiser felt like, or just want a driveable camera, this is the perfect experience for all of that.
I give Hot Wheels: Rift Rally a 5/5
Hot Wheels: Rift Rally is available now.
What do you think about Hot Wheels: Rift Rally? Do you have a favorite HW Car? Would you want to experience what it was like to drive that car? Let us know what you think and share your thoughts with us on social media!
KEEP READING: Suicide Squad: Kill The Justice League Gets Unexpected Release Delay