The Guardians of the Galaxy Volume 3 (GotG Vol 3) team are very good friends outside of the film. They are often seen hanging out together beyond their time on set. Gunn posts a lot of pictures of them hanging out, and if you follow their social media you'll get a glimpse of their friendships. The chemistry is apparent on screen, but it's also great to see it at the source, and during the global press conference James Gunn shared one of those stories that show how much the cast loves each other.
James Gunn Shares a Story from the GotG Vol 3 Press Tour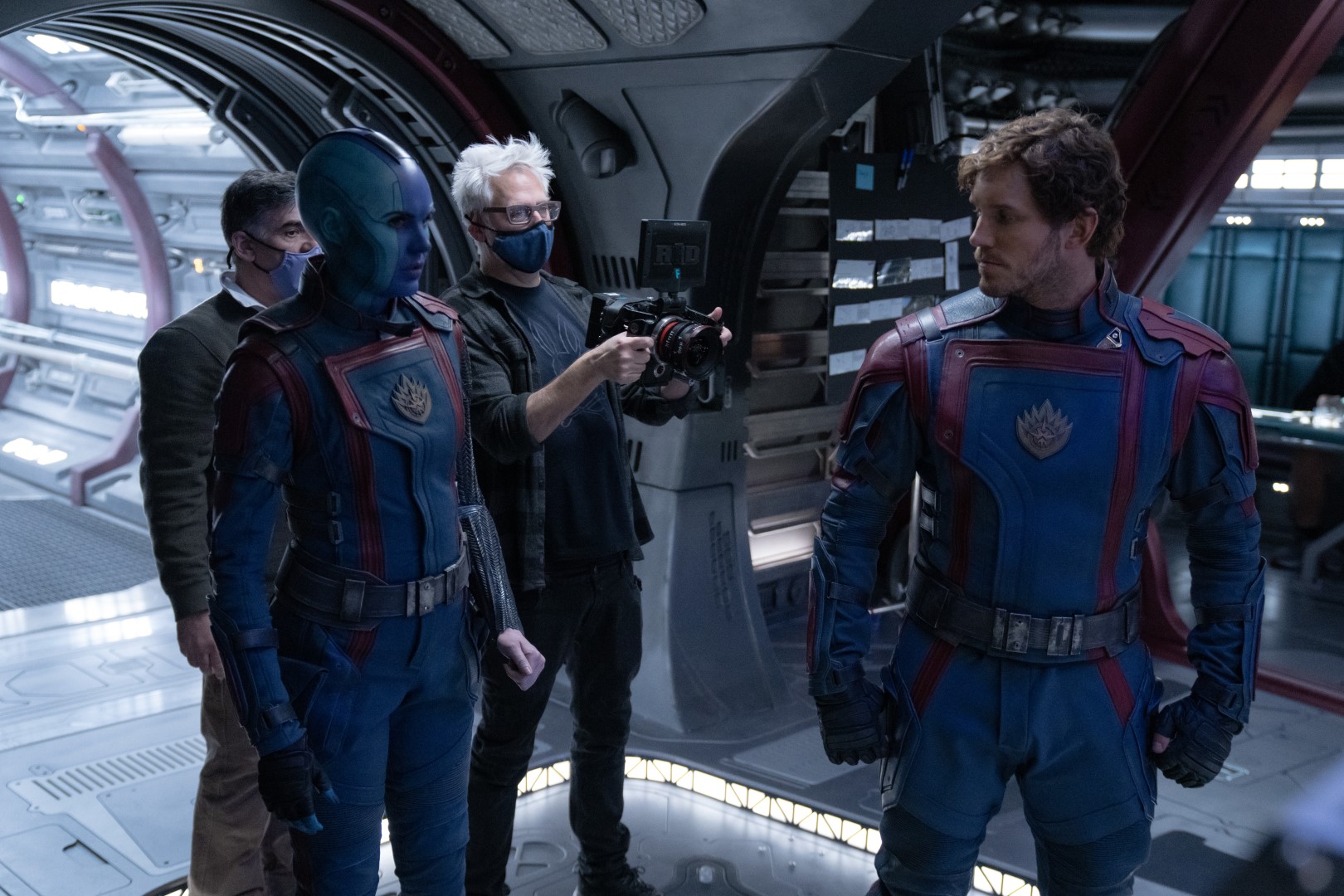 RELATED: How Many Post-Credits Scenes Does Guardians of the Galaxy Vol. 3 Have?
Nathan Fillion was the host and moderator for the GotG Vol 3 global press conference, and there's something about having a close friend and colleague moderating that yields questions and answers you just won't get otherwise… But this wasn't one of those cases. Nathan Fillion asked what question would the cast and creative want to be asked, and James Gunn delivered.
Nathan Fillion: I have to do the last question, guys. What question have you not been, what question are you dying to be asked?
James Gunn: I want to tell the story about Pom on the plane the other day.
Nathan Fillion: This will be a perfect last question. Please tell the story about Pom on the plane.
James Gunn: So, we are on the plane, you know, Chris, Chris is a clumsy oaf, okay?
And he comes in, we're taking off. He has a coffee that he does, and there's a cup holder right there.
He doesn't put his coffee in the cup holder. He puts it on the armrest like this.

Pom has this purse… this really cool looking. I mean, it's a really cool purse
And that happens to be very expensive and very unique.
And she's getting compliments on ot all week long.
But it's me, Karen, Pom, and Chris, we're on the plane. And the plane takes off and, you know, planes,
Chris has maybe never been on one, he's never realized that sometimes planes tilt.

And his coffee slid down and fell all over Pom's expensive, beautiful purse that we've all been complimenting for a week!
And Palma's a little irritated with Chris, as she should be, and, you know, we clean it up.
And then we're flying for another, I don't know, maybe, you know, 10 minutes.
And all of a sudden -I'm sorry to embarrass you [Pom]- all of a sudden, Pam bursts into tears.
And she goes, "I'm so sad!"
And Chris and I look at each other and go, "You really screwed up by dropping your cup!"
Like, we thought she was sad about her purse getting wet.

And then she said, "I feel-"
Pom Klementieff: No! I'm gonna cry again!
James Gunn: "I feel like something is ending."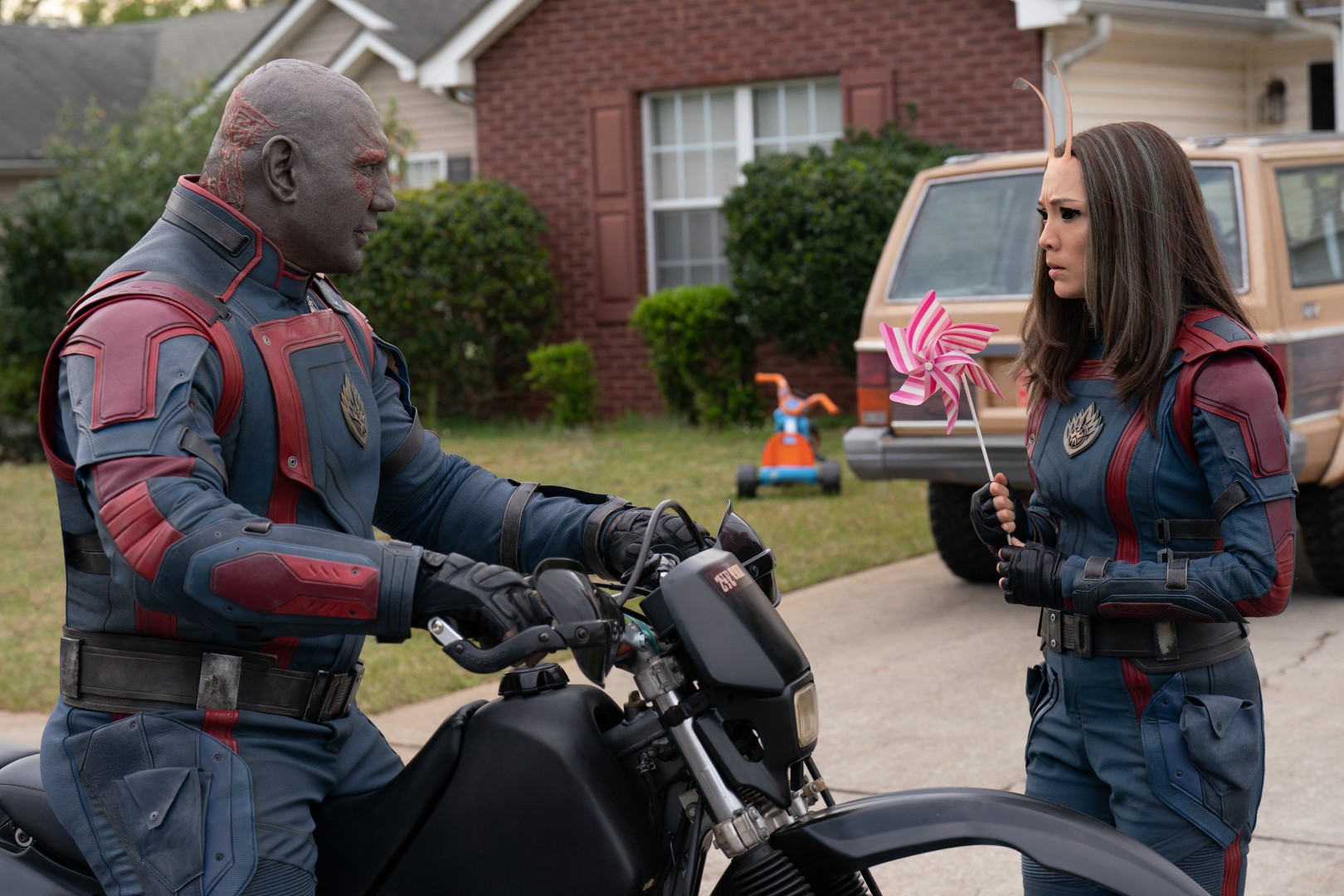 Pom Kelmentieff: Yeah. But not it's funny because I wanted to hide in the bathroom and cry because it was like, I don't know. Sometimes it's like, it's like mourning, you know?

Sometimes it just comes at unexpected moments and you just can't control it. And it's the beauty of it, too, you know? It just comes like that.

I couldn't contain it. And I wanted to hide in the bathroom to cry, but Karen was in the bathroom. So I was like, "Oh, no!"
James Gunn: For a long time too! *Everyone laughs* Definitely number two.
Chris Pratt: *Nodding profusely in agreement*
Karen Gillan: JAMES!
Pom Klementieff: So I just burst into tears.
Karen Gillan: It was just number one!
Pom Klementieff: It just felt like the end of something.
RELATED: Guardians of the Galaxy 3 Receiving Strong Early Reactions For "Heartbreaking" Final Installment
Much like the movie, the Guardians are hilarious, embarrassing, and heartwarming all at once even in real life. The final chapter in Gunn's trilogy is an absolute thrill to watch and will have audiences feeling the full spectrum of emotions, often simultaneously.
Guardians of the Galaxy Vol 3 releases exclusively in theaters on May 5, 2023.
About Guardians of the Galaxy Vol. 3 (GOTG Vol 3)
Release date: May 5, 2023 (USA)
Director: James Gunn
Writer: James Gunn
Executive Producers: Kevin Feige, Victoria Alonso, Louis D'Esposito, Simon Hatt, Nikolas Korda, Sara Smith
Co-Producers: David J. Grant, Lars P. Winther
Cinematography: Henry Braham
Music by: John Murphy
Production Company: Marvel Studios
Distributed by: Walt Disney Studios Motion Pictures
Cast: Chris Pratt, Zoe Saldana, Dave Bautista, Karen Gillan, Pom Klementieff, featuring Vin Diesel as Groot, Bradley Cooper as Rocket, Sean Gunn, Chukwudi Iwuji, Will Poulter, Maria Bakalova

Synopsis
In Marvel Studios' "Guardians of the Galaxy Vol. 3" our beloved band of misfits are settling into life on Knowhere. But it isn't long before their lives are upended by the echoes of Rocket's turbulent past. Peter Quill, still reeling from the loss of Gamora, must rally his team around him on a dangerous mission to save Rocket's life—a mission that, if not completed successfully, could quite possibly lead to the end of the Guardians as we know them.
What do you think about Guardians of the Galaxy Vol. 3? Do you already have your GOTG Vol 3 tickets? Do your friends share your embarrassing bathroom stories? Let us know your thoughts and reactions on social media!
KEEP READING: Guardians of the Galaxy Vol. 3 Review – Bookends the Best Super Hero Trilogy Ever