Naruto Shippuden fans, are you ready to unleash your inner shinobi? G FUEL Energy has done it again with its latest energy drink flavor, Rasengan, inspired by the iconic anime. The Rasengan technique is one of the most powerful energy attacks wielded by only a handful of rare and gifted shinobi, including Naruto Uzumaki himself, and now you can channel that same energy with every sip of this tasty tribute to Japan's traditional soda ice treats.
G FUEL Rasengan is now available in a beautiful full-art Collector's Box, complete with a 40-serving tub and an all-new, exclusive Naruto Shippuden Shaker Cup. But that's not all – this sugar-free energy drink is also packed with antioxidants from 18 different fruit extracts and contains only 15 calories per serving. And with 140 mg of caffeine plus proprietary energy and focus-enhancing complexes, this drink is sure to give you the boost you need to power through any challenge.
Rasengan G FUEL Description + Key Benefits: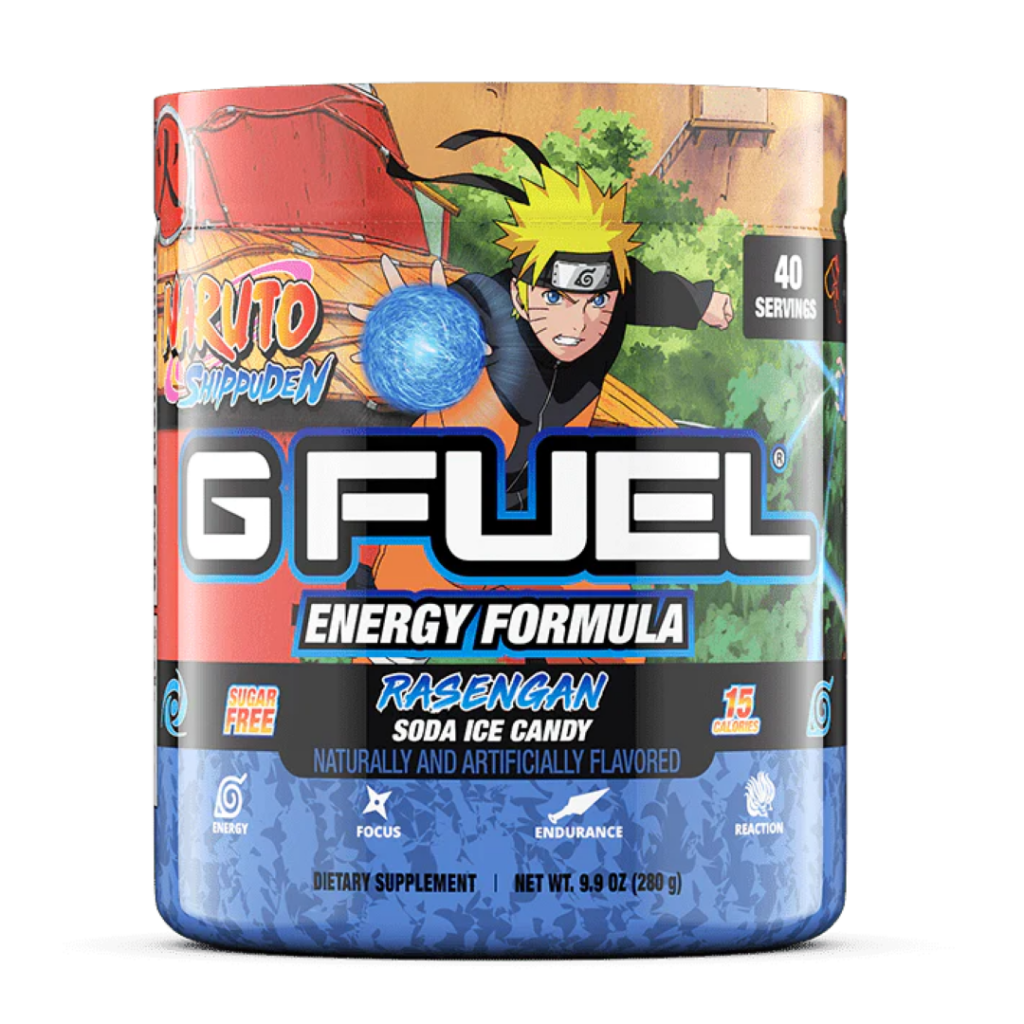 RELATED: Exciting Crunchyroll Ani-May 2023 Celebrations

Channel your chakra! It's time to unleash the G FUEL Rasengan! G FUEL's latest team-up with Naruto Shippuden is inspired by the anime's incredible Rasengan technique, an energy attack wielded by very few rare and gifted shinobi – including Naruto Uzumaki himself! Available in a beautiful full-art Collector's Box complete with an all-new and exclusive Naruto Shippuden Shaker Cup, G FUEL Rasengan is a tasty tribute to Japan's traditional flavored soda ice treats and a nod to the popsicle Naruto and Jiraiya share. Believe it!

INCLUDES:

40 Serving Rasengan Energy Tub
24 oz G FUEL x Naruto vs. Sasuke Tall Stainless Steel Shaker Cup
SHAKER CUP IS HAND WASH ONLY

ENERGY + FOCUS + ENDURANCE + REACTION

0 SUGAR
Unlike our "competitors" who rely on loads of sugar to provide you with a false sense of energy, we don't – Which means zero "crash".

ENERGY COMPLEX
Caffeine is a natural stimulant consumed worldwide. The primary benefit is that of cognitive function stimulation – Essentially giving your mind a "jump start" when it needs it most.

FOCUS AMINO-FORTIFIED
Our addition of a focus amino provides you with a unique edge that most other drinks on the market cannot.

PACKED WITH ANTIOXIDANTS
Just the right balance of antioxidants that work in tandem with our vitamin complex to promote healthy cell production.

VITAMIN-FORTIFIED
Our formula contains the perfect combination and subtle ratio of Vitamins C + E + B12 + B6
Previous Naruto Shippuden G FUEL Flavors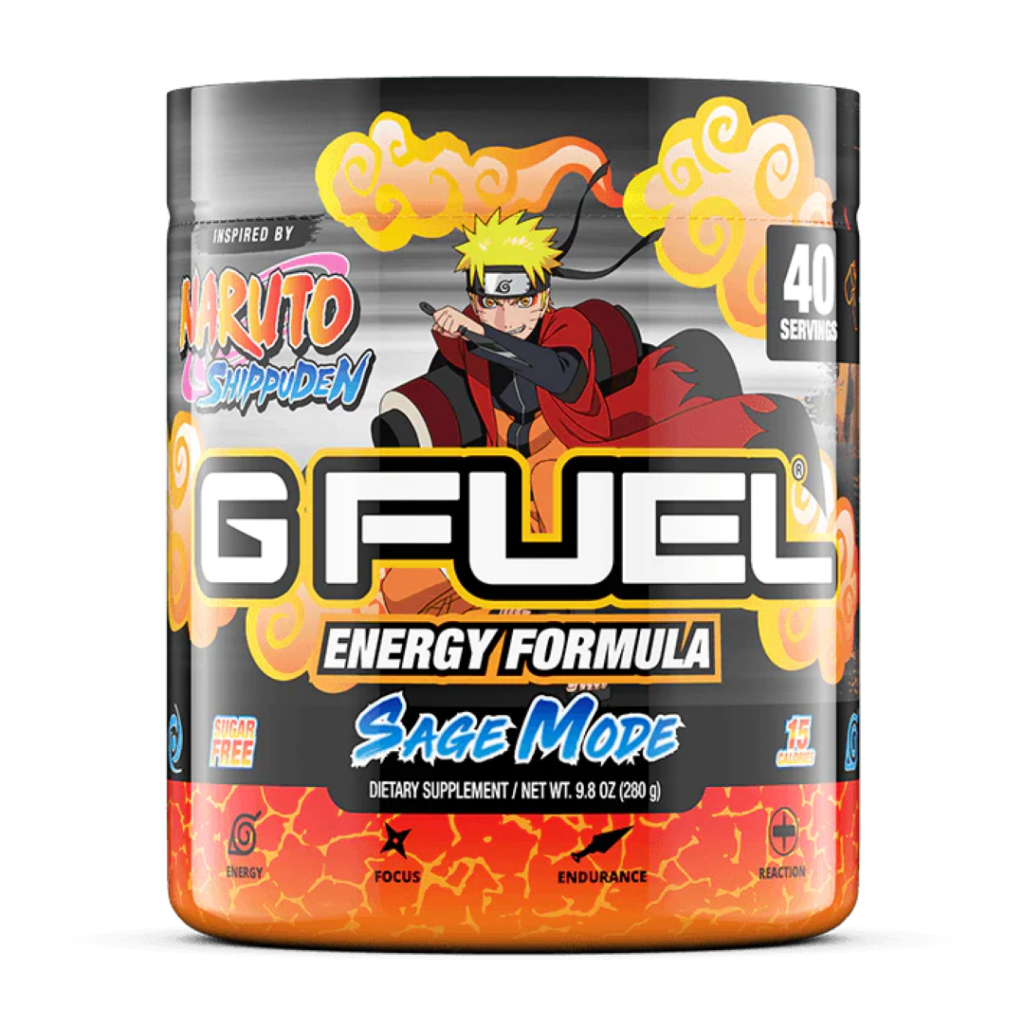 But that's not all – G FUEL's Naruto Shippuden product line doesn't stop there. Fans can also pick up the previous flavor, Sage Mode, which blends white peach and pomelo to create a satisfying taste experience. And for those who were lucky enough to get their hands on it, G FUEL released an extremely limited-edition Miso Ramen flavor for April Fools' Day 2022, paying tribute to Naruto's favorite snack.
RELATED: 'The First Slam Dunk' To Make Dazzling North American Release in Summer 2023
"The response to our Soda Ice Candy flavor at The Vitamin Shoppe stores has been tremendous, so we're excited to offer Rasengan as an Energy Formula for the first time. We appreciate the opportunity to continue expanding our Naruto Shippuden product line alongside our partners at VIZ Media and cement G FUEL as the leading energy drink in the anime community. And are there more Naruto-inspired G FUEL flavors on the way? To borrow a phrase, 'Believe it!'"

G FUEL Founder and CEO Cliff Morgan
Don't miss your chance to pick up the Collector's Box and tub of G FUEL Rasengan while supplies last at GFUEL.com, and keep an eye out for the exclusive 16 oz can available only at The Vitamin Shoppe stores across the U.S. Unleash your chakra and take on the day with G FUEL's Naruto Shippuden-inspired energy drink flavors.
What do you think about the new Rasengan Formula? Have you tried Sage Mode? Did you get the Ramen flavor? Let us know your thoughts and favorite G FUEL formulas on social media!
Source: G FUEL
KEEP READING: FEED THE FIRE — ARMORED CORE VI FIRES OF RUBICON WILL LAUNCH GLOBALLY ON 25TH AUGUST