There is a fantastic variety of anime currently available on Crunchyroll, featuring fantastic worlds worth diving into. The Spring line-up has added an even greater selection, from continuing popular series to brand-new releases. As there is so much to pick from, we have selected 5 of the best series to get you started, which highlight a perfect fraction that the anime streaming service has to offer this season. Here is our recommended list of great content that instantly deserves your views. 
Crunchyroll revealed the latest anime releases for Spring 2023 including simulcast content streaming as they air in Japan. The latest releases include various anime such as Kuma Kuma Kuma Bear Punch!, KONOSUBA – An Explosion on This Wonderful World!, and The Café Terrace and Its Goddesses, which are all part of the new season line-up. Fans eagerly awaited each new anime series as they were added throughout April, with many more reveals coming soon for Summer.
Top 5 Anime You Should Be Watching
The following list of titles are some of the best picks that feature in the Spring line-up on Crunchyroll. Recent episodes may require a subscription to Crunchyroll, but these are some of the greatest releases that anime fans should include on their watchlists. The list includes two new anime that has recently been airing and three continuing anime that have started the latest installment to their story. Here is our top 5 list of Anime series that you should be watching on the streaming platform.
This latest isekai anime is packed with the reincarnated adventure fans love, with a great mix of humor and fantasy shenanigans. Fans who love That Time I Was Reincarnated As A Slime and By The Grace Of The Gods will love this latest feature centered on Cain Von Silford when reincarnated into a new fantasy world as an aristocrat who has been blessed by the gods a bit too much. From overachieving to facing classism, this latest series is a joyous journey of happy accidents caused by being overpowerful.
RELATED: Crunchyroll Announces Blooming Spring Anime Season 2023
"Shiina Kazuya's convenience store visit was anything but when he was killed protecting a girl. He suddenly awakens in the kind of world he has only dreamed about, one with magic and swords! Now as Cain von Silford, a son of an aristocratic family, the gods grant him divine blessings and extraordinary stats. Though he does his best, he still gets in trouble. Cain's chaotic life is about to begin!"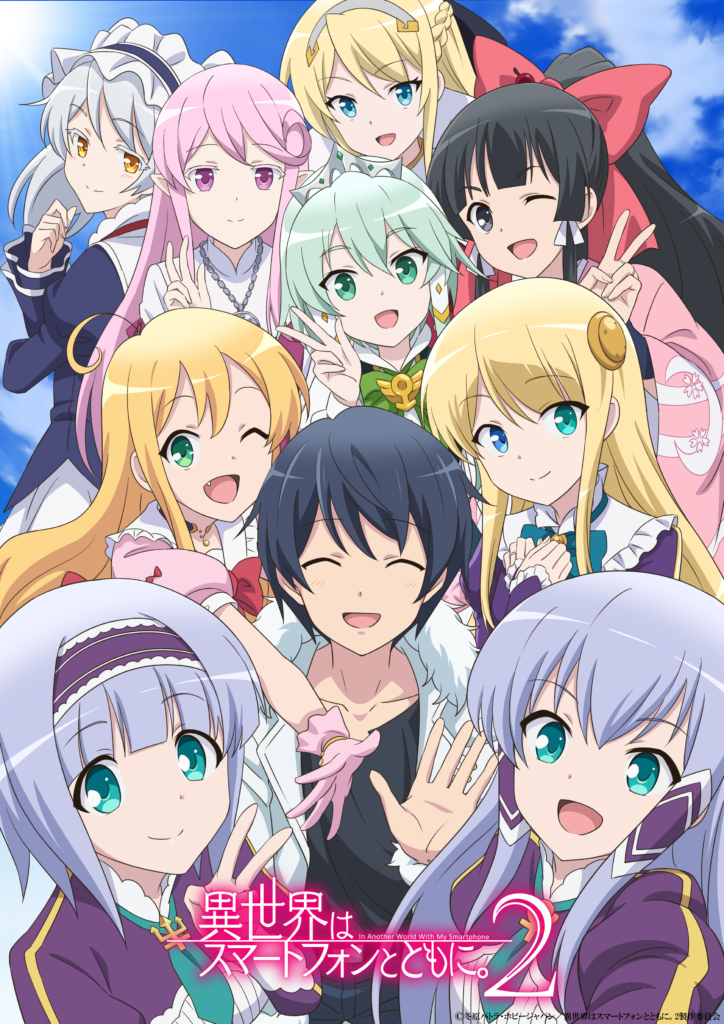 A great light-hearted Isekai anime series featuring Touya and his reborn life in a world of fantasy and magic. A great story that becomes even better when it features his overpowered ability to use any null-type magic in combination with his Smartphone that God allows him to keep. The adventure begins to deepen as he attempts to find the ruin of Babylon and finds himself engaged again and again. There is so much to explore as he gains more renown and rewards, with the threat of the crystalline monsters known as the Phrase adding more mystery to the latest installment.  
RELATED: Digimon For Beginners: Best content for new fans In 2023
"After dying as a result of God's mistake, Touya finds himself in a parallel world, where he begins his second life. His only possessions are the body that God gave back to him and a smartphone that works even in this new world. As he meets all kinds of new people and forges new friendships, he ends up learning the secret to this world. He inherits the legacy of an ancient civilization and works together with the kings of some very laid-back countries on his carefree travels through this new world."
The latest installment of Dr. Stone continues the adventures of Senku and his Kingdom of Science as they begin to advance to the next stage, traveling across the ocean. With their latest addition, Ryusei, they begin preparations for creating a sea vessel that will help them uncover the origins of the mysterious phenomenon that altered the course of human history. It is incredible to watch the wonders of discovery and inventions that help their goal to bring back civilization and find the cause of global certification.  
"Several thousand years after a mysterious phenomenon that turns all of humanity to stone, the extraordinarily intelligent, science-driven boy, Senku Ishigami, awakens. Facing a world of stone and the total collapse of civilization, Senku makes up his mind to use science to rebuild the world. Starting with his super strong childhood friend Taiju Oki, who awakened at the same time, they will begin to rebuild civilization from nothing… Depicting two million years of scientific history from the Stone Age to present day, the unprecedented crafting adventure story is about to begin!"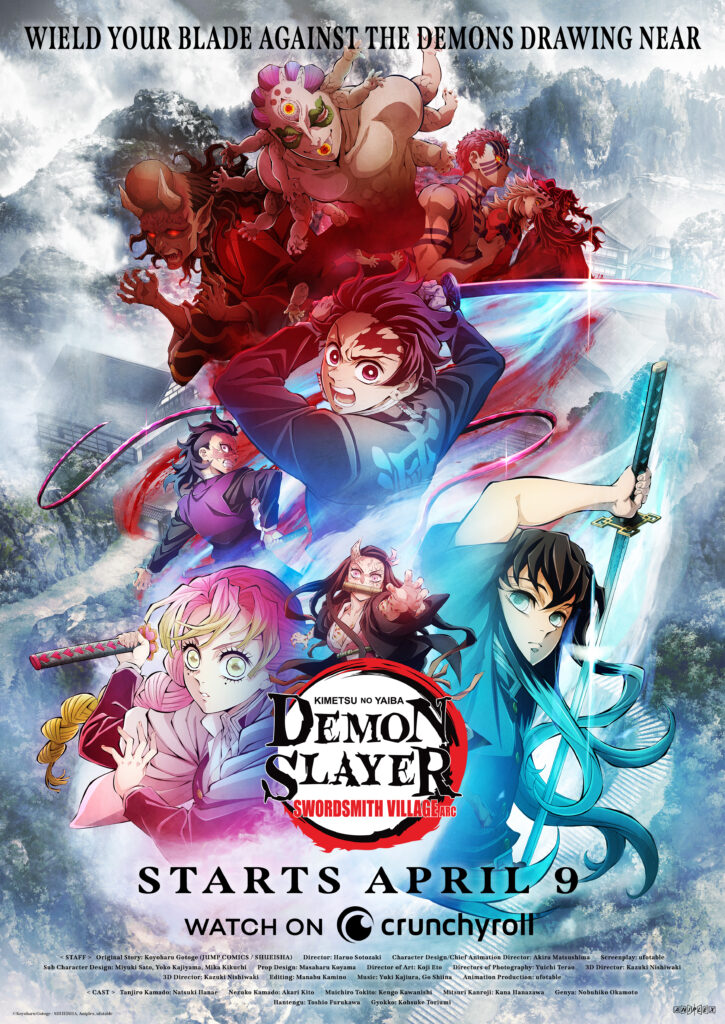 A momentous new chapter awaits fans as the home of the Nichirin Katana swordsmiths is under attack. Tanjiro visits the hidden village as members of the Twelve Kizuki begin to attack the only place where the demon-killing swords are forged. Fortunately, two Hashira are also present including the Love Hishira, Mitsuri Kanroji, and Mist Hishira, Muichiro Tokito. The new arc promises to deliver suspense and intense action as an important fight takes place that could spell disaster for the Demon Slayer Corps. 
RELATED: The 6 Crunchyroll Anime to Make you Love Love this Valentine's Day
"It is the Taisho Period in Japan. Tanjiro, a kindhearted boy who sells charcoal for a living, finds his family slaughtered by a demon. To make matters worse, his younger sister Nezuko, the sole survivor, has been transformed into a demon herself. Though devastated by this grim reality, Tanjiro resolves to become a "demon slayer" so that he can turn his sister back into a human, and kill the demon that massacred his family."
RELATED: The 6 Crunchyroll Anime to Make you Love Love this Valentine's Day
One of the greatest new additions to the Crunchyroll library, Mashle delivers a hilarious take on a magic world when one person is born without. Mash gets thrown into trouble when he is discovered to be without magic or a scar, like everyone else, however, his impossibly insane strength grants him abilities beyond comprehension. Similar to Satima in One Punch Man and containing references to fantasy magic anime and even the Wizarding World, this brilliant series will have you laughing as this creampuff–loving superhuman finds other ways to achieve what magic can do.  
"This is a world of magic. This is a world in which magic is casually used by everyone. In a deep, dark forest in this world of magic, there is a boy who is singlemindedly working out. His name is Mash Burnedead, and he has a secret. He can't use magic.

All he wanted was to live a quiet life with his family, but people suddenly start trying to kill him one day and he somehow finds himself enrolled in Magic School. There, he sets his sights on becoming a "Divine Visionary," the elite of the elite. Will his ripped muscles work against the best and brightest of the wizarding world? The curtain rises on this off-kilter magical fantasy in which the power of being jacked crushes any spell!" 

The range that anime fans can enjoy has been a blessing this spring and although there are many fantastic releases featured in the Spring line-up, these are highlighted as being must-see additions to any watchlist. These 5 are at the top of the list for many fans already and will add greater enjoyment to your anime schedule. It will be exciting to discover what other treats are in store when summer begins, but many incredible episodes are still releasing for the new additions to the weekly calendar.
What do you think of our top 5 list of Anime? Have you been enjoying the Spring line-up on Crunchyroll? What anime do you think should be included in this list? Let us know on social media and keep following The Illuminerdi for more anime content. 
KEEP READING: FILTHY ANIMALS: HEIST SIMULATOR IS BREAKING INTO CONSOLES ON 5/11
Source: Crunchyroll