Three years later things are finally starting to get back to normal and writer/director Emerald Fennel has her next film coming up. Time to take a closer look at Saltburn.
While 2020 was a difficult year for the film industry (and the world in general), with theatres being closed and many delays of anticipated films, there still were some real gems released in the pandemic year. One of them was Promising Young Woman, a drama with a highly current story and social commentary that became one of the most acclaimed films of the year.
WHAT IS SALTBURN ABOUT?
We are mostly in the dark about the plot of the film, but Saltburn is said to follow a young college student in the 2000s, who begins to obsess over one of his wealthy classmates. The story is also rumored to be focusing on a wealthy aristocratic family and attendees of test screenings described it as similar in tone to The Talented Mr. Ripley.
RELATED: May December: What We Know So Far About Todd Haynes' New 2023 Film
THE CAST
Saltburn stars a huge ensemble cast led by Oscar nominee Barry Keoghan. The film will be one of Keoghan's first leading roles after he crushed it in many supporting turns over the last few years. He was Oscar-nominated for his supporting turn in last year's dark comedy The Banshees of Inisherin, and also was part of the casts of Yorgos Lanthimos' The Killing of a Sacred Deer, Christopher Nolan's Dunkirk and David Lowery's The Green Knight. He joined the Marvel Cinematic Universe as the scene-stealing and audience favorite Druig, a member of the Eternals.
Last year he also became the next actor to play the iconic role of The Joker in Matt Reeves' The Batman. In the TV realm, he appeared in the highly acclaimed Limited series Chernobyl. In Saltburn, Keoghan will obsess over Jacob Elordi, who is best known for playing Nate Jacobs on HBO's hit show Euphoria. He also starred in Netflix's successful The Kissing Booth trilogy. Elordi has a big year ahead as he is also set to play Elvis Presley in Sofia Coppola's next film Priscilla.
Rosamund Pike, best known for her Oscar-nominated turn in David Fincher's Gone Girl is also set to have a crucial role. The film also reunites Carey Mulligan with writer/director Emerald Fennell after working together on Promising Young Woman, for which Mulligan earned an Oscar nomination. Academy Award nominee Richard E. Grant (Can You Ever Forgive Me), Alison Oliver (Conversations with Friends), and Lolly Adefope (Ghosts) also star.
THE CREW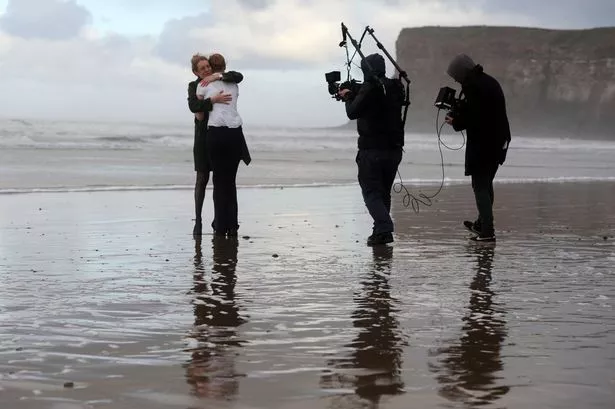 Emerald Fennell started her career as an actress. She appeared in films like Anne Karenina, The Danish Girl, and Pan. She had a bigger role in the TV series Call the Midwives but is best known for playing Camilla Parker Bowles in Seasons 3 and 4 of Netflix's Emmy-winning Drama Series The Crown. That also earned her an Emmy nomination. She also worked as a Producer on the beloved and Emmy-winning Series Killing Eve. She earned another Emmy nomination for writing an episode of that show. But Fennell rose to fame with her work as a writer, director, and producer of Promising Young Woman, for which she won the Oscar for Best Original Screenplay.
Looking ahead at Saltburn one of the most exciting crew members is cinematographer Linus Sandgren. He won an Oscar for La La Land and has worked on the James Bond film No Time to Die, Don't Look Up, and Babylon. Margot Robbie (The Suicide Squad, Babylon) returns with her production company LuckyChap Entertainment to produce Saltburn, after also collaborating with Fennell for Promising Young Woman.
Funnily enough, Margot Robbie and Emerald Fennell will work together on another film this year, as both are playing Barbies in Greta Gerwig's highly anticipated summer blockbuster based on the popular doll.
RELEASE DATE AND TRAILER
Saltburn still has no release date, but we know that Amazon Prime Video has picked up the worldwide streaming rights. A fall release seems likely, to perfectly push the film into the awards circuit. Maybe it will premiere at a film festival beforehand.
We sadly haven't gotten a first look or trailer yet and we might have to wait a few more months until Amazon starts the marketing.
What do you guys think? Are you excited about Saltburn? Did you like Promising Young Woman? Let us know and follow us on our social media. We're always watching.
KEEP READING: POOR THINGS: WHAT WE KNOW SO FAR ABOUT YORGOS LANTHIMOS' NEXT FILM IN 2023