If you've had the chance to see Marvel Studios' new hit film, Guardians of the Galaxy Vol. 3, you might have been wondering the meaning behind the new t-shirt worn by Star-Lord, aka Peter Quill, throughout the film. Writer and director James Gunn has finally shed some light on the shirt in response to a recent fan question on Twitter, which you can see below:
JAMES GUNN REVEALS MEANING BEHIND STAR-LORD'S T-SHIRT IN GUARDIANS OF THE GALAXY VOL. 3
It's an overall simple answer. Per James Gunn, the t-shirt is for "Space Candy!" Also, it looks like Orlani enjoy them based on the t-shirt design. Orlani are those small, beastie rodent-like creatures found throughout the Guardians of the Galaxy films. The Guardians are even seen eating them on Knowhere in the third movie. Unfortunately, Gunn did not reveal more about the space candy, but it looks like a fun design.
RELATED: Amazing New Groot Hot Toys Guardians of the Galaxy Vol. 3 Sculpts Revealed!
Peter Quill is seen wearing his brand of space candy t-shirt early on in the first half before they go on their mission, and he switches to some different outfits. It's a fun t-shirt, much like the "Yeah Baby" one that he wears in Guardians of the Galaxy Vol. 2.
Guardians of the Galaxy Vol. 3 has been an unquestionable success for Marvel Studios and Disney as the big sendoff to the galactic heroes. The film has made $266 million domestically at the box office and about $659 million worldwide, per figures from Box Office Mojo. Not to mention, it has garnered strong reviews from critics as the last big-screen adventure for the current cast of the Guardians.
At another point in the movie, Drax is eating what appears to be an interstellar snack food called zarg nuts during the film, and he shares some with Quill. Another point in the film, shows Rocket drinking a type of milky concoction. Hello Fresh did release some recipes for the Zarg nuts and the Milky Mango Fizz that were featured the film, so fans can make their very own versions at home.
Guardians of the Galaxy Vol. 3 stars Chris Pratt, Zoe Saldana, Dave Bautista, Karen Gillan, Pom Klementieff, Bradley Cooper, Vin Diesel, Sean Gunn, Will Poulter, and Chukwudi Iwuji. The Marvel threequel is playing in theaters now.
The film is written and directed by James Gunn, who will now be focusing on his new role as co-head of DC Studios alongside Peter Safran. He's currently working on a big-screen reboot of the Superman franchise, Superman: Legacy. The film is due out on July 11, 2025.
Fans can also check out the first two Guardians of the Galaxy films, along with The Guardians of the Galaxy Holiday Special, which are available to stream now on Disney+.
RELATED: Guardians of the Galaxy Vol. 3 – Sean Gunn Reflects on Kraglin's Tremendous Evolution
About Guardians of the Galaxy Vol. 3 (GOTG Vol 3)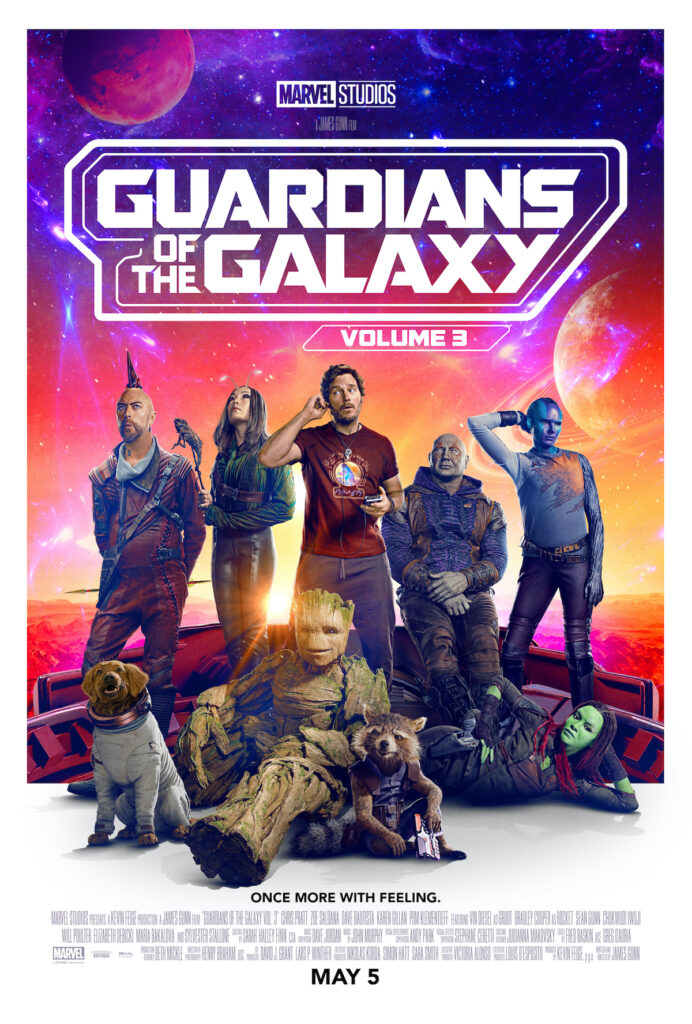 Release date: May 5, 2023 (USA)
Director: James Gunn
Writer: James Gunn
Executive Producers: Kevin Feige, Victoria Alonso, Louis D'Esposito, Simon Hatt, Nikolas Korda, Sara Smith
Co-Producers: David J. Grant, Lars P. Winther
Cinematography: Henry Braham
Music by: John Murphy
Production Company: Marvel Studios
Distributed by: Walt Disney Studios Motion Pictures
Cast: Chris Pratt, Zoe Saldana, Dave Bautista, Karen Gillan, Pom Klementieff, featuring Vin Diesel as Groot, Bradley Cooper as Rocket, Sean Gunn, Chukwudi Iwuji, Will Poulter, Maria Bakalova

Synopsis
In Marvel Studios' "Guardians of the Galaxy Vol. 3" our beloved band of misfits are settling into life on Knowhere. But it isn't long before their lives are upended by the echoes of Rocket's turbulent past. Peter Quill, still reeling from the loss of Gamora, must rally his team around him on a dangerous mission to save Rocket's life—a mission that, if not completed successfully, could quite possibly lead to the end of the Guardians as we know them.
What did you think of Star-Lord's new T-shirt? Have you seen Guardians of the Galaxy Vol. 3 yet? Did you enjoy it? Let us know what you think about the franchise on The Illuminerdi's social media.
SOURCE: James Gunn's Twitter
RELATED: Guardians of the Galaxy Vol. 3 – Will Poulter Jokes About Being a Huge Disappointment to His Family Full of Real-Life Heroes