Just in time for the release of Marvel Studios' Guardians of the Galaxy Vol. 3, Hot Toys has revealed a new sixth-scale Movie Masterpiece Series figure for one of the film's most beloved heroes, the Flora Colossus known as Groot.
You can get a look at the new Groot figure from Hot Toys below:
GROOT FROM GUARDIANS OF THE GALAXY VOL. 3 IS COMING TO HOT TOYS' MOVIE MASTERPIECE SERIES
The new Groot figure is inspired by his appearance in the new movie, featuring a detailed recreation of his distinctive body from the film with realistic moss and tree textures. He also has a wealth of sculpted accessories, such as Groot's heavy pistols, a detonator, and a selection of sprouts that can attach to his body for more texture.
RELATED: James Gunn Reflects on His Miraculous 12 Years With the Guardians of the Galaxy
In addition, the figure will also be available in a Deluxe Version that comes with more accessories and features. The Deluxe Version of Groot has additional pistols, an interchangeable tree-textured torso, poseable branching arms for posing options, branching legs, and more that can be displayed with Groot's various face sculpts.
Based on some of the Instagram images, it looks like a sixth-scale Movie Masterpiece Rocket figure is also in the works. Meanwhile, the deluxe figure can be posed to have his branch arms posed with all of his blaster weapons just like in the movie.
It also appears that Groot can take on a head-only, spider-like-branched form. You can check out some additional photos below: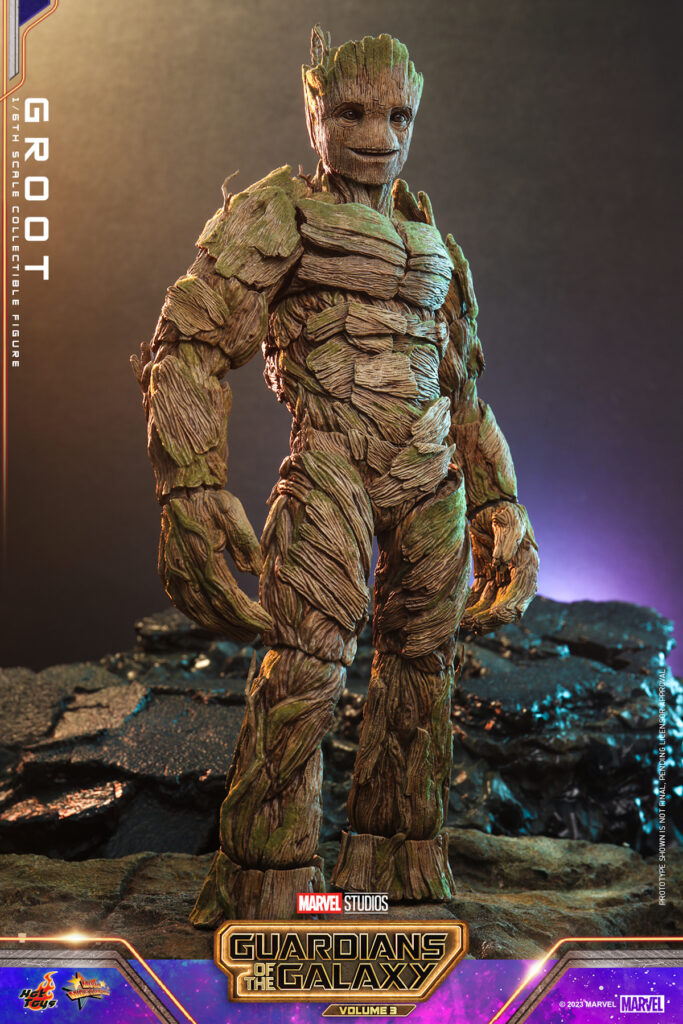 Hot Toys' Movie Masterpiece Series Groot figure is available to pre-order now at Sideshow Collectibles. The figure runs $285.00. The good news if fans can't afford that amount just yet, Sideshow Collectibles has payment plan options for these, starting at $51.30 per month. The Deluxe figure with the extra weapons and accessories is priced at $350.00, but there are flexible payment plan options for that version as well.
While the sixth-scale collectible can be pre-ordered now, it won't be shipping until April 2024 or as late as September 2024, so fans will have to be patient until it's ready to ship.
RELATED: Guardians of the Galaxy Vol. 3 – Sean Gunn Reflects on Kraglin's Tremendous Evolution
Hot Toys always impresses with their sixth-scale MCU figures, and this new version of Groot looks like no exception. It truly looks like Groot just stepped right out of the new movie. It will also be fun to see new versions of the other Guardians with their new dress uniforms that they wear in the films, such as Star-Lord, Rocket, Gamora, and Drax the Destroyer. Overall, the scale and likeness of these figures are pretty spectacular. Not to mention, they all come with screen accurate accessories based on the film, so fans can reenact the shootout scene featuring Star-Lord and Groot.
Hopefully, we'll start seeing more of those coming out soon, but that apparent Rocket prototype on the Hot Toys Instagram is a nice start. Guardians of the Galaxy Vol. 3 is also out in theaters right now.
What do you think of the new Hot Toys Movie Masterpiece sixth-scale figure of Groot from Guardians of the Galaxy Vol. 3? Do you plan on adding this figure to your collection? Are you waiting on any other Movie Masterpiece figures from Guardians of the Galaxy Vol. 3? Let us know what you think about the news on our social media.
KEEP READING: Guardians of the Galaxy Vol. 3 – Will Poulter Jokes About Being a Huge Disappointment to His Family Full of Real-Life Heroes
SOURCE: Hot Toys