At one point, Nebula was designed to have a different look in mind for her appearance in Guardians of the Galaxy Vol. 3. In a post on Twitter, Marvel Studios Director of Visual Development and Concept Artist Andy Park revealed an alternative concept for Nebula for the recent Marvel Studios threequel.
You can check out that alternate look for Nebula below:
RELATED: James Gunn Reveals True Meaning of Star-Lord's Wacky T-Shirt in Guardians of the Galaxy 3
GUARDIANS OF THE GALAXY VOL. 3 CONCEPT ART SHOWS A DIFFERENT VERSION OF NEBULA FOR THE FILM
So it appears during the idea stage, Park and writer-director James Gunn explored the possibilities of Nebula growing out her hair and having fewer mechanical implants around her eyes. Her look hues much closer to Nebula's earliest appearances in the Marvel Comics storylines. She's even wearing a different outfit in the concept art that resembles her earliest costume.
Speaking on the alternate concept for Nebula for the film, Andy Park stated, "The fun part of concept art is exploring the possibilities. Early on @JamesGunn wanted to lessen the mechanics around her eye and maybe her having hair. It's been an honor to be a part of this character's amazing story arc since the 1st film! #nebula #GuardiansoftheGalaxyVol3"
While the early concept artwork is very interesting, Nebula's look in the threequel didn't deviate quite as much from her past appearances. However, she did sport the new Guardians dress blue uniform later in the film. Also, she had an upgraded cybernetic arm that can morph into various weapons and tools, courtesy of her friend and teammate Rocket Raccoon.
In the Guardians movies, Nebula starts out as an antagonist and one of Thanos' adopted daughters who act in service to him. Eventually, she breaks away from the likes of Thanos and Ronan the Accuser, making amends with her adopted sister Gamora. Nebula's trauma at Thanos' hands, taking her apart and forcing cybernetic implants on her clearly weighs heavily on her throughout the films. So, this design almost appears to show a Nebula who is started to let go of the trauma cybernetic implants Thanos forced upon her, making it an interesting concept.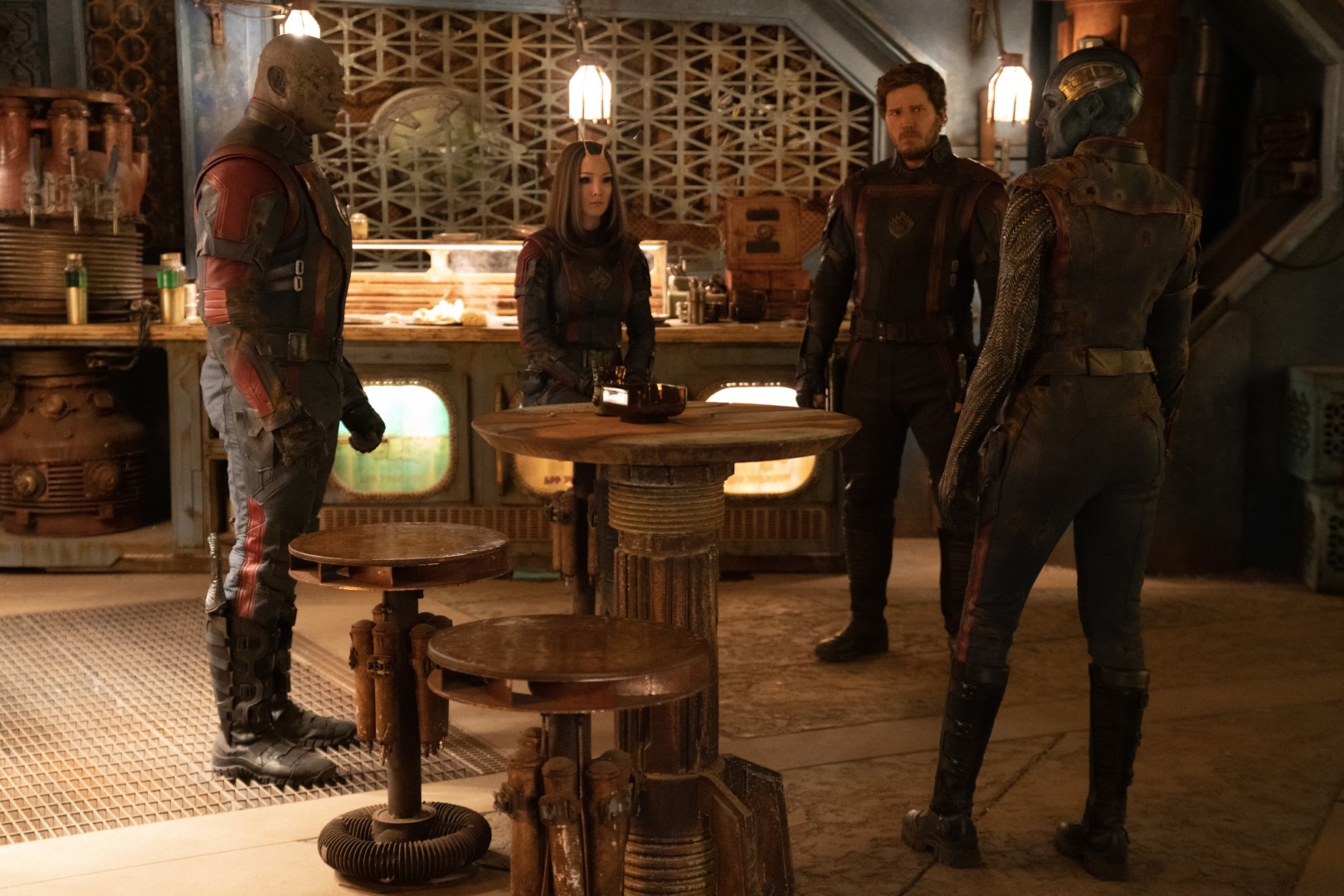 Nonetheless, it's neat to see these alternative takes that were imagined for the film, even if they didn't make it into the final version of the film. The characters did end up wearing uniforms that were translated right from the comics.
Unfortunately, the new uniforms came at the expense of Star-Lord's super cool space helmet, which he didn't sport at all in the third movie. Star-Lord felt like he was overdue for a helmet update, and it would've been neat if he had the helmet that matches the outfit he wore in the film from the comic storyline the new duds were based on. But there's always hope it might make a return for a future MCU adventure.
RELATED: Amazing New Groot Hot Toys Guardians of the Galaxy Vol. 3 Sculpts Revealed!
Guardians of the Galaxy Vol. 3 is the final adventure of the original Guardians team of the MCU. The film is written and directed by James Gunn and stars Chris Pratt, Dave Bautista, Zoe Saldana, Karen Gillan, Pom Klementieff, Vin Diesel, Bradley Cooper, Chukwudi Iwuji, and Will Poulter. It's out now in theaters.
What do you think of Andy Park's alternate concept of Nebula from Guardians of the Galaxy Vol. 3? Would you have liked to see Nebula with a new hairstyle, or do you like that they kept her bald look consistent between her film appearances? Let us know your thoughts on the subject on The Illuminerdi's social media.
SOURCE: Andy Park's Twitter
KEEP READING: Guardians of the Galaxy Vol. 3 – Sean Gunn Reflects on Kraglin's Tremendous Evolution