It is hard to argue that Ripley who is the current SmackDown Women's champion isn't the most dominant woman currently in WWE.  This is especially true since Bianca Belair lost her Raw Women's Championship to Asuka.  Belair was the longest reigning WWE Women's champion of the modern era holding the championship for 419 days, but not anymore.
RELATED: Trish Stratus Remembers The Powerful Words Of Inspiration The Rock Told Her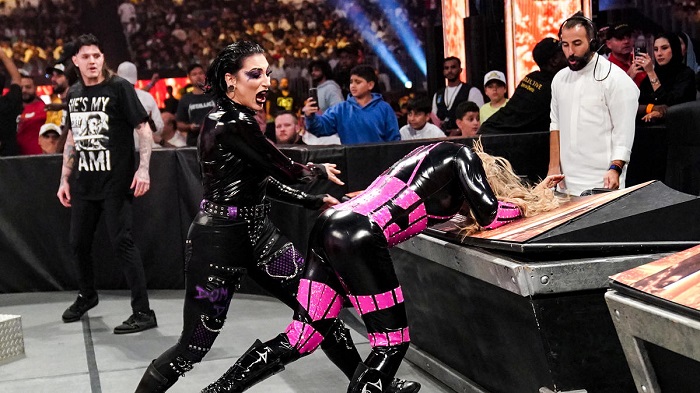 Belair was the gold standard for women on the roster and Ripley may have just taken her spot after Ripley beat the other gold standard in Charlotte Flair for the SmackDown Women's Championship.
Ripley has a lot of respect for Belair, but thinks she is better. She was recently a guest on Mark Andrews: My Love Letter to Wrestling and talked about her desire to face off against Belair in a big storyline.
"I wanna have a massive story and build with Bianca [Belair]," Ripley said. "There's something so special there that could be done, so I want something to happen with Bianca and I." H/T To Wrestling Inc. For Transcription
Two Dominant Women Who Somehow How Avoided Each Other
Since joining WWE both Ripley and Belair have mostly stayed away from each other. They did briefly feud in NXT over the NXT Women's Championship which Ripley came out on top on. However, since both women joined the main roster they haven't met.
Ripley is currently drafted to Raw and Belair is on SmackDown. So it would seem like these two women wouldn't meet anytime in the near future, but that may not be true. Ripley is the SmackDown Women's champion meaning that brand doesn't have a women's champion and who better to take that title off of her than Belair?
Ripley has been so dominant that WWE has teased her having male opponents. During an interview with FOX 61 she was asked if WWE would have her start wrestling men soon.
"I'm not too sure," Ripley said. "So for me, I would like to see it just for the pure fact that I also love beating up the men." H/T To Wrestling Inc. For Transcription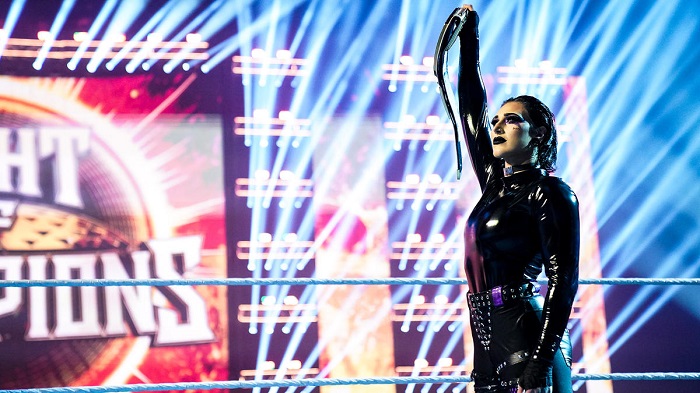 Watch Out Boys Mami Is Coming For You
Ripley's only official match with a man was Akira Tozawa in December, but that doesn't mean she hasn't put the beating on some male Superstars. She body slammed Luke Gallows who is a big boy and mixed it up with both Santos Escobar and Kevin Owens. She even stepped up to the Bloodline's enforcer, Solo Sikoa, multiple times. It looked like the two may come to blows, but I think Sikoa got a little scared and backed down if I remember correctly.
However, a new man just made her hit list this week on Raw. During a tag match with AJ Styles and Seth Rollins vs. Judgement Day, Rollins pulled a trick on Ripley. He slipped out of the ring and put his arm around her (I don't blame him) and Ripley thought it was Dominik Mysterio. This was of course a homage to Shawn Michaels doing the same thing to Melina years ago.
RELATED: John Cena Says Famous WWE Era Sucked For Him
As funny as the spot was, Ripley didn't think it was funny and Rollins just landed a spot on her hit list.
"I thought it was Dom," Ripley said. "I'm upset with Rollins because I thought it was Dominik, and I was living in the moment with my Dom-Dom celebrating and cheering on my fellow Judgment Day members. And then I heard this little cackle in the side of my ear, and I was like, 'That's not Dom's laugh.' He freaked me out. I didn't even know how to respond to it… So he's going to get what's coming to him. It not only surprised me, but it surprised Dom as well, so I know he's going to want to do something about it." H/T FOX 61
Rollins Says My Bad
Rollins is a marked man now. Not only by Ripley and Mysterio, but also Ripley's real life boyfriend. She is dating AEW wrestler and former WWE star Buddy Murphy. Murphy is also a former protege of Rollins back in his WWE days. I guess Rollins needed to show his former student that he is still the master.
Rollins talked about the encounter on this week's WWE's The Bump and hopes no one is too mad at him.
"I saw an opening, I had to take it. I don't know what else to tell you," Rollins said. "It was right there for the picking, and it made for good television and a lot of fun. I hope Rhea wasn't too offended, I hope Dom-Dom wasn't too offended. I hope my old protege Murphy wasn't too offended. I don't know, I'm just pissing everybody off, I guess." H/T To Wrestling Inc. For Transcription
What do you think of Ripley as SmackDown Women's champion? Are you glad she is champion or would you rather it stayed with Flair? What do you think WWE will do about having both champions on Raw? Do you think WWE and the world is ready for Ripley to start taking on men? Do you think there will be any repercussions for Rollins putting his arm around Ripley? Let us know if you would be excited to see Ripley take on Belair.
Sources: Wrestling Inc., WWE's The Bump, FOX 61, Wrestling Inc., Mark Andrews: My Love Letter to Wrestling
KEEP READING: AJ Styles On The WWE World Heavyweight Championship Being A Secondary Title