It's been 15 years since Tropic Thunder came out and led to an array of controversy for several themes depicted in the film. Although it was wildly successful at the box office, some audiences were rather offended by some of the characters. One, in particular, was Kirk Lazarus, played by Robert Downey Jr. In what could be a little confusing to understand, Lazarus is an actor that took on the role of an African American character, Staff Sargent Lincoln Osiris. While many were amused at Downey's amazing black-face portrayal, others were somewhat offended.
RELATED: Les Grossman Spinoff: Robert Downey Jr., Ben Stiller, and Matthew McConaughey in Talks to Return for Unexpected Movie
If you need a refresher, Tropic Thunder is a flick about a series of freak occurrences that lead a group of actors who are shooting a big-budget war movie and are forced to become the soldiers they are portraying in their film. Sounds a tad confusing, but if you've seen it, then it makes sense.  
Some viewers were offended By Tropic Thunder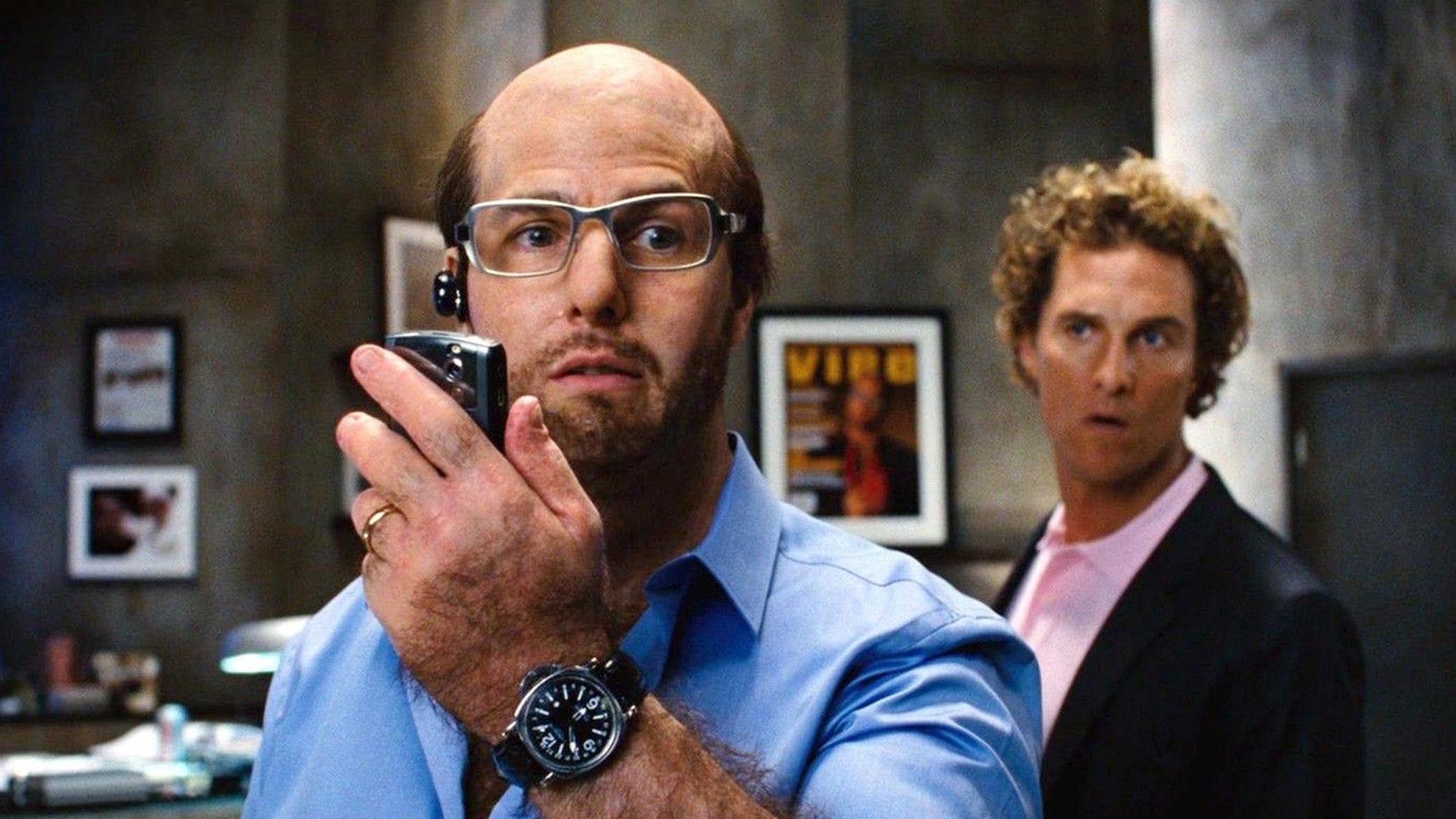 What may come as a shock is that, while highly offensive, more viewers were offended at Ben Stiller's character, Simple Jack, for his depiction of a special needs farmer. Over the years, fans have consistently called for some sort of follow-up with not only Downey's character but for Tom Cruise to reprise his role as Les Grossman.
Cruise stunned audiences with his barely recognizable appearance that included a fat suit, sparse hair, and a filthy vocab. He also had quite a bit of memorable lines for a character who didn't have as much screen time as the others. With a stacked cast that includes Ben Stiller, Jack Black, Jay Baruchel, Matthew McConaughey, Danny McBride, Bill Hader, and Nick Nolte, it's Cruise and Downey who truly stood out.
RELATED: 2 New Sherlock Holmes Spinoff Shows Coming From HBO and Robert Downey Jr.
Extra's Melvin Robert recently caught up with Downey and his wife, Susan, on the LA red carpet premiere of his new HBO Max series, Downey's Dream Cars. At the end of his interview, he snuck in a question fans have been eager to hear about for some time now: the possibility of a sequel. 
A major box office success that's worth developing a sequel for.
RELATED: Legendary Robert Downey Jr. Is "No Longer on the Table" According To One Marvel Executive
Tropic Thunder pulled in some massive numbers for an R-rated comedy, scoring $110.5 million in the US and $85 million internationally for a total of $195 million. With a budget of $92 million, it is ranked among the most expensive comedies ever made. Although the world we live in is so drastically different than it was 15 years ago when the film was first released, a team-up with Downey and Cruise could be golden and turn into a massive hit.
Society is a lot more cautious and sensitive with topics of sexuality, race, and body image so an actor playing blackface and another in an obese suit might be pushing the envelope these days. However, since these are characters that have already been introduced on screen for the sole purpose of satire, they might get a pass.
Nonetheless, Cruise and Downey are two of the best-seasoned actors of our time so whatever they cook up for fans would surely be a treat. Even if it isn't a full-blown theatrical release, a limited comedy series could have potential as well.
KEEP READING: CHRISTIAN CAGE TALKS ABOUT BEING A GOOD HEEL AND LONG FRIENDSHIP WITH EDGE
Source: Extra