The Crunchyroll Industry Panel revealed their fantastic range of releases coming soon to the Anime streaming platform. The reveals were shared during the Anime Expo 2023 as new trailers were revealed for Solo Levelling and A Returner's Magic Should Be Special, along with announcements for newly acquired titles. These include new installments for Black Butler and Goblin Slayer as fans were treated to sneak previews and for the latest content, including a new partnership between the NBA and iconic anime series, My Hero Academia.  
Anime Expo 2023 was held at the Los Angeles Convention Center in California on Monday, July 3. Crunchyroll revealed their latest range of content that awaits fans in the future, including brand new trailers that tease the upcoming releases. The anime streaming platform has recently begun its new season of anime as fans dive into the summer line-up for 2023, which features a whole new selection of anime to enjoy.
Crunchyroll Industry Panel Reveals new releases at Anime Expo
Crunchyroll has revealed upcoming releases that will debut on the anime streaming platform and revealed fresh new trailers for anticipated titles. This includes a new, never-before-seen trailer for Solo Levelling, the exciting new series from A-1 Pictures coming next winter. The new anime coming soon to the platform include a range of titles such as The Faraway Paladin: The Lord of Rust Mountain, GOBLIN SLAYER Season 2, The Kingdoms of Ruin, I Was Reincarnated as the 7th Prince So I Can Take My Time Perfecting My Magical Ability, and Black Butler.
RELATED: Jujutsu Kaisen Kicks Off Epic Season 2 in July on Crunchyroll!
The world premiere of a new trailer for A Returner's Magic Should Be Special also debuted during the panel before its October 2023 launch. Several new anime titles were also revealed as acquired by Crunchyroll, Additionally, Crunchyroll previously announced BUCCHIGIRI?! will be coming to Crunchyroll this January 2024 during the studio MAPPA Panel on July 1. Those who attended the Bones panel yesterday also were treated to all new trailers for Metallic Rouge and KamiErabi GOD.app, both soon coming to Crunchyroll.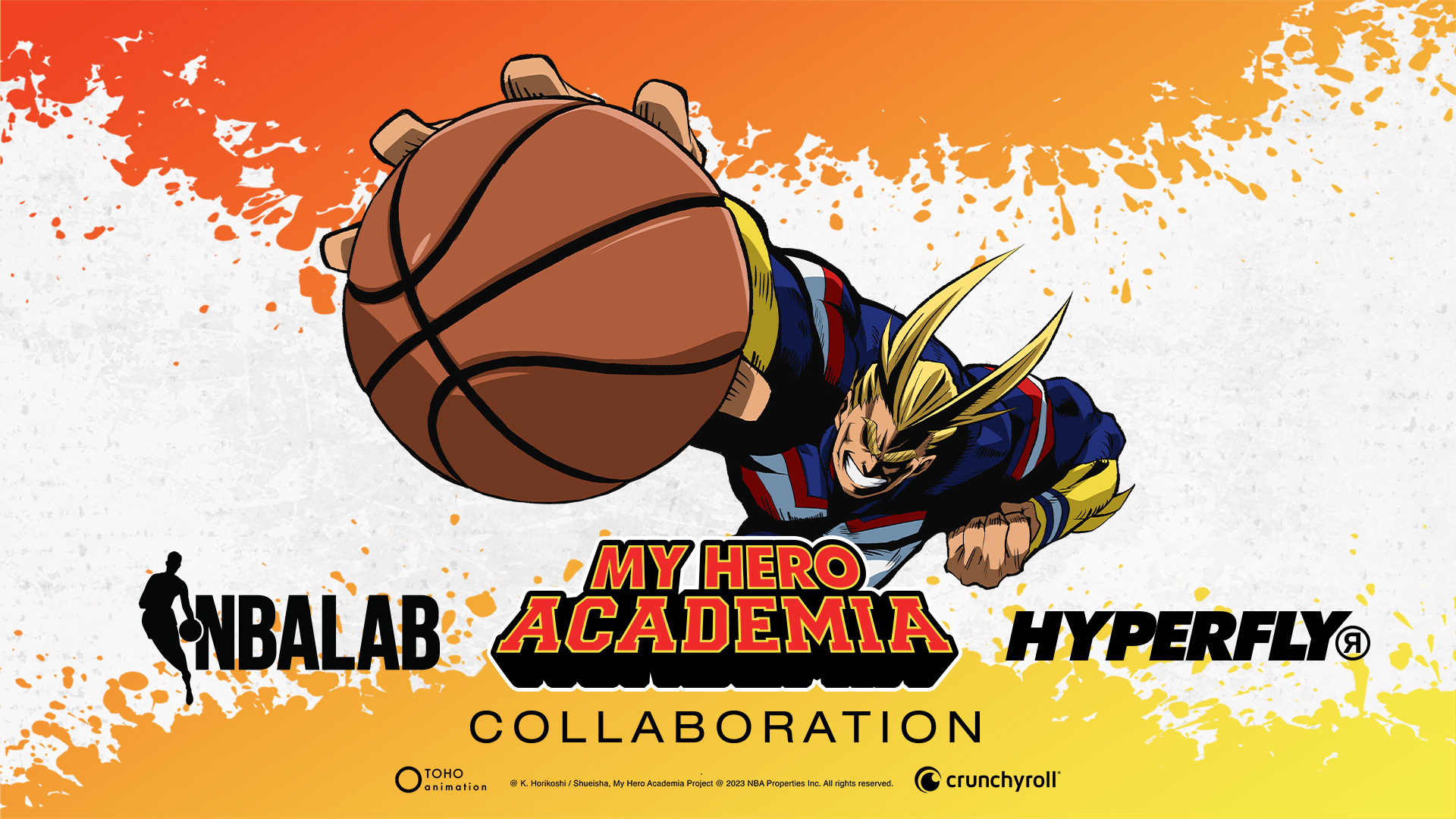 A new preview was shared for the My Hero Academia collaboration between TOHO animation, Crunchyroll, the National Basketball Association (NBA), NBALAB, and HYPERFLY that will bring fans a one-of-a-kind, must-have line of streetwear.
Exclusive items from the collaboration will debut at NBA Con, held in Las Vegas from July 7 to the 9th, with the full range of merchandise launching later this fall. Earlier this week, Crunchyroll's full catalog from Sony Music became available, allowing fans to discover 100 full-length concerts and thousands of music videos. This includes releases from artists like LiSA, YOASOBI, Hikaru Utada, ASIAN KUNG-FU GENERATION, Hiroyuki Sawano, KANA-BOON, and so many more. 
Crunchyroll's Announced Anime acquisitions:
The Apothecary Diaries
Studio: OLM
Launch Timing: Coming Soon 2023
Synopsis: Maomao lived a peaceful life with her apothecary father. Until one day, she's sold as a lowly servant to the emperor's palace. But she wasn't meant for a compliant life among royalty. So, when imperial heirs fall ill, she decides to step in and find a cure! This catches the eye of Jinshi, a handsome palace official who promotes her. Now, she's making a name for herself solving medical mysteries!
Territories: Worldwide excluding Asia
The Faraway Paladin: The Lord of Rust Mountain
Studio: OLM and Sunrise Beyond
Launch Timing: October 2023
Synopsis: Two years had passed since he left the City of the Dead, and Will was seventeen by count. As a lord, he developed "Torch Port, a river port of light", and gradually the people's activities and smiles returned to "Beast Woods". However, out-of-season flowers bloom profusely, and an abnormality is discovered in the forest. Will and his friends head into the depths of the forest to solve this problem and receive an ominous prophecy from the king of the forest. "In the Iron Rust Mountains, the 'Fire of Black Calamity' will occur. The fire will spread, or it will burn everything in this land." What is the calamity that sleeps in the ruined dwarven city of Tetsusabi Sanmyaku…!?
Territories: World Ex Asia, Indian Subcontinent for non-exclusive streaming rights only
Studio: LIDENFILMS
Launch Timing: Coming Soon 2023
Season 1 Synopsis: "I'm not saving the world. I just kill goblins." Rumour has it that, in a certain guild in the middle of nowhere, there is an extraordinary man who has climbed all the way to the Silver rank just by killing goblins. At the same guild, a priestess who's just become a new adventurer has formed her first party… and the man who ends up rescuing that party when they get into trouble is none other than the Goblin Slayer. 
RELATED: The 8th Crunchyroll Anime Awards Release Date Set for March 2024
Territories: United States, Canada, Australia, New Zealand, United Kingdom, Ireland, South Africa, Netherlands, Scandinavia, Latin America, Russian Speaking Territories
The Kingdoms of Ruin
Studio: Yokohama Animation Lab
Launch Timing: October 2023
Synopsis: Witches once blessed the human race with wisdom and peace. But the Redia Empire's "Gear Expansion" brought about a culture of science that far surpassed magic, and witches were viewed as enemies impeding the progress of civilization. Thus began the witch hunts. One human named Adonis, who was raised by a witch named Chloe, swears revenge against the human race that took his beloved mentor from him. What salvation can be found at the end of a bloodbath fueled by utter despair?
Territories: Worldwide excluding Asia
I Was Reincarnated as the 7th Prince So I Can Take My Time Perfecting My Magical Ability
Studio: Tsumugi Akita Animation Lab
Launch Timing: April 2024
Synopsis: The qualities valued most in the study of magic are bloodline, aptitude, and effort. There was one sorcerer who, despite his deep love for magic, was born a commoner and thus lacked the bloodline and aptitude for it.
As he died an unnatural death, he wished he had studied magic more while he had the chance. Then, he was reincarnated as Lloyd, the seventh prince of the Kingdom of Saloum and one blessed with a strong magical bloodline. Reborn with all his memories intact, along with the perfect bloodline and immense talent, he was determined to enjoy his new life, using his extraordinary magical abilities to master the study of magic that was beyond his reach in his previous life! 
Territories: Worldwide excluding Asia
To Be Hero X
RELATED: "Demon Slayer: Kimetsu No Yaiba" Takes Over New York's Times Square to Celebrate "Swordsmith Village Arc" Finale
Studio: BeDream 
Launch Timing: TBA
Synopsis: In this world, people's beliefs create heroes. The hero that gains the most belief is named Hero X.
Territories: Worldwide excluding Asia
Studio: Project No.9
Launch Timing: January 2024
Season 1 Synopsis: With no written rules, the real world is hard for gamer Tomozaki Fumiya, but he's about to get the experience he needs from a seasoned player.
Territories: World excluding Asia (exclusive), Bhutan and India (non-exclusive), and Kazakhstan and Kyrgyzstan (exclusive for Russian, non-exclusive for other languages)
RELATED: Crunchyroll and Jazwares Partner to Bring Fans the Best in Anime Collectibles
Studio: CloverWorks 
Launch Timing: Coming 2024 from Aniplex and Crunchyroll
Series Synopsis: A new season of Black Butler returns in 2024! The new installment will continue adapting the manga.
Territories: Worldwide excluding Asia
BUCCHIGIRI?!
Studio: MAPPA
Launch Timing: January 2024
Synopsis: When Arajin Tomoshibi reunites with his former best friend, Matakara Asamine, he finds himself involved in a battle among some of the strongest guys around. And then the shadow of a giant genie suddenly looms over them…
Territories: Worldwide excluding Japan
A rich selection of content continues to bless anime fans that support Crunchyroll and enjoy the amazing releases currently available. The summer line-up has only just begun but it's fantastic that a new selection of anime will be already awaiting their debut. The return of titles such as Goblin Slayer and Black Butler have also been highly desired releases but it's great that fans have been able to see trailer for anticipated new anime such as Solo Levelling. The new streetwear from the collaboration between My Hero Academia and NBA is incredible to see and it's great to see All Might magnifying the sport for fans.

What do you think of the new trailers revealed by Crunchyroll? Are you excited about the newly acquired releases revealed during the Anime Expo? Will you be obtaining the latest streetwear featuring the collaboration between NBA and My Hero Academia? Let us know on social media and keep following The Illuminerdi for more anime news.  
KEEP READING: KINGOHGER KING KUWAGATA OHGER AND DX CROWN LANCE REVEALED FOR THE MAGNIFICENT 47TH SENTAI
Source: Crunchyroll