Kevin Owens reveals what his favorite WrestleMania main event was and how he was hurt that he didn't have a match at Elimination Chamber.
---
Kevin Owens has been one of the top male Superstars since being called up to the main roster in 2015 and defeated John Cena. Whether he was in the main event, a title match or just having a heated feud, Owens has been one of WWE's most reliable Superstars.
RELATED: Bron Breakker Recalls Valuable Lessons Learned From Veterans And Not Being Called Up Yet
Owens has become one of the WWE Universe's favorite wrestlers, whether he is a babyface or a heel, this has given him some high profile opportunities. One of these opportunities have two WrestleMania main event matches.
On a recent episode of Love Wrestling, Kevin Owens was asked to pick his favorite WrestleMania main event match, between his match with Stone Cold Steve Austin and winning the tag titles with Sami Zayn.  He said it was a tough decision, but was able to give an answer.
"It sounds like I'm trying to get out of it easily [from answering the question], but there's really no words to describe either experience.

The best way I can describe it, is when I look back at both of these nights, I kinda can't believe they happened, you know? That I found myself in those situations, in that spot, getting to do that, and the circumstances [of] both years were so incredible.

… I think it's still more unbelievable to me that I wrestled Stone Cold Steve Austin 19 years after his last match, in the main event of WrestleMania. That's just … I don't know. It's one of those pinch yourself to make sure it's real kinda moment. I've done that a lot over the last year-and-a-half since it happened. But, both those moments are things I'll look back on when I'm done and think, 'I was very, very lucky to get to experience those things.'"

– Kevin Owens –
Two Incredible Moments Wrapped Up Into One Career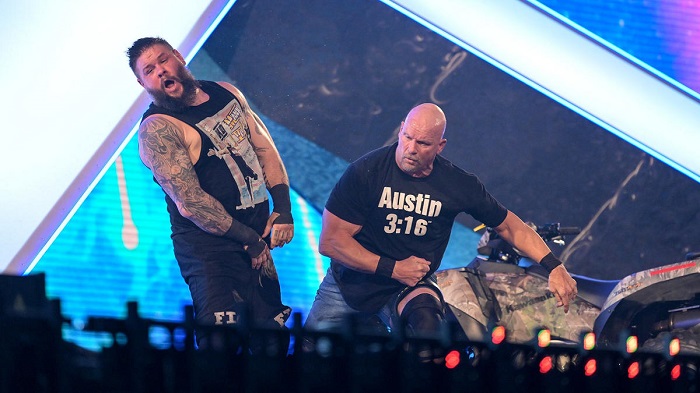 Having a feud with someone you watched on Raw every week growing up must be surreal and to have him come out of retirement to have a match with Owens would make anyone's life. However, at this year's WrestleMania, Kevin Owens was able to win the WWE Tag Team Championships with his best friend, Sami Zayn, in the main event. That must be a completely different kind of honor and much more sentimental.
Even though Kevin Owens has achieved a lot of big moments in WWE, it does come with some downs.  At this year's Elimination Chamber in Montreal, Quebec, Canada, Zayn took on Roman Reigns for the Undisputed WWE Universal Championship. This was a huge moment for Zayn and while Owens was happy for him he was bummed he didn't have a match on the card in his home town basically.
"Well, I gotta be honest, not being on the actual show was a real bummer. There's no way around that."

– Kevin Owens –
Hook A Canadian Up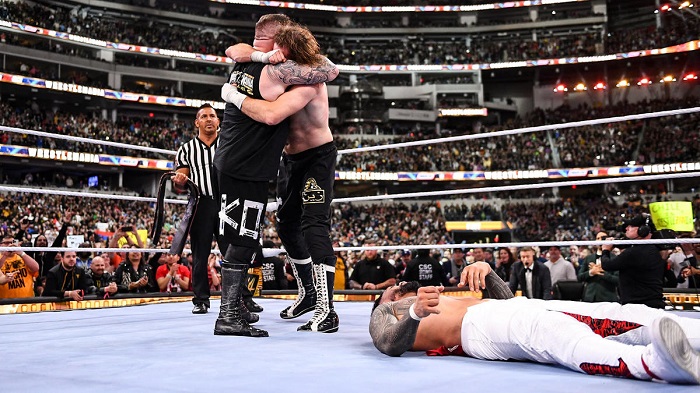 Even though Kevin Owens didn't have a match on the card he did have a big moment during the event.  After Zayn lost to Reigns he started getting attacked by Reigns and Jimmy Uso. This was Owens' time to shine and came out to save the day. He is a very generous person and decided to give Reigns, Uso and even Paul Heyman a Stunner.  This led to the formation of his tag team with Zayn.
RELATED: Sami Zayn Talks About Big Return To Saudi Arabia
Kevin Owens saving Zayn and teaming up with him was a big moment in WWE's top storyline, but he really wanted a match in his home country.
Owens explains why having a match in Canada is so important to all Canadians.
"Honestly, it's not even just 'cause it's Montreal. I feel the same way everywhere…Anytime we go to Canada and I'm not on one of the shows, I'm like 'why am I not on this show,' you know? I don't think they quite grasp that Canada is just one big city in a way for their homeland guys."

– Kevin Owens –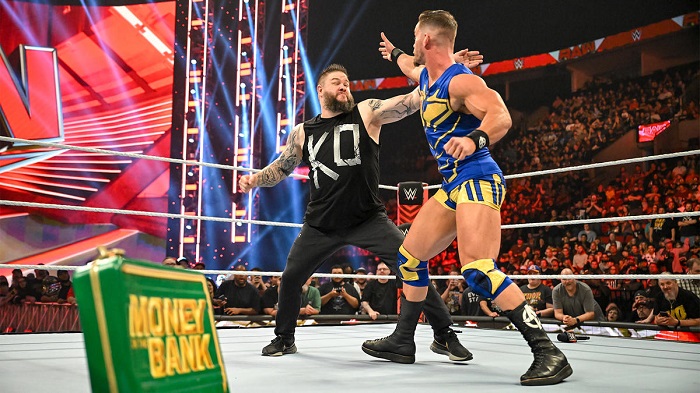 Owens and Zayn are still the tag team champions and it doesn't look like that will change anytime soon. WWE will be in Canada next month so hopefully Owens will have matches and be able to show Canada what he can do.
Which moment do you think was more important to his career, Austin vs. Owens or tag titles with Zayn?  Do you think a Superstar should always have a match in their hometown? Should they always have a win? Let us know if you think Kevin Owens should stay in a tag team or if he and Zayn should go back to singles matches.
KEEP READING: WWE Phenom Rob Van Dam Talks About Unexpected Interactions With Vince McMahon
Sources: Wrestling Inc., Love Wrestling, Wrestling Inc.