In a newly-surfaced interview with Berkshire Magazine, Debra Jo Rupp talked briefly about her experience on the set of Agatha: Coven of Chaos, describing it as a second season of WandaVision in the vein of how American Horror Story had several seasons that were disconnected in plot but thematically linked. The actress played Mrs. Hart in the Elizabeth Olsen, Paul Bettany-led series that opened the can for Marvel Studios on Disney Plus, and will return for the spin-off, which wrapped in early June in Atlanta.
Debra Jo Rupp was talking to the publication about That '90s Show, and when asked what else she has going on at the moment, she brought up Agatha: Coven of Chaos:
"It's the second season of Wandavision for Marvel. It's very much like American Horror Story, where each season is a whole new kind of a thing. I was shocked when they called me, because I really thought that would be it, and I was fine with that. But when they called, I got so excited because it's a character I never get to play. She's gonna be great fun."
RELATED: Deadpool 3: Matthew Macfadyen's Mystery Character May Have Just Been Revealed!
That was pretty much it, as when asked what is exciting for her about the new series, she practically couldn't answer:
"I cannot tell you. I am terrified of these people. They are the most secretive people on the face of the Earth. You are forbidden to talk about anything. I'm afraid they would come arrest me. This I can tell you: I am basically the same person that I was in Wandavision, Mrs. Hart, but in a different kind of a thing. We've shot in LA, and I'm packing now as we speak, to go to Atlanta for two months to continue shooting."
The conversation was conducted back in January when the production was about to make the move from California to Atlanta, where it was in production through the first half of 2023. No official release date has been announced, but it's expected to arrive on Disney Plus in 2024. Back in July 2022, Kevin Feige said at San Diego Comic-Con that the series was targeting a release on the platform during the winter of 2023/2024, but it seems that is no longer doable.
Is Agatha: Coven of Chaos Really WandaVision Season 2? Everything We Know So Far!
Plot details on the series are being kept tightly under wraps, but over the past few months, some specifics may have slipped through the cracks. Obviously, as the title suggests, the show will be centered on Agatha Harkness, who was trapped in her Agnes façade by the end of WandaVision, but will obviously break out of the spell one way or another by the end of Coven of Chaos' premiere. We also know that key players of the Westview town are returning, including Rupp's Mrs. Hart, Emma Caulfield's Dottie, and secondary characters played by David Payton, David Lengel, Asif Ali, Amos Glick, Brian Brightman, and Kate Forbes. Evan Peters is also rumored to come back as Ralph Boner.
RELATED: Captain America: Brave New World's Anthony Mackie Explains How Harrison Ford Surprised Him On First Day of Shooting
WandaVision introduced Wanda and Vision's kids to the MCU, before they went on to also appear in Doctor Strange in the Multiverse of Madness. According to rumors, Heartstopper star Joe Locke will be playing an older version of Billy Maximoff, aka Wiccan. Following that logic, Tommy (aka Speed) is also expected to appear in the series, though we still don't know who is playing him.
So there are a lot of key returning players from WandaVision, except for Wanda and Vision. Neither one is expected to appear in the show, though there are already rumors out there about Wanda's potential return happening sooner rather than later, and definitely before Avengers: The Kang Dynasty rolls credits. Vision is also set to return to lead his own series Vision Quest, which has been in development for a few months and should start gearing up for pre-production before the end of the year, if everything is going well.
RELATED: Agatha: Coven of Chaos: More Story Details Revealed: Exclusive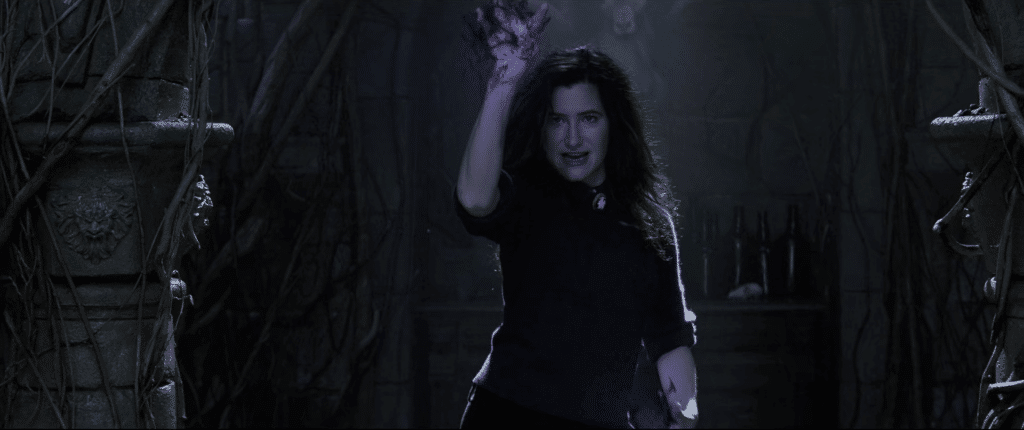 The line between a second season of an anthology series (of sorts) and a spin-off is definitely hard to define in this scenario, and it's understandable that Debra Jo Rupp would lean towards the former, but defining it as the latter is probably not wrong either, all things considered. The plot is supposed to be entirely different and anchored on a different protagonist, but some of the themes about witchery and even the genre-bending approach that WandaVision took (apparently Agatha: Coven of Chaos will feature musical numbers) tend to line up with a second season à la American Horror Story.
And to make things even more confusing for this argument, yet reassuring as far as the quality of the final product is concerned, WandaVision showrunner Jac Schaeffer is returning as executive producer, lead writer, and will even direct some episodes. She will be joined in her directing duties by Gandja Monteiro and Rachel Goldberg.
How excited are you for Agatha: Coven of Chaos? With everything we know so far, do you think it qualifies as a second season of WandaVision, or should it be labeled as a spin-off instead? Which Marvel series are you most looking forward to? Let us know on our social media, and stay tuned for more!
KEEP READING: Agatha: Coven of Chaos' Rumored Main Villains Uncovered!