Last month, we came to you with a spoiler-free review of Void Rivals #1, Skybound Entertainment and Image Comics' first entry in a brand new continuity that merged the G.I. Joe and Transformers universes into a new comic legacy. While we couldn't exactly spell out what happened in the last comic within the review, I think it's safe to finally say that the new Energon Universe is off to an interesting start!
RECAPPING VOID RIVALS #1
For those of us who weren't previously aware, Void Rivals is a brand new imprint comic from writer Robert Kirkman, artist Lorenzo De Felici, and inker Matheus Lopes. Skybound's first entry in what is now known as the Energon Universe, Void Rivals #1, tells the story of Darak and Solila, two members of a long-warring race.
RELATED: Invincible Season 2 Will Release Late in 2023 With a Showdown with Immortal
Darak, an Agorian, was sent on a mission and found himself stranded on a comet with his only companion being his A.I. assistant, Handroid. Then you have Solila, a Zeronian who also crash-landed on the comet. Realizing that they have to work together to survive despite many thousands of years of conflict, the two begin searching the comet's surface for anything they could use to get off the comet.
Instead of supplies, they find the comatose remains of the Transformer Jetfire, officially announcing the connection to the Transformers universe once and for all. However, after being awakened, Jetfire decides to just fly off without the two, leaving them trapped on the comet once again. After the encounter, Jarak finds himself with a renewed sense of optimism having watched a spaceship turn into a giant robot. If a robot can turn into a vehicle, why can't they get off that rock?
AND NOW HE CONCLU–I MEAN CONTINUATION (WRONG UNIVERSE!)
This month's edition of Void Rivals is alright. Straight up, the entire issue is essentially an exposition dump. The comic opens on Agoria, where we find Darak receiving his mission from the director of an unknown military operation. With the comet passing close to both Agoria and Zeronia, Darak only has a limited time to retrieve the special resources the comet can provide before the Zeronians plunder it first.
After a very awkward conversation with his father, Minister Dulin, Darak is off through a freaking Black Hole to get to the comet. However, during his journey, a voice from the beyond gives him, and the readers, a bit of backstory to the rivalry that the Agorians and the Zeronians have fought over for thousands of years.
Obviously, we can't get into everything that the comic entails. We don't want to spoil all that happens in the new issue. However, this month's issue has one of the Transformers Universe's most obscure references to date. Let's just say you might want to go rewatch the "Five Faces of Darkness" from the Transformers: Generation One animated series.
REGARDING THE COMIC
You may be shocked to discover that I'm normally not one to review comics. Honestly, comics are a wonderful visual medium that I've always enjoyed, but never quite figured out how to review them. So, instead of focusing on the visuals (which are brilliantly drawn and inked, though I'd probably say that about most comics I come across), I'm instead going to review the main story.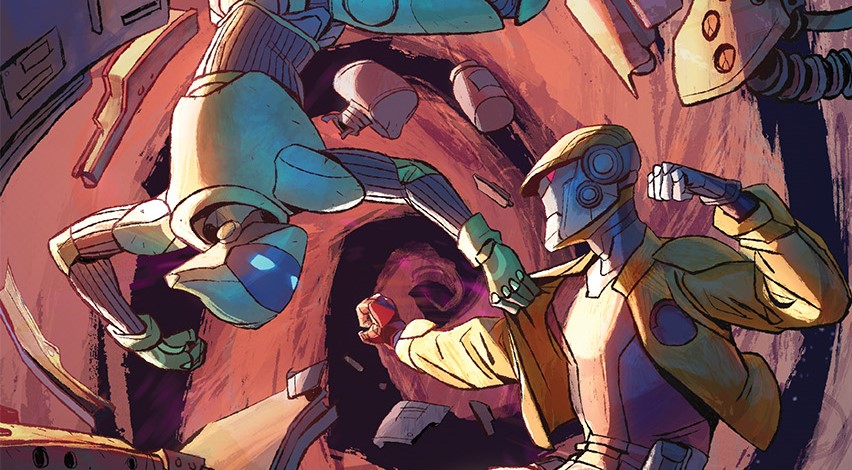 Void Rivals brought in most of its readers with the announcement of its incorporation within the larger Transformers/G.I. Joe universe. Following the beautiful run from IDW Comics that has spanned from the mid-2000s to 2021, Skybound Entertainment and Image Comics definitely have a huge mountain to surpass with the future of their so-called Energon Universe.
I'll admit, the only reason why I read these comics was because of their overall connection to the Transformers. However, after these first two issues, I can honestly say that I'm sticking with it. Obviously, the story of Romeo and Juliet has been told to death. Void Rivals isn't trying too terribly hard to move past that.
It's fairly obvious that Darak and Solila are going to either become a beautiful couple, a legendary rivalry, or the space equivalent of college roommates. Either way, they are stuck together for the long run, especially so after the ending of this latest issue.
So, when you have a Shakespearian story being told using the universe established to have a planet-eating giant robot as the personification for the Devil, it's going to be admittedly hard to break the mold. Void Rivals has a massive challenge ahead of it. How does Kirkman intend to make the story unique enough to stand out within this massive universe? Will the story be strong enough to stand on its own?
RELATED: Invincible Season 2 Is On Its Way With New Footage Of Steven Yeun Back in the Booth
If you ask me, Kirkman and co. have a prime opportunity to explore the Transformers universe in a very unique way. With almost 40 years of stories to draw from, the Transformers universe is vast and filled with characters that are interesting and obscure. Kirkman has the chance to reintroduce these characters from across the mythos in Void Rivals to truly establish that this universe is more than just Transformers and G.I. Joe. Humans and Cybertronians are just two races in a truly vast universe.
After two issues, Kirkman has chosen to explore two new races with the Zeronians and Agorians. Last month he introduced Cybertronians to the universe. This month he introduced a new race. Time will tell what else Kirkman and Co. have in store, and I'm going to be right here, waiting with excitement just to see where Darak and Solila will find themselves next. Maybe they will be in a world of Alicons? Hunted down by Death's Head (that one is extremely unlikely but you never know!)?
RATING: 8/10
The only way to find out is to read Void Rivals, currently available wherever comic books are sold! Oh, and I guess you could follow us on Twitter @The_Illuminerdi as well. We got cool nerd and geek news here! And it's Comic-Con Week! You know it's gonna be a fun week!
KEEP READING: Void Rivals #1, Robert Kirkman's thrilling introduction to the Energon Universe!