In the realm of cinematic storytelling, few names command as much respect as Christopher Nolan. Known for his mind-bending narratives and breathtaking visuals, Nolan returns to the director's chair with his latest IMAX-shot epic thriller, Oppenheimer. The film plunges audiences into the tumultuous life of J. Robert Oppenheimer, the enigmatic man whose work on the atomic bomb placed the world on the precipice of destruction, yet paradoxically held the promise of its salvation. Boasting a star-studded cast and the expected tour de force of audio and visual mastery Nolan is known for delivering, Oppenheimer is a thrilling exploration of one of history's most complex and controversial figures.
Wow. Everything. Wow!
Oppenheimer is the epitome of cinema. I fully came in ready to pick the movie apart for anything. But Christopher Nolan seems to only get better as a filmmaker. Nolan's ability to hone in on a topic, break it down into deliciously addictive and digestible chunks, and keep it coming for a full meal is at a new peak. Though by no means experts, audiences will undoubtedly walk away from the film very aware of the concept of quantum physics. At least more than the first few weeks of an intro class on the subject.
RELATED: Joy Ride Review – Raunchy, Risque, and Really F*)@!#g Funny
Outside of the grandiose subject matter of Oppenheimer, which remains the framework of the film and becomes the beautiful metaphor of real life, Nolan fully displays his mastery over the audio and visual medium of cinema. Utilizing the cast to further the narrative, the camera to frame the story, the sounds to bring the scenes to life, and Hans Zimmer's score to drive the audience through a whiplashing, yet never overbearing, spectrum of emotions. Though you may wish the film is shorter, there is not a single frame wasted in this 3-hour epic.
Without giving anything away, those who are not familiar with the life of J. Robert Oppenheimer, and are only familiar with his mentions in a typical K-12 curriculum, have likely not prepared themselves for where the movie goes. While what everyone expects and wants from the movie from the commercials and marketing is there, there is so much more. Where I think Nolan has improved, at least in the sense of duration, is making people talking incredibly engaging.
Much of the movie is just a room full of people in a windowless room with two people arguing and some reaction shots and minor chimes in from the rest of the people present. If you break it down to that, it seems bland and boring. But experiencing it, especially in IMAX, I believe is where you get to really feel the brilliance of Christopher Nolan. While the spectacle and the epic scores and sound engineering are the blockbuster qualities that will bring in the masses, it is the quieter moments, and in Oppenheimer's case, the literal silence, that will move them.
An All-White-Star Cast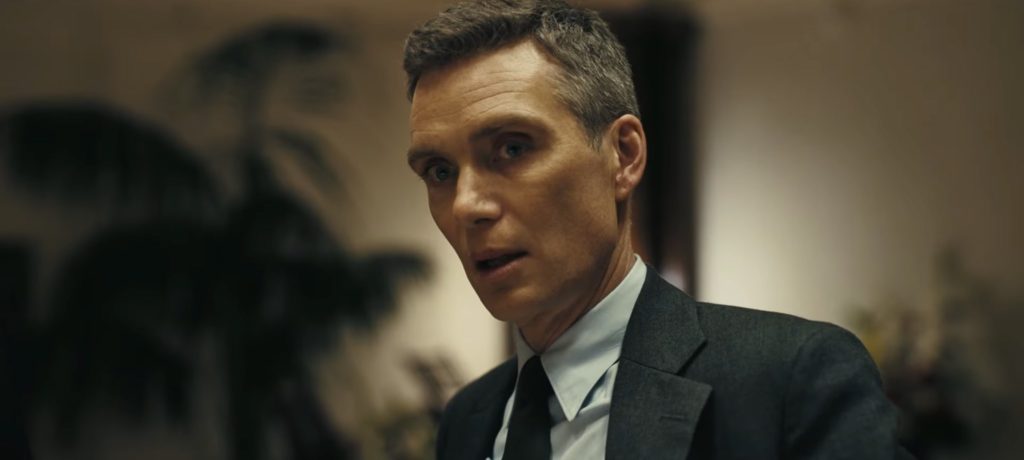 Cillian Murphy is fantastic. Calling the Best Actor Award for pretty much any of the awards for Murphy now. Murphy as Oppenheimer is an inspiring performance that will immediately capture the audience and guide them through one of history's prominent figures.
RELATED: Mission: Impossible – Dead Reckoning Part One Review – Impossibly Elevates the Franchise
Murphy is the obvious star of the film, but his performance is dependent on the rest of the cast. The chemistry between the cast is perfect. Whether it is love, animosity, or utter contempt, the feelings are palpable! Emily Blunt gives life-shattering looks. Josh Hartnett somehow completely overshadows his handsomeness and seems like an entirely different person. Robert Downey Jr., is breathtaking.
There are no small parts. Every speaking role in the film magnificently delivers. The cast is studded with all-stars, and each one came to play. It's as if there was a different star for each pitch thrown of a perfect game.
Period Piece Trope
On a technical and entertainment level, Oppenheimer is a masterpiece. Christopher Nolan is truly one of the greatest directors of our time. This cast is absolutely fantastic. The only "flaw" is that it falls into the trope that Hollywood thinks we don't notice. In fact, I'm sure that only those of us who are used to being left out of the medium will notice and will be subsequently criticized for noticing. But it's what happens when movies and television do period pieces, they act like minorities don't exist. Watching this film, you would think the only non-white people are the ones about to be bombed.
RELATED: Warrior Season 3 Review – The Best Action-Drama Series of the Summer
While biopic movies tend to be fictionalized quite a bit, they are still often the only source of knowledge people have of that time period for many. And usually, a good enough film provides enough information to help a kid pass a test after watching it. Like, outside of an imploding sub, what else do most people know about the ship that ran into an iceberg?
Unlike Oppenheimer, there were thousands of African Americans who contributed to the Manhattan Project that the history thought in schools actively tries to disregard. I am not saying a film's creator should be held responsible and is expected to include everything and get everything right. I believe it is unfair to ask artists to be burdened by representation with every project that they do.
It's like how Joy Ride should be seen as a new resurgence of R-rated comedies but is instead billed as the Asian-Girl Hangover. The difference between Joy Ride and Oppenheimer, minority-led films don't have a choice and have to be a beacon of representation and embrace their homogeny, whereas Nolan and most of the industry actively choose to not focus on the wider implications and influence they know film and entertainment has. Does Nolan have to take that into consideration, no and it's not fair to demand it. But it's also not fair that he has the option to ignore and disregard it. But that's his privilege.
A Truly Explosive Experience
With its blend of historical drama and high-stakes suspense combined with an IMAX necessary cinematic experience, Oppenheimer is a testament to Nolan's ability to weave intricate narratives, essentially teach a complex subject matter, and somehow challenge and captivate audiences. Christopher Nolan has changed the world of cinema with Oppenheimer.
For the fully engulfing and magnanimous cinematic experience, and being the epitome of cinema, I give Oppenheimer a 10/10.
Oppenheimer releases exclusively in theaters on July 21, 2023.
About Oppenheimer
Release Date: July 21, 2023 (USA & UK)
Written and Directed by: Christopher Nolan
Produced by: Emma Thomas, Charles Roven and Christopher Nolan
Cinematography: Hoyte van Hoytema
Edited by: Jennifer Lame
Music by: Ludwig Göransson
Production: Syncopy Inc., Atlas Entertainment
Distributed by: Universal Pictures
Genre: Epic Thriller
Runtime: 3 hours
Cast: Cillian Murphy, Emily Blunt, Robert Downey, Jr., Matt Damon, Rami Malek, Florence Pugh, Benny Safdie, Michael Angarano, Josh Hartnett and Kenneth Branagh

Logline
Written and directed by Christopher Nolan, Oppenheimer is an IMAX®-shot epic thriller that thrusts audiences into the pulse-pounding paradox of the enigmatic man who must risk destroying the world in order to save it.
Are you going to watch Oppenheimer in IMAX? Do you have to see it on 70mm film? Did you know the film reel is the largest reel yet, reaching around 11 miles in length? Let us know your thoughts about the film and how you're going to see it on social media!
KEEP READING: The Afterparty Season 2 Review – An Incredible Whodunnit Mosaic of Comedy, Drama, Mystery, and Genre-Hopping
***Writer's Note*** For anyone who is reacting to the title of my review. I hope it makes you feel some type of way. If it irks you, GOOD. If it makes you mad and vitriolic, go sit on a pineapple and make it disappear.
If Variety's lead critic, one of the premiere members of this section of the industry, titles his reviews 'Joy Ride' Review: Outrageous Asian American Comedy Gives Fresh Foursome a Chance to Cut Loose, 'Flamin' Hot' Review: Believe It or Not, This Neato Latino History Lesson Will Change Your Take on Cheetos, and 'Fancy Dance' Review: When a Native Mother Goes Missing, Lily Gladstone Takes Charge, there should be no reason for you to feel any differently about this one. You got something to say @fenixnests everywhere.