The journey from page to screen is often filled with challenges and creative decisions. In our Love in Taipei interview with Executive Producer, Abigail Hing Wen, the author of the New York Times bestseller Loveboat, Taipei, the film is based on, she shares her insights into the adaptation process and the changes made to bring her beloved characters to life on the big screen.
Changing Things Up for The Movie
RELATED: 'LOVE IN TAIPEI' Exclusive Interview With The Film's Real-Life Wonder Girl, Abigail Hing Wen
Writing a book is an accomplishment in and of itself, especially a 400-page one. Turning 400 pages into a 90-minute movie is a whole new challenge in and of itself. Abigail shared a bit about the process and emphasized the importance of leaning into the different strengths of the book and film mediums. While books allow for deeper exploration of characters and history, films can showcase visual elements like the beauty of Taipei and the energy of dancing.
"The biggest challenge from moving from book to screen is that you have a 400-page book that gets condensed into a 100-page script for 90 minutes, and so there's just not enough room for all the story that can go into the book form. And so what I loved was just leaning into different strengths.

For a book, you can delve much deeper into the interior data characters; you can describe the history of a place and culture. And in the scene, you can showcase the beauty of Taipei, the kinetic energy of dancing, the fun romantic interactions between characters, although you can definitely capture chemistry on the page too. I would say that the characters themselves are true to who they are."

-Abigail Hing Wen, Executive Producer of 'Love in Taipei'-
RELATED: Randall Park Thoughtfully Talks What He Wants to Direct After 'SHORTCOMINGS'
Staying True to the Characters
One of the most notable changes in the adaptation was the introduction of the character Auntie Shoe. In the book, she was a dance instructor in Taipei, but in the film, she became a family member. Abigail explained that this change helped to strengthen the protagonist's relationship with her family. Despite the necessary changes, Abigail assured that the characters remained true to their essence.
"I would say that the characters themselves are true to who they are. It's like Loki experiencing the multiverse where they are iterated; they're like in different, slightly different scenarios but they're playing out the same storyline. And at the core, they are still struggling with the same things like Ever, like how does she honor her family while still pursuing her passions, and I think that's a thing that's reflected in all four of the main characters through the books as well as in the film.

But then certainly, there's ways that the story had to be condensed, so I think, you know, maybe the most notable one is the introduction of the character Auntie Shoe, who really is actually the dance instructor that Ever connects with in Taipei, she's a mentor figure but by bringing her home as a family member, it helped to shore up Ever's relationship with her family and bring her closer."

-Abigail Hing Wen, Executive Producer of 'Love in Taipei'-
RELATED: Tobe Nwigwe Details Why Great Movie Soundtracks Need to Stand Alone As a Song
A Journey of Passion and Creativity
Adapting Loveboat, Taipei to the big screen was a journey filled with creative decisions and a passion for storytelling. Abigail Hing Wen's insights into the process provide a fascinating look into the world of adaptation and the importance of staying true to the heart of the story.
The film promises to be a visual and emotional treat, capturing the essence of the book while offering a fresh perspective. Whether you've read the book or are new to the story, you can experience the award-winning tale as Love in Taipei is now streaming, exclusively on Paramount+!
*Right now, fans can get the Paramount+ with SHOWTIME® plan for $11.99 a month. Try it FREE for one month!
About Love in Taipei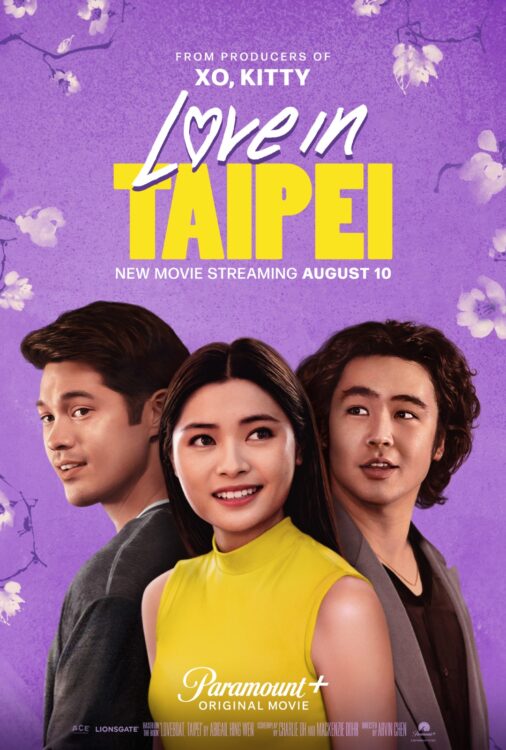 Release Date: August 10, 2023, Exclusively on Paramount+
Based On: Loveboat, Taipei By Abigail Hing Wen
Director: Arvin Chen
Screenplay: Charlie Oh, Mackenzie Dohr
Executive Producers: Abigail Hing Wen, Christopher Foss, Matthew Janzen, Max Siemers, Aubrey Bendix, Cheng-Chung Chang, Ross Butler
Producers: Matt Kaplan for Ace Entertainment
Production: ACE Entertainment, 1 Productions Film
Distribution: Lionsgate, Paramount
Cast: Ashley Liao, Ross Butler, Rick Woo, Nico Hiraga, Xavier Yeh, Chelsea Zhang, Cindy Cheung

Synopsis
Based on the best-selling book "Loveboat, Taipei" by Abigail Hing Wen, LOVE IN TAIPEI tells the story of the young American Ever Wong, whose summer takes an unexpected turn when her parents surprise her with a trip to Taipei for a cultural immersion program. Ever is surprised to discover that she hasn't signed up for homework and history lessons, but instead for a summer-long free-for-all the locals and other students call "Loveboat."

And it quickly lives up to its name when Ever finds herself trying not to fall for two attractive but wildly different boys who are vying for her attention, while at the same time finding the courage to defy her parents' high expectations and pursue her true passion: dancing. 
What are your thoughts about Love in Taipei? How do you feel when a book you like is made into a movie? Do you wish adaptations were direct adaptations or prefer changes made for the movie? Share your thoughts with us on social media!
KEEP READING: 'SHORTCOMINGS' Randall Park Shares Unique Perspective On Asians Portraying Other Asians