Affogato is now available for fans to experience the new JRPG Reverse Tower Defence game. The new release from Spiral Up Games features Affogato as she opens her new Café while also encountering inner demons as a Sorceress. Battle through 30 strategically-designed 'reverse tower defense' levels using powerful Witch Cards, master over 20 unique coffee recipes, and immerse yourself in at least 10 hours of engaging gameplay. Shape your adventure as you take on the role of Affogato and embark on a Spellbinding Magical RPG and Strategy Adventure.
Affogato is the latest indie Role-playing game that features strategic reverse tower defense gameplay. The game developed by Befun Studio was published by Spiral Up Games, which allows players to experience the story of Affogato. The game includes original soundtracks and fantastic art as players fight against demons and brew coffee for visiting customers. The city of Arorua also allows players to visit various locations and make important decisions, such as building relationships with characters or even improving the stats for the main character at key locations. 
Experience Affogato, the latest Indie JRPG, Out Now 
Spiral Games has announced the new release of their highly anticipated RPG, Affogato (trailer, Steam page, press kit). Previously an innovation finalist at the Brazilian Independent Game (BIG) Festival, the game is now available for purchase on Steam at a retail price of USD 16.99. In celebration of the release, gamers can take advantage of a special 15% launch discount during the upcoming week. In addition, an original soundtrack (OST) for Affogato will be released, and both the game and OST will be available at a special bundle price of USD 20. 
Affogato weaves together a unique blend of café management, "reverse tower defense" battles, and coffee artistry, all within an engaging narrative illustrated with beautiful anime aesthetics. As a sorceress managing a café in a city teeming with magic, you'll serve customers bearing intriguing stories and inner battles. With the power to delve into their minds, engage in intense reverse tower defense battles, and use an impressive selection of Witch Cards to help them triumph over their inner demons. Embark on this enchanting journey and breathe life back into the city of eternal night. 
"The talented minds at Befun Studio have crafted an RPG that harmonizes the allure of city life, the nuance of running a bustling café, and the novelty of 'reverse tower defense' battles. We look forward to how players will respond to this unique blend of elements and to share this magical journey with RPG, strategy and anime enthusiasts worldwide."

– Aldric Chang, CEO of Spiral Up Games
RELATED: West Hunt Review [STEAM] – Wild Fun in the Wild West
Game Features

Innovative Reverse Tower Defense Gameplay – Embark on a unique journey into the minds of your customers and engage in strategic 'reverse tower defense' battles against their inner demons. With ever-changing landscapes and tactical demands, each stage promises a thrilling and fresh experience.

Collect Powerful Witch Cards – Assemble a dynamic roster of unique Witch Cards, your trusted allies in battles. Each card boasts its own unique abilities and powers, allowing you to craft your ideal team and strategically overcome every challenge.

Forge Special Friendships by Helping Your Customers – Build meaningful relationships with customers from all walks of life. Listen to their stories, help them resolve their inner conflicts, and become the approachable sorceress you aspire to be.

Master the Art of Coffee Making – Beyond your sorceress persona, hone your skills as a professional barista, perfecting a wide range of coffee recipes. Uncover hidden dialogues and storylines by catering to your customers' preferences and serving the perfect brew.

Discover Unique Side Quests in the City – The eternal night city of Arorua is teeming with side quests that add depth to the main storyline. Venture beyond the café and immerse yourself in the bustling city life. Every corner holds a potential story waiting to be discovered.

Shape Your Own Adventure – In Affogato, how you spend your time truly matters. Be it mastering the art of coffee brewing, or nurturing relationships with your customers, each choice will shape your adventure!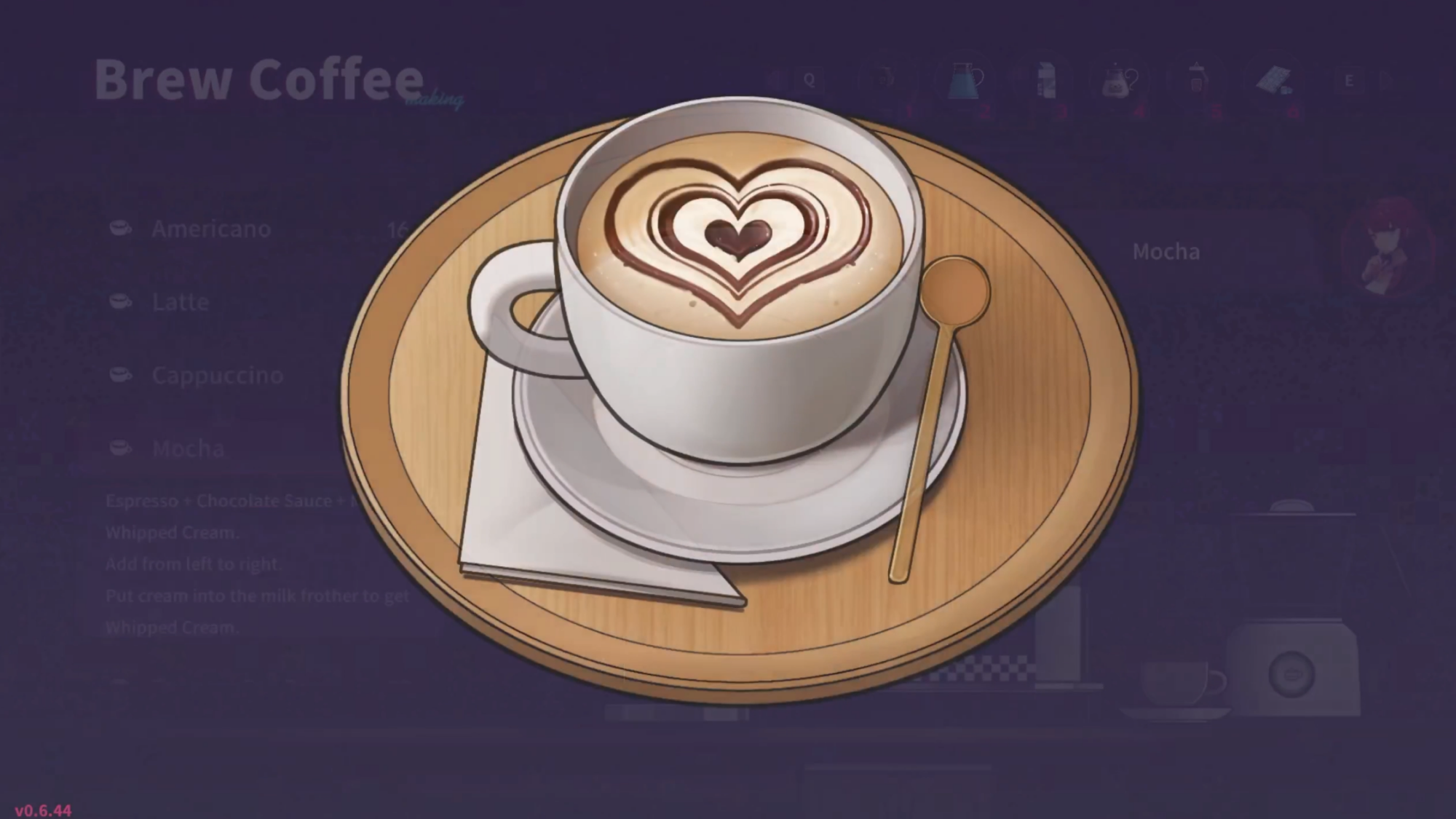 The whole game is a fantastic ride and includes so many delightful gameplay elements that bring the story to life. From the path-following combat to the Coffee brewing, this charming title will offer a unique experience that immerses you in an anime-style narrative.
The card aspect of the game also grants fans of tactical RPGs a thrilling experience as routes and moves are planned during the heat of the moment. With so many hidden missions and possible routes, Affogato will be a game worth diving into and it's easy to imagine the concept becoming an anime series one day.
Affogato is now available on PC via Steam and will also be releasing the Soundtrack for the new release. The JRPG Reverse Tower Defence Game will include an introductory offer that is currently available, giving 15% off until August 24.
RELATED: Papa's Freezeria Deluxe Coming to Steam!
About Spiral Up Games
Spiral Up is an international game publisher for high-quality PC indie games, headquartered in Singapore. Its team members comprise experienced game veterans with decades of combined experience in indie game development and marketing. Our mission is to find the hidden gems of the indie market and polish them into shining diamonds so that they can be enjoyed and celebrated by gamers worldwide. Reach out to us for a non-obligatory chat or show us your awesome demo! 
About Befun Studio
Befun Studio is a Shanghai-based indie game studio founded in 2019 by a team united by their love for all things anime. Their passion for anime and gaming shines in Affogato, their first of many titles to come.
About Affogato
Release Date: 17 August 2023
Publisher: Spiral Up Games
Developer: Befun Studio
Platforms: Steam® (PC)
Genre: JRPG
Rating: 16 (PEGI)
What do you think of Affogato? Will you be experiencing this latest release on PC? Which aspect of the game do you love most? Let us know on social media and keep following The Illuminerdi for more gaming news. 
SOURCE: Affogato  
KEEP READING: Affogato is a Blissful JRPG featuring Reverse Tower Defence Action with a Barista Serenity