The Boys universe is about to get bigger and more intriguing with the introduction of Gen V. This series promises to delve deep into the lives of the students at Godolkin University, an elite institution exclusively for superheroes. As the series' premiere date approaches, Prime Video has unveiled the official key art and intricate character descriptions, setting the stage for an epic narrative.
The New Generation of The Boys
Scheduled for a grand launch on September 29, Gen V stands as a Prime Video Original series, a collaborative production of Amazon Studios and Sony Pictures Television. The series will make its debut exclusively on Prime Video, with the initial three episodes releasing on the announced date. The subsequent episodes are set for weekly releases, culminating in a grand season finale on November 3.
RELATED: Thor 5: Director Taika Waititi Gives His Advice For Next Installment
Set in the dark and intriguing backdrop of The Boys, Gen V transports viewers to Godolkin University. This is where young superheroes are groomed to be the next-gen heroes, with the added allure of potential lucrative endorsements. While the aftermath of superheroes turning rogue is well-known, their initial journey remains shrouded in mystery. Amidst college dilemmas, these students grapple with explosive scenarios, courtesy of their superpowers. As they strive for academic excellence and popularity, a sinister plot within the university starts to unravel. The looming question is – will they emerge as heroes or villains?
The Class of Gen V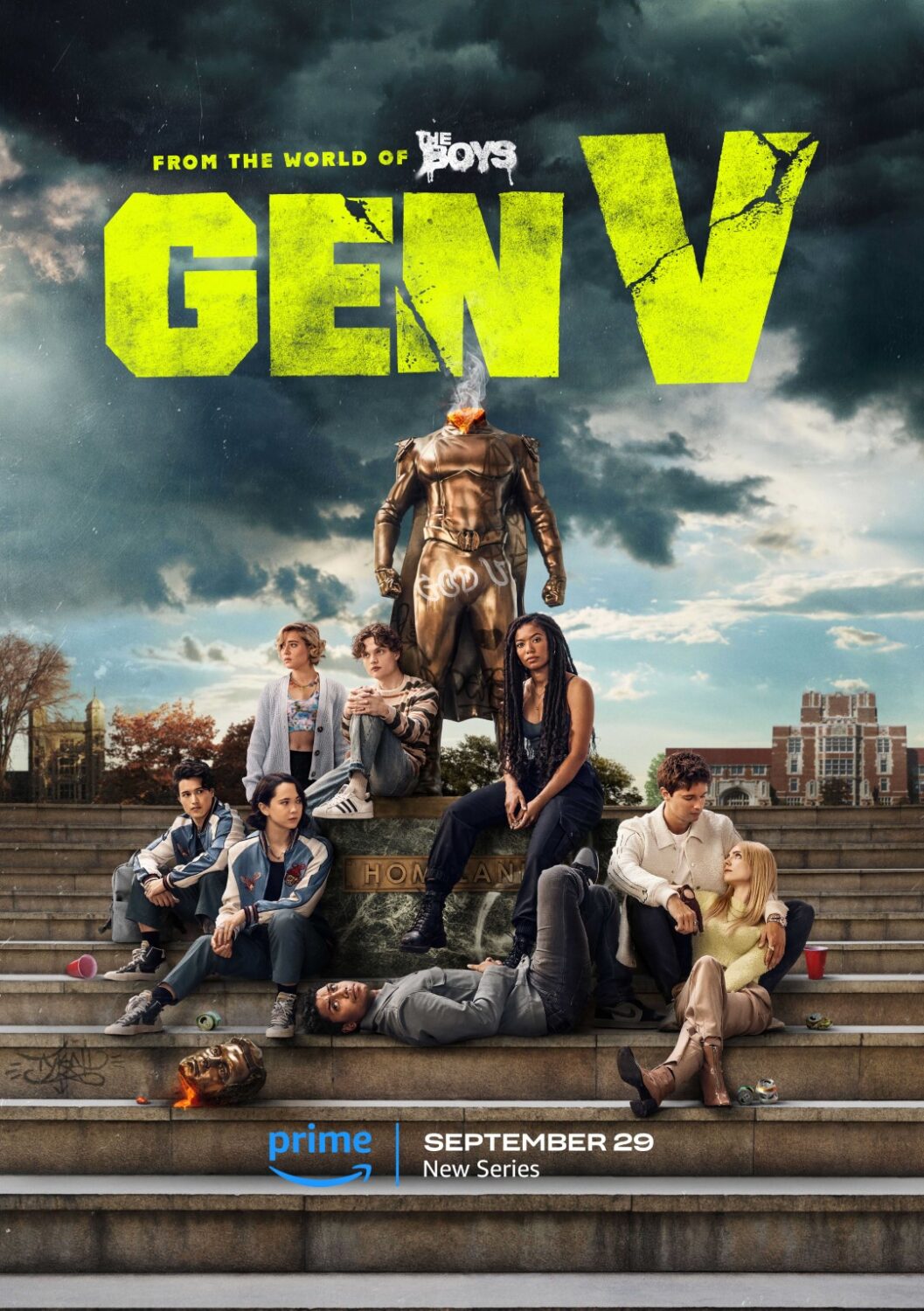 Gen V boasts of a stellar ensemble, including Jaz Sinclair, Chance Perdomo, Lizze Broadway, Shelley Conn, and many more. The series also features guest appearances from renowned actors like Clancy Brown and Jason Ritter. Notably, Jessie T. Usher, Colby Minifie, Claudia Doumit, and P.J. Byrne will reprise their roles from The Boys.
The series is helmed by Michele Fazekas and Tara Butters as showrunners and executive producers, with a plethora of other talented individuals contributing to its production.
Marie Moreau (Jaz Sinclair): An eager freshman with a unique power, Marie is determined to prove her worth but gets sidetracked by a university mystery.
Andre Anderson (Chance Perdomo): A junior with magnetic abilities, Andre is keen on uncovering the university's secrets.
Emma Meyer (Lizze Broadway): Known as Little Cricket, Emma can shrink in size. She forms a close bond with Marie as they navigate university challenges.
Indira Shetty (Shelley Conn): The dean of Godolkin University, Indira's expertise in superhero psychology makes her a pivotal figure at the institution.
Cate Dunlap (Maddie Phillips): A junior with the power to control others, Cate is one of the most popular students on campus.
Jordan Li (London Thor and Derek Luh): A unique student with the ability to switch genders, each having distinct powers.
Sam (Asa Germann): A powerful supe plagued by hallucinations.
Luke Riordan (Patrick Schwarzenegger): Known as Golden Boy, Luke is on track to join The Seven.
Polarity (Sean Patrick Thomas): A celebrated alumnus with high hopes for his son, Andre.
Professor Rich "Brink" Brinkerhoff (Clancy Brown): A renowned educator at Godolkin.
Dr. Edison Cardosa (Marco Pigossi): A gifted doctor associated with Godolkin University.
RELATED: Special Ops: Lioness Episode 6 Review: Lack of Plot Development Makes it Feel Inconsequential
Gen V is poised to be a thrilling addition to The Boys universe, offering a fresh perspective on the lives of young superheroes. With its compelling storyline and dynamic characters, the series is set to captivate audiences worldwide.
Gen V premieres exclusively on Prime Video on September 29, 2023.
About Gen V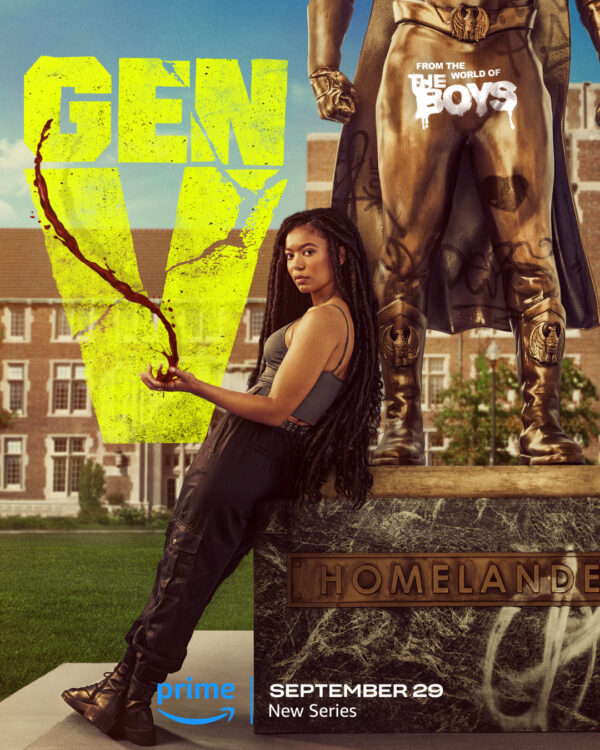 Release: September 29, 2023
Showrunners: Michelle Fazeka & Tara Butters
Executive Producers: Michelle Fazeka, Tara Butters, Eric Kripke, SEth Rogen, Evan Goldberg, James Weaver, Neal H. Moritz, Ori Marmur, Pavun Shetty, Ken Levin, Jason Netter, Garth Ennis, Darick Robertson, Craig Rosenberg, Zak Schwartz, Erica Rosbe, and Michaela Starr
Co-Executive Producer: Brant Engelstein
Produced by: Sony Pictures Television and Amazon Studios, in association with Kripke Enterprises, Point Grey Pictures, and Original Film
Cast: Jaz Sinclair, Chance Perdomo, Lizze Broadway, Shelley Conn, Maddie Phillips, London Thor, Derek Luh, Asa Germann, Patrick Schwarzenegger, Sean Patrick Thomas, and Marco Pigossi

Synopsis
From the world of The Boys comes Gen V, which explores the training of the first generation of superheroes to know about Compound V, and that their powers were injected into them, rather than God-given. These young, competitive heroes put their physical and moral boundaries to the test, competing for the school's highly coveted top ranking. They quickly come to learn that ambition comes with sacrifice, and the difference between right and wrong is not as clear as they once believed. When the university's dark secrets come to light, the students must come to grips with what type of heroes they are going to become.
What are your expectations from Gen V? Which character are you eagerly waiting to see in action? How do you think this series will enrich The Boys universe? Share your thoughts and join the conversation on social media!
Source: Prime Video
KEEP READING: Disney+ Extraordinary Series 'Loki,' 'WandaVision,' and 'The Mandalorian' Coming to 4K UHD and Blu-ray