Sideshow Collectibles joins the celebration of Nation Power Rangers Day with an amazing range of collectibles. The lineup includes incredible statues and figures that perfectly celebrate the 30th anniversary of Mighty Morphin Power Rangers. Along with collectibles for the iconic Rangers, merchandise is also included for the Zords, Megazord, and villains of the series. This includes releases for Rita Repulsa, allies, and her henchmen, the Putty Patrollers. 
National Power Rangers Day was officially created by Hasbro and Saban in collaboration with the Nation Day Calendar. It marks the first air date of Mighty Morphin Power Rangers which was first announced at a Power Morphincon event in 2018. With Power Rangers celebrating their 30th anniversary, fans have been waiting for new announcements and releases that celebrate the momentous occasion. This includes the highly anticipated Power Rangers Cosmic Fury, which will feature David Yost's return as Billy by being a Mentor during Dino Fury's 3rd Season. 
Mighty Morphin Collectibles Revealed by Sideshow
Get ready for National Power Rangers Day with Sideshow's mighty morphin collectibles. National Power Rangers Day falls on August 28, commemorating the date the show first aired in 1993. Celebrate this iconic franchise and grow your collection with Sideshow's curated guide to Mighty Morphin Power Rangers collectibles.
RELATED: EXCLUSIVE: HasLab Power Weapons Priced Over $400 Joining Power Rangers Lightning Collection
Ranger Figure Power!
Add an extra kick to your drink with the Black Ranger Geeki Tikis® Mug by Beeline Creative. This glossy tiki mug is crafted from high-quality ceramic and holds 16 oz. of your favorite beverage.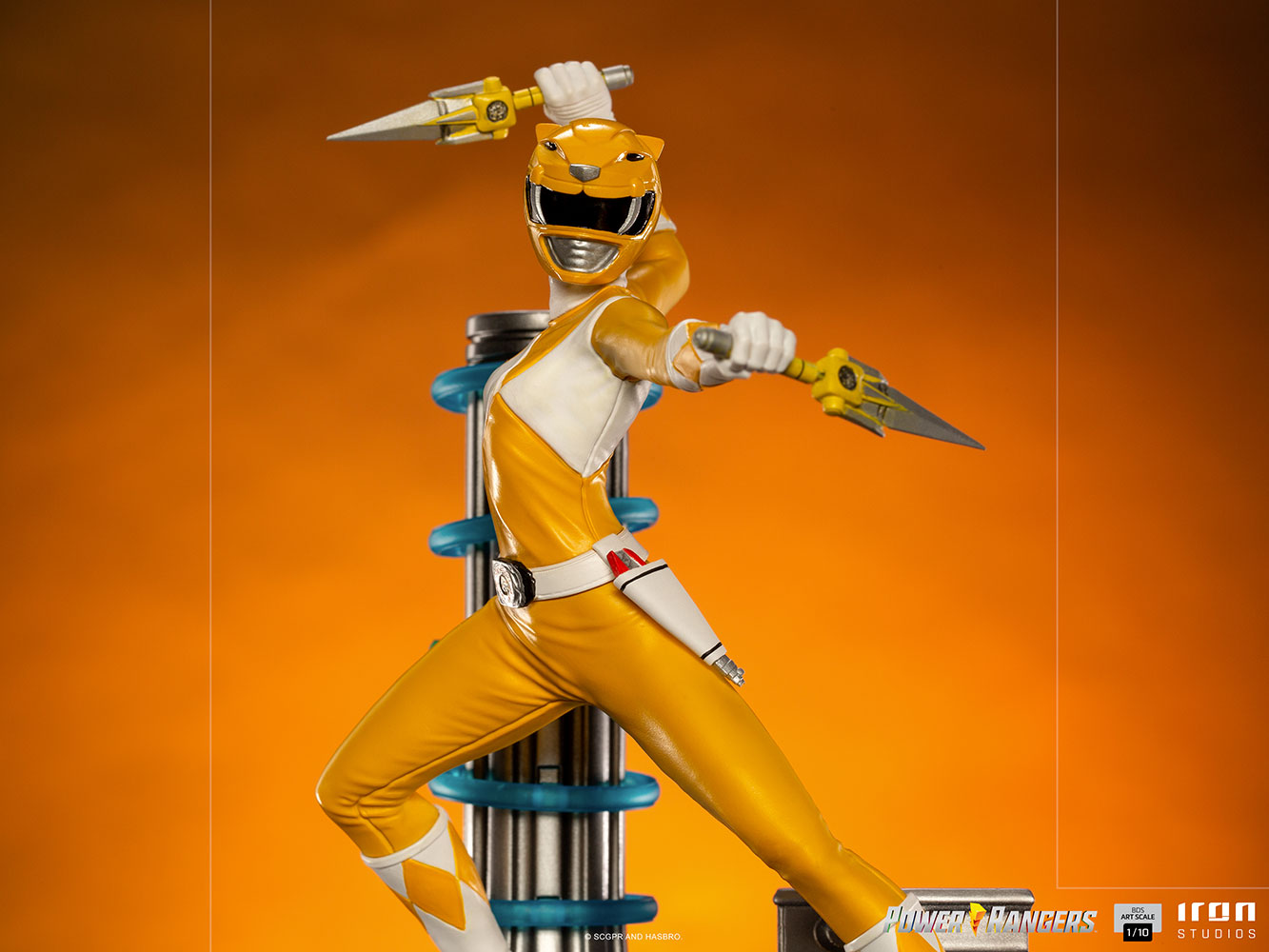 The hand-painted, limited-edition Yellow Ranger Statue by Iron Studios portrays the heroic ranger in a dynamic martial art pose. Display this piece on its own or add it to the other statues in the range for a dramatic diorama.  
The Blue Ranger Statue by Iron Studios shows the clever hero ready for action with his Power Lance. This hand-painted and limited-edition piece is available now from Sideshow and Entertainment Earth. 
The Black Ranger Statue by Iron Studios shows the fun-loving hero ready to fight with his Power Axe. This hand-painted, limited-edition piece is available now from Sideshow and Entertainment Earth. 
RELATED: Mattel Makes a Nostalgic 90s Dive and Revives "Street Sharks" for New 30th Anniversary Line
Harness the might of the entire team with the Core Rangers + Green Ranger Six Pack Set by Threezero. Each super poseable figure in the set is approximately 12" tall and comes with a hand-tailored fabric costume plus a unique Mighty Morphin helmet. Each figure also includes a utility belt, Blade Blaster holster, Blade Blaster, signature weapon, and interchangeable hands. Their weapons can also be combined to form the Power Blaster!
This set is go go going fast. Join the waitlist here. 
Get these Villains! You're Giving me a Headache!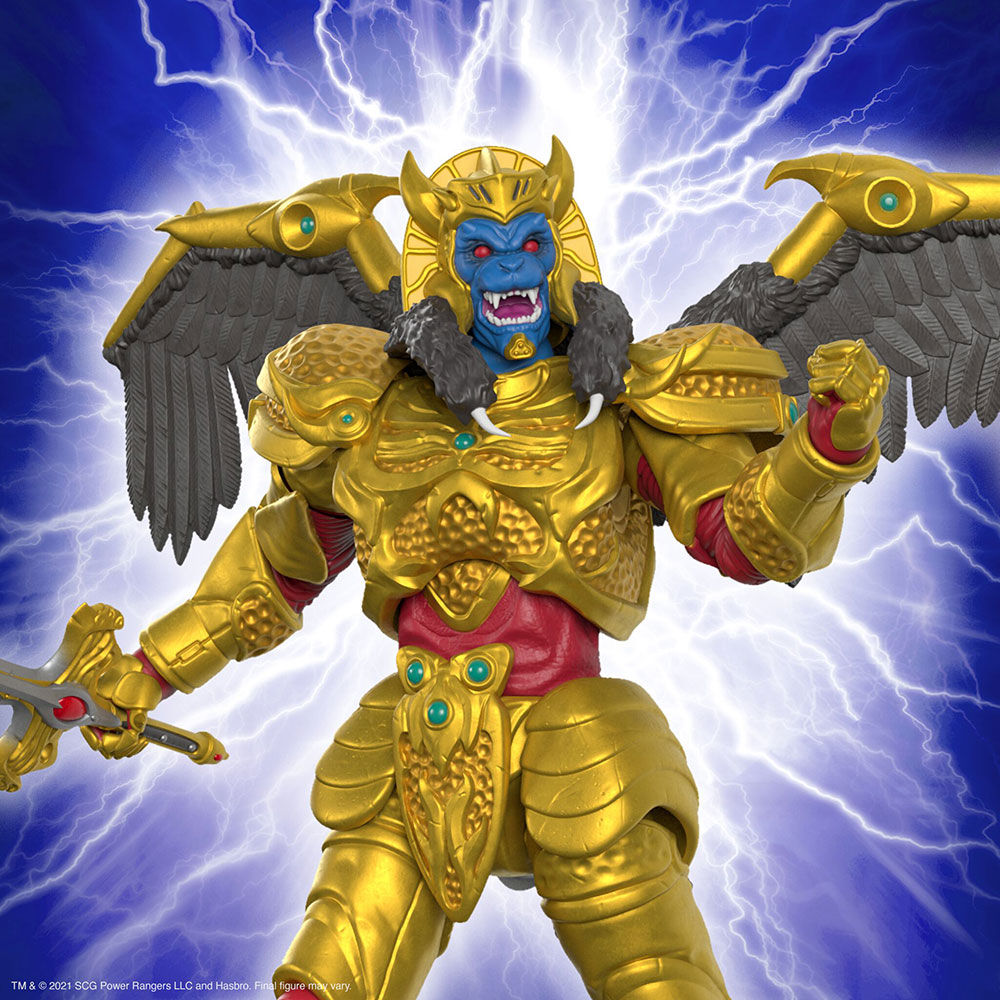 The Goldar Action Figure by Super 7 shows this powerful general in all his golden glory. This highly detailed, ultra poseable deluxe action figure comes with a multitude of interchangeable parts and accessories, including his sword, Power Coin box, and Badges of Darkness. 
Enjoy a cackle with the Rita Repulsa Action Figure by Super 7. The evil sorceress comes with multiple interchangeable heads and hands, fabric garments, and an arsenal of mischief-making accessories, including the Magic Wand, RepulsaScope, Green Power Crystal, and more! 
Help Rita take over Angel Grove with the Putty Patroller Action Figure by Super 7. The highly articulated Putty Patroller ULTIMATES! figure comes with interchangeable heads and hands, fabric clothing attachments, and additional accessories that allow you to display them as seen in some of your favorite MMPR episodes. 
We need Zord and Megazord Power Now!
The mighty Tyrannosaurus Dinozord Action Figure by Super 7 is ready to take on Rita Repulsa's evil space aliens! This highly detailed, fully articulated deluxe Tyrannosaurus Dinozord ULTIMATES! figure stands 8" tall (and even longer from head to tail!) and comes with a variety of interchangeable parts and accessories.  
RELATED: BoxLunch Unveils New Star Wars™ Collection Celebrating New 'Ahsoka' Series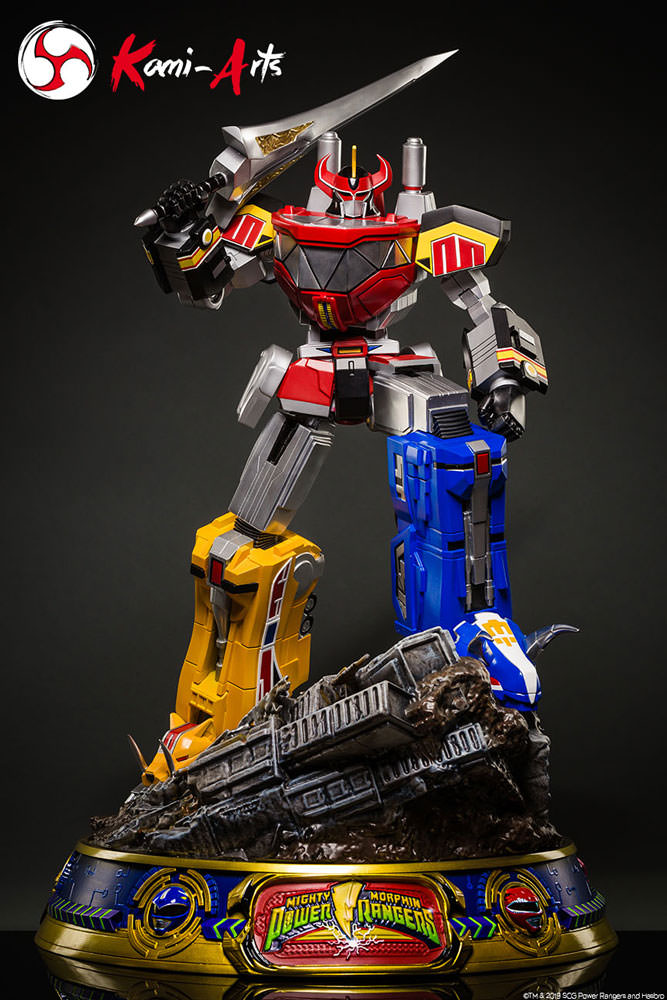 No collection is complete without a Megazord! Combining the Power Ranger Zords into one powerful giant robot, the Megazord Statue by Kami-Arts exudes the strength of their unity. The statue features LED light-up eyes and stands at an impressive 30″ tall.
These are perfect collectibles for any fan's shelves, and each has outstanding details that will look impressive no matter where placed. The Iron Studios statues will be highly desired as the whole set allows fans to create the full Command Centre. The Super 7 Villains are also a fantastic addition to the lineup as these foes are just as iconic as the Ranger, with details that bring out their design complexity. The Tyrannosaurus Zord is great for fans that love the Zord but the Megazord would be an instant treasure as the details and size are magnificent.
All items celebrating the Nation Power Rangers Day are available now from Sideshow and Entertainment Earth. Be sure to use code THEILL for 10% off in-stock items and FALLFREE79 for free shipping on orders $79+.
What do you think of Slideshow's Power Rangers lineup? Are you excited to celebrate National Power Rangers Day? Do you think this event should be an international fan holiday? Let us know on social media and keep following The Illuminerdi for more Power Rangers news.
Source: Sideshow 
KEEP READING: CURSED SPIRITS BEWARE: New 'JUJUTSU KAISEN' Capsule Collection Coming from 999 Club and Crunchyroll