Popular WWE Superstar Windham Rotunda, aka Bray Wyatt, has died at the age 36. The wrestling world is shocked to hear of the passing of one of its most talented stars. It was first reported by Triple H via his Twitter that Wyatt has died. Triple H had received a call from Wyatt's father, Mike Rotunda, informing him of his son's death.
Wyatt was 36 years old so his death was unexpected and caused a lot of discussion about how someone so young could have died so suddenly. It was later reported by Sean Ross Sapp of Fightful.com with the permission of Wyatt's family of his cause of death. He had contracted COVID earlier this year and it had worsened previous heart issues which led to a heart attack and caused Wyatt's death. Sapp wrote as follows:
"I was given permission to reveal that earlier this year Windham Rotunda (Bray Wyatt) got COVID that exacerbated a heart issues. There was a lot of positive progress towards a return and his recovery. Unfortunately today he suffered a heart attack and passed away."
Bray Wyatt hasn't wrestled since January of this year when he faced LA Knight at the Royal Rumble. Later on, he began to taunt and set up a feud with Bobby Lashley, but it was ultimately shelved.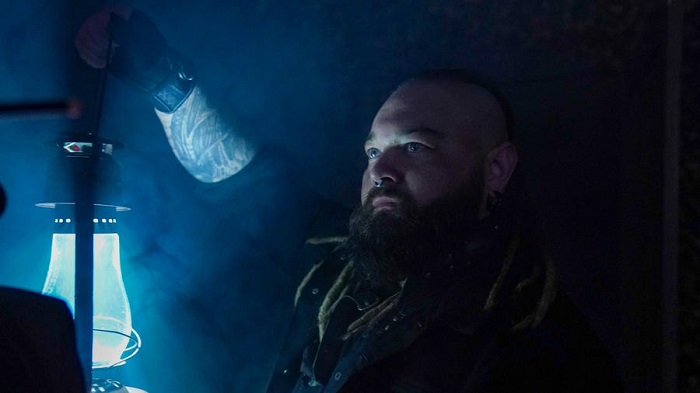 Bray Wyatt hasn't wrestled since January of this year when he faced LA Knight at the Royal Rumble. Later on, he began to taunt and set up a feud with Bobby Lashley, but it was ultimately shelved.  
Wyatt is a third-generation wrestler with his grandfather being Blackjack Mulligan and father Irwin R. Schyster aka IRS (nee Mike Rotunda). His brother, Bo Dallas, is also a wrestler. Wyatt has been with WWE since 2009 when he started wrestling for the developmental territory FCW as Husky Harris. He was part of the NXT show with Cody Rhodes as his pro. He eventually became a part of the Nexus storyline.
RELATED: The Undertaker Addresses Bray Wyatt Comparisons And His Mysterious Whisper
In 2012 he officially adopted the Bray Wyatt name and his career officially began to take off under the then-new NXT developmental show. He along with Luke Harper and Erick Rowan formed tThe Wyatt Family. The group was a cult that saw Wyatt as the charismatic leader as they began their takeover of WWE.
The Wyatt Family Takes Over
With the Wyatt Family as his vehicle, Bray Wyatt was able to showcase himself as one of the most talented Superstars on the roster. This was especially true when he was on the mic. His promo style was like no one else in the WWE. Most wrestlers have a lot of energy and emotion to get their point across, but Wyatt did not. His style was very slow with his words chosen very carefully.
This kind of style aided in his creepy horror movie gimmick and was more reminiscent of a throwback style like that of Jake the Snake Roberts. He truly was a master on the mic. The Wyatt Family eventually added the Monster Among Men Braun Strowman. Strowman's addition to the faction reinvigorated the Wyatt Family and helped to catapult Strowman to the top of the roster.
RELATED: Triple H Discusses What It's Like To Work With A "Whirlwind" Like Bray Wyatt
Wyatt then adopted a completely new character. He took on the evil Mister Rogers persona with the Firefly Fun House and the split personality of Wyatt and the Fiend. He won the Universal Championship twice with the Fiend character.
Bray Wyatt's Release And Return
In late July 2021, Bray Wyatt was released from WWE due to budget cuts which shocked the wrestling world. In October 2022 he made his big return to WWE. He performed many promos and fans were excited to see him return with Triple H giving him the freedom to showcase his skills. His new storyline involved a mysterious Uncle Howdy and other characters from Firefly Fun House coming to life.
Wyatt had been off TV since February dealing with an unknown medical condition. Reports were that he was set to return to the ring soon. After his storyline with Lashley was cut short, many fans were excited to see where it would go and what was coming next for the unique WWE Superstar and former champion.
We here at The Illuminerdi are deeply saddened by the death of Rotunda and would like to extend our deepest condolences to the friends and family of Rotunda. A truly great wrestler and by all the posts by his peers a great human being has died.
What are some of your favorite moments from Bray Wyatt's career? What are some of the must-watch Wyatt matches?  
WWE has set up a fundraiser for his family with the proceeds from his merchandise sales going to his wife Jojo Offerman, so go buy some of his merchandise off WWE.com.
KEEP READING: AEW's Adam Cole Shares How Impressed He Has Been With MJF Since They First Met