CM Punk and Jack Perry allegedly had a backstage altercation at AEW All In.
Everyone's favorite backstage brawler, CM Punk, may be at it again. Yesterday was All In at Wembley Stadium in England and was a huge step in becoming a big rival to WWE. Everyone in AEW should have been flying high and ecstatic that AEW was able to take a huge step forward. However, the event was marred by yet another backstage altercation.
According to many sources including Sean Ross Sapp of Fightful, just prior to CM Punk's match with Samoa Joe, Punk and Perry exchanged heated words. The moments which led up to this exchange are disputed.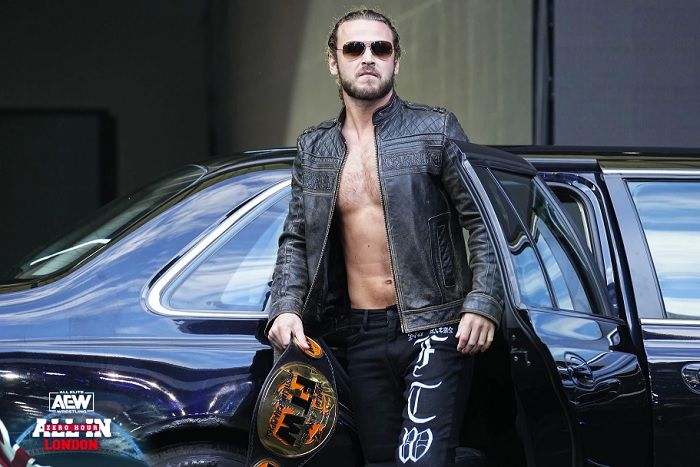 Two Sides Of The Story
Punk's side of the story is Perry approached Punk, got in his face, bumped him, Punk shoved him then choked Perry. However, Perry's side is that Punk approached Perry and the two exchanged words, Punk threw a punch then put Perry in a face lock.
Following the altercation Perry was asked to leave Wembley while Punk went out to have his match with Joe.  According to Bryan Alvarez of Wrestling Observer Radio following Punk's match he was escorted to his dressing room by security and Perry was also escorted out of the stadium by security.
RELATED: RVD Calls Out "Idiot" Doubters And What He Thinks Of New Jack Perry
"He [CM Punk] goes to the backstage area and immediately there is security there and security escorts CM Punk back to his dressing room," Alvarez said. "Jack Perry was then told to leave and he was removed from the building [Wembley Stadium]. CM Punk stayed in his dressing room with security, for I'm not sure how long, but eventually security came and removed him from the building."

– Bryan Alvarez –
Hard Pass On Real Glass From CM Punk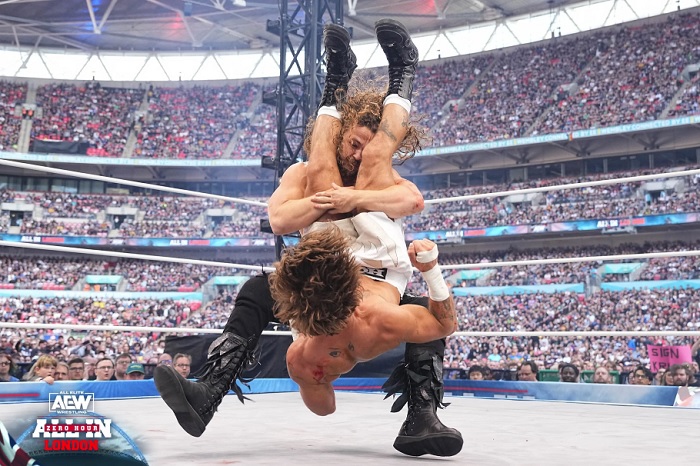 Allegedly the heat between CM Punk and Perry stems from Punk putting a stop to a backstage segment from an episode of AEW Collision. Perry wanted to use real glass during a match. Once Punk heard of this proposed spot he put a stop to it as he saw it as being too dangerous. He also relayed that spots like this would not be allowed on Collision. Collision has unofficially become Punk's show and he has taken on the role of an authority figure.
Following Perry's proposed spot being nixed he was said to be very upset. This led to Perry saying  "it's real glass, cry me a river." during his All In match with Hook earlier in the event. The comment seems to be a not so subtle dig at Punk nixing his real glass spot from Collision.
Backstage Fights And AEW Go Together Like Peanut Butter And Jelly
In wrestling backstage incidents are uncommon and there is always a possibility the story is way off or completely fabricated in order to set up a storyline. However, in AEW things like this are pretty common.  It is also common for Punk to have altercations like this. He has real life heat with Kenny Omega and The Young Bucks following a backstage brawl at last year's AEW All Out. He also has lasting heat with Adam Page and Ryan Nemeth with Nemeth and Punk having a heated exchange a few weeks ago.
RELATED: Darby Allin Is Angry The TNT Championship Has Lost Its Worth
During the post-All In press conference Tony Khan confirmed there was a backstage incident, but couldn't comment on it.
"I can't comment on it at this time beyond what I'm about to say," Khan said, "Yes, there was an incident backstage before we went live on tonight's show. We are investigating it. Until I learn more about what happened, I can't really address it at this time so I can't comment, but I did want to be honest with you and tell you that is the case."

– Tony Khan –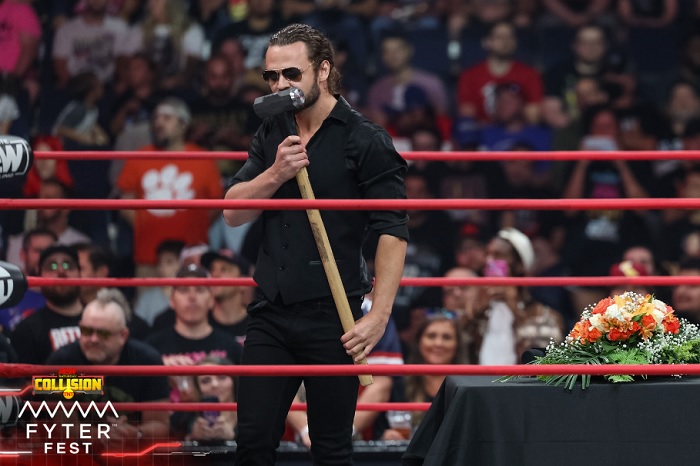 Since returning from injury Punk has inserted himself as the top guy on Collision and is calling himself the "real" AEW World champion as he was never defeated for it. He successfully defended his championship against Joe at the event.
Perry has transitioned from his babyface Jungle Boy character into his heel Jack Perry character. He took on Hook to defend his FTW Championship, but lost his championship to Hook.
Do you think this is a real story or just a "worked shoot" like Punk is known for? With CM Punk's history of having heat with practically half the roster, who do you think approached who? What do you think the consequences from this will be? Do you think Punk is just too much trouble to keep in AEW? Let us know if you think WWE would pick him up if he was released by AEW since he is undeniably a big draw.
KEEP READING: Superstar Wrestler Bray Wyatt's Sudden Cause of Death Revealed
Sources: Sean Ross Sapp Of Fightful, Wrestling Observer Radio, Wrestling Inc., Post-All In Press Conference, Wrestling Inc., Wrestling Inc., Wrestling Inc., Wrestling Inc.