Rob Van Dam talks about what he thinks of the people who said he didn't have it anymore and praises "Jungle Boy" Jack Perry.
RVD is one of the most unique wrestlers of all time. His style mixes high-flying moves with martial arts. However, one of the most unique aspects of his style is what a fast pace he keeps during his matches.  As he good older that fast pace is harder to keep up, but he is still able to keep it up.
RVD was inducted into the WWE Hall of Fame this year which ignited rumors of a possible WWE return. He has been open about wanting to return to wrestling, but never narrowed down where or when he might return.
RVD did make his return to wrestling recently and did it against WWE's biggest US rival, AEW. He took on Perry who has taken on a cool heel persona as of late. Many fans thought he wouldn't be able to keep up with the 26-year-old wrestler, but he proved them wrong.
RELATED: Britt Baker Talks About The Insane Wrestling Trolls She Has To Deal With
On a recent episode of his podcast, 1 Of A Kind With RVD, RVD spoke on how he felt after the match and what he thinks of the fans who doubted him.
"I got close to four hours of sleep, a little under, then I went to the airport and I flew home, had a s****y travel day because of delayed flights and then got back last night," RVD said. "Guess what; I feel great, just like I normally do. Perception is reality, so for the people that don't believe that and want to think that I'm all jacked up or anything that they said or thought or whatever, then you guys are idiots."

H/T To Wrestling Inc. For Transcription
RVD May Not Be The Whole F'n Show Anymore, But He Is Still Most Of The Show
The RVD vs. Perry match impressed a lot of people and showed that RVD can still give a great match to fans. What is even more impressive is considering he made a name for himself in ECW and wrestled in his fair share of extreme matches. Taking chair shots to the head from Sabu and Five-Star Frog Slashing onto an empty table would take a toll on anyone's body.
RVD came out on the losing end of the Perry match due to Perry cheating, but he was overall impressed by Perry's performance. He also revealed that the match wasn't the first time he and Perry have crossed paths.
RELATED: WWE: VINCE MCMAHON VS. TRIPLE H IN A SPECTACULAR CREATIVE SHOWDOWN!
Back when RVD was living in LA he would occasionally train at a local wrestling school with his wife, Katie Forbes, and see a young Perry training.
"I thought he was really good," RVD said. "I thought he was…you know, I saw him when he was training. When I lived in LA, Katie [Forbes] would train at this wrestling school in LA called Santino Brothers. Sometimes I would go there with her, mostly just stretch and Jungle Boy was there. So he was training and stuff, so obviously he's come a long way since then.

But yeah, he's comfortable out there, smooth, timing, relaxed, boom. He cheated bro, what do you want me to say? But also, I met him when he was a little kid when I met his dad. Luke [Perry] was a wrestling fan, so when we were at the Staples Center, it was probably 2001, I remember meeting Luke Perry and his little kid."
Everyone Backstage Impressed With His Match
RVD noted that almost everyone backstage at AEW gave him praise after the match. Forbes added by saying during the match everyone backstage was "popping" backstage. The biggest fan of the match was said to be Tony Khan. Always good to impress the boss.
RVD's match was a special occasion appearance which was probably setup by his close friend, Sabu, who had a similar appearance not long ago. RVD putting in a great performance brings up the question of if this will be a regular thing.
RELATED: Rob Van Dam Recalls Incredible Reaction To His First ECW Match With Sabu And Sabu's Dream Final Opponent
RVD admitted he and Khan had talked about him returning. However, the details of the talk he refused to reveal.
"Was it talked about between me and Tony about me coming back? Yeah," RVD said. "The details of that conversation, we will have to wait and see."

H/T To Wrestling Inc.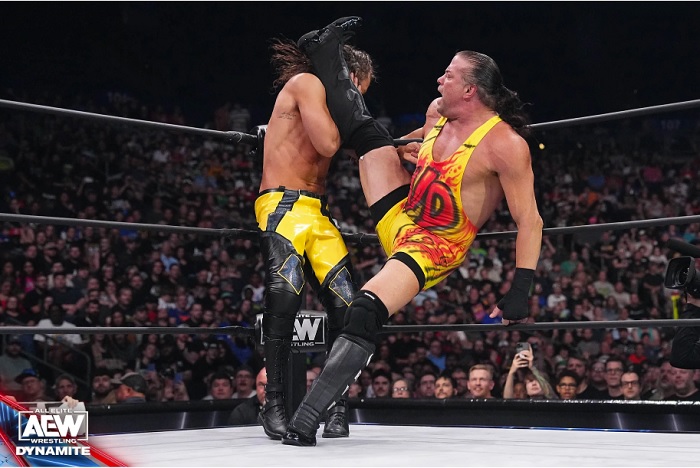 RVD still has a lot of name recognition and more importantly still has some left in the tank. Bringing him back would be a good idea and everyone would love to see him wrestle some of the top wrestlers in the promotion, especially those with a similar style. Seeing RVD vs. Kenny Omega sounds like a pretty appealing matchup.
What did you think of RVD's match? Do you think he was able to make Perry look good? Do you think he has lost a step with his in-ring work? Would you like to see him come back to AEW? Let us know what other wrestlers you would like to see RVD face.
KEEP READING: Darby Allin Is Angry The TNT Championship Has Lost Its Worth
Sources: Wrestling Inc., 1 Of A Kind With RVD, Wrestling Inc.