Tekken 8 pre-order bonuses have been revealed as the release date unveils all characters that players can select to start the next battle. A final roster of 32 unique characters with six new reveals and all-new arcade quest game mode announced. Pre-orders are available now and a range of special editions will give players the chance to obtain fantastic skins and in-game bonuses. The new release will also be available on various platforms, with a unique skin set for PlayStation 5 fighters. 
Tekken 8 is the upcoming 3D Fighting game developed by Bandai Namco Studios Inc as part of the Tekken Project. The latest game will continue where the ending dialogue of Tekken 7 left off as the story now focuses on the showdown between father and son, Kazuya Mishima and Jin Kazama. An all-new game mechanic will feature in the latest installment as the 'Heat System' will allow players to activate special movements and abilities for each character. This allows a new tactic to be used in a fight and allows players to unleash new offensive attacks as part of any play style.
Tekken 8 Reveals Round 1 with Release Date
Leading video game publisher and developer Bandai Namco Europe today announced that Tekken 8, the upcoming entry in the legendary fighting franchise, is releasing on January 26, 2024. The game is coming exclusively to PlayStation®5, Xbox Series X|S, and PC via Steam®. Developed by Bandai Namco Studios Inc., Tekken 8 will harness the power of current hardware to make it the most visually stunning game in the series yet.
RELATED: Jak and Daxter: Tom Holland and Chris Pratt Rumored To Reteam For New Video Game Adaptation
The title also promises a new approach to playing fighting games, with a new aggressive combat system that rewards offense-first tactics and delivers spectacular fights. Tekken 8 is now available for pre-order in Standard, Deluxe, and Ultimate Edition.
The reveal showcased the Arcade Quest – a completely new single-player mode that will prove the ultimate training ground, tapping into the franchise's roots to introduce a new way to play and polish skills. In this mode, players can create and customize their own avatar and "visit" different arcades to participate in matches designed to improve their play and teach new techniques. As players progress through the story, they will continue to develop and grow stronger along with their avatar and hone their skills against tougher and tougher opponents in a story not too different from how some real players got into eSports.
RELATED: POWER RANGERS: LEGACY WARS – THE LEGENDARY SOUL OF THE DRAGON TOMMY HAS BEEN ADDED TO ROSTER
Continuing the regular cadence of Tekken 8 character reveals, the trailer announced returning favorites joining the 32-character roster, with Kuma, Leo, Shaheen, Steve, Dragunov, and Yoshimitsu showcasing their updated looks and moves. All the characters in Tekken 8 will have deep customization choices, including completely new options, with the possibility to change each part's colors as well as the size and position of accessories, letting players really show their style and bring personal flair to their favorite characters.
The various editions are a nice perk to pre-order the game before the release as there is a fantastic range of bonuses for the start of the game. It is also fantastic to finally see the full roster as players were gradually revealed leading up to the release date. There are so many amazing characters added to the game but it's incredible to see that among them is Jun Kazama, who hasn't been a playable character for over 25 years. With so many new and iconic characters, fights in this game will take on a new lease of life as combat has never been more exciting.
RELATED: VIOLENT SPIDER-MAN 2 STORY SPOILERS REVEALED WITH NEW PLAYSTATION RATING
Tekken 8 will be released on January 26, 2024, and is now available for pre-order in Standard, Deluxe, and Ultimate Editions. Pre-orders for the Standard Edition will include the base game, once available, and grant players the Paul Phoenix set as an Avatar Costume. PlayStation 5 players will receive the Mokujin and Testujin Avatar skins.
The Deluxe Edition includes all standard items along with the Playable Character Year 1 Pass, which unlocks four characters, released after the game's launch, as well as the Kinjin Avatar skin. It also includes the Gold Suit Pack of playable character costumes for all 32 characters, letting players bring the bling to their battles.
RELATED: Nintendo Retires Video Game Icon Charles Martinet As The Legendary Voice of Mario
The Ultimate Edition includes all content and bonuses of the Deluxe Edition, along with Avatar skins for Kazuya, Jin, and Jun, as well as 32 patterns of classic Tekken t-shirt sets for players to personalize their avatars and perhaps relive past memories from this legendary franchise.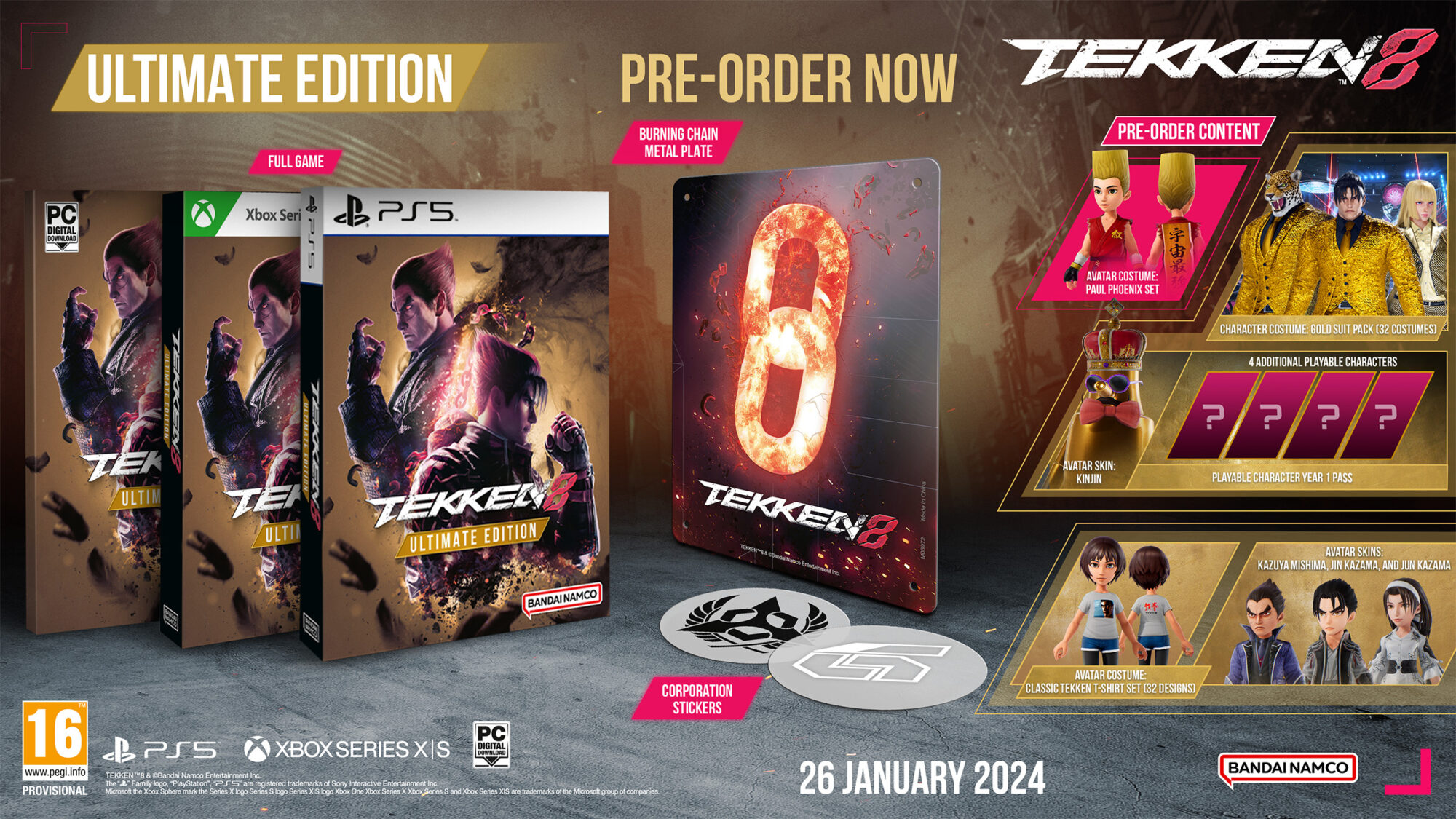 About Tekken 8
Release Date: 2024
Platforms: PlayStation 5, Xbox Series X and Series S, Microsoft Windows
Developers: BANDAI NAMCO Studios, Arika
Publishers: BNE Entertainment, Namco Bandai Games America Inc.
Genre: Fighting game
Modes: Single-player video game, Multiplayer video game
Series: Tekken
Logline
The TEKKEN series holds the record of being the longest-running story in a video game franchise. Just as the ending dialogue of Tekken 7 mentioned, this new entry will focus on the father and son showdown between Kazuya
What do you think of Tekken 8 and the full roster? Are you excited about starting the first battle in the new release? Which edition of the game will you be pre-ordering? Let us know on social media and keep following The Illuminerdi for more gaming news.
KEEP READING: BANDAI NAMCO UK BRINGS TEKKEN 8 TO INSOMNIA THE GAMING FESTIVAL THIS AUTUMN
Source: Bandai Namco