AEW star and reigning International Champion Jon Moxley recently spoke about how much pride he takes in his position in AEW and the toll wrestling has taken on his body during an interview with Rick Ucchino. Moxley has been the go-to guy in AEW since his debut with the company in 2019. He was the second-ever AEW World champion and would become the first-ever three-time AEW World champion, not including his reign as interim champion.
When CM Punk was injured as champion on two separate occasions, Moxley was the guy AEW put the belt on. He even delayed some pre-planned time off to hold the championship.
RELATED: Matt Hardy Praises Bryan Danielson's Excellent Work In New Mentor Role
On a recent episode of Bleav in Pro Wrestling, Jon Moxley discussed how much pride he takes in being a go-to guy and the downside that comes with it. The International Champion stated the following:
"We take a lot of pride in our work, and our work ethic, and our standard that we set. You know, the way we do the job, to be one of those guys that's like reliable, kind of always there. The downside is it's very, very easy to take you for granted. The last conversation I had with Vince McMahon, he straight up told me, we took you for granted. It is a tough job because I got a lot of experience, a lot of stuff is very familiar to me and I'm comfortable doing stuff that a lot of other people may be intimated by."

H/T too Fightful for the transcription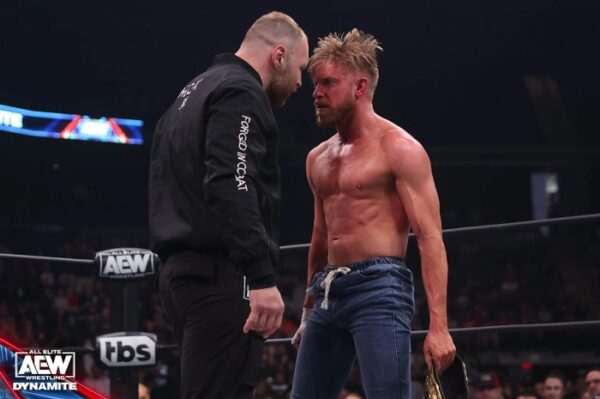 Jon Moxley And Orange Cassidy Step Up
Jon Moxley recently defeated Orange Cassidy to become the AEW International champion at AEW All Out 2023 earlier this month. Moxley has become one of the guys Tony Khan knows he can rely on when someone needs to step up for the company.
The former champion, Orange Cassidy, was the longest reigning International champion thus far, and he seemed to be able to squeak by every opponent in true Orange Cassidy fashion. That was of course until he faced Moxley at AEW All Out. Moxley had high praise for the great job Cassidy did in their match and Cassidy's willingness to step up and into the main event on short notice. Moxley continued:
"Orange Cassidy pulled off an amazing performance. He lost, but he pulled off an amazing performance in his first ever pay-per-view main event. That was not planned weeks out, in fact, everything would have looked completely different. That's kind of how it's going to go. If you're going to have any success in wrestling, it's very rarely going to go according to plan.

"You've got to be ready to take the opportunity when it's there and when things go array. When the wave changes direction, you got to be able to surf on it and stay on your board and you've got to be able to go with the flow so to speak. Every big opportunity I've had, probably in my career, has come completely out of the blue. You got to be ready to get your shit together and strike when the iron is hot."
CM Punk Out, Jon Moxley And Orange Cassidy In
The last-minute change Jon Moxley is referring to is thought to be caused by CM Punk's firing. Punk was fired after his fight with Jungle Boy Jack Perry that took place at AEW's All In London at Wembley Stadium on August 27. It was previously rumored that Punk would have defended his "Real" AEW World Championship against Ricky Starks in the main event of All Out. However, Punk getting fired changed plans at the last minute. Instead, Bryan Danielson faced Starks in a Strapt Match, and Moxley and Cassidy went into the main event for the International Title.
RELATED: Bryan Danielson Weighs In On CM Punk's Firing, Nick Khan Shares WWE's Surprising Thoughts on a Punk Return
Jon Moxley's willingness to step up for his promotion has taken a toll on his body over the years. He discussed the shocking revelation a doctor delivered to him last year about his body. He continued:
"A doctor last year told me that I have the arthritis of a 70-year-old man, and that was quite humbling. That was a year or two ago, so by now it's like a 70 [to a] 72-year-old man. I don't move very well in the mornings … Thank God shows are at night, by then I'm pretty loosened up. If wrestling shows took place in the mornings, …. [or] if we started doing like those early territory-style studio TV tapings on Sunday mornings, I would have retired. I'd be done. There's a lot of times I can't even move before noon."

H/T to Wrestling Inc. for the transcription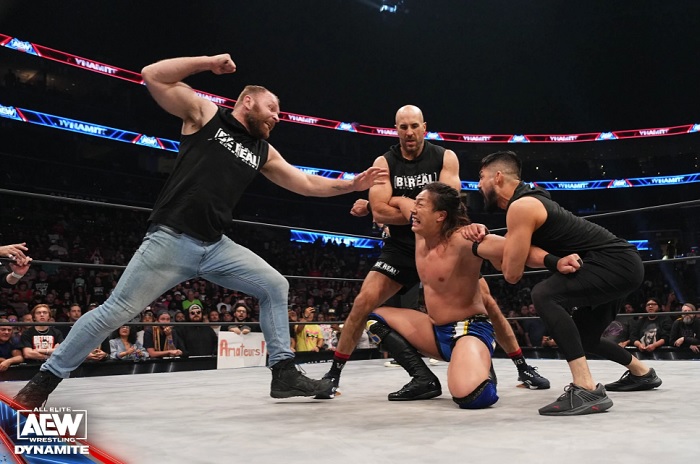 Moxley also revealed the hardest thing on his body isn't wrestling, it's traveling. He said the wrestling felt like a reward for all the traveling he had to endure throughout the day. Even with all the wear and tear on his body, Moxley shows no signs of slowing down. In fact, he may be at the peak of his career.
What did you think of Moxley's match with Cassidy? Was it worthy of being placed into the main event of All Out? Do you think his work in AEW has been the best of his career? Do you think Jon Moxley was taken for granted in WWE? What about so far in AEW? Let us know who should be Khan's go-to guy in AEW when Moxley retires.
SOURCE: Wrestling Inc., Bleav in Pro Wrestling, Fightful, Wrestling Inc.
KEEP READING: Nia Jax Makes Surprise Return To WWE And Attacks Rodriguez And Ripley