Nia Jax makes her return to WWE in a big way.
Last night's Raw had a special returning Superstar. The main event of the show was a heated match between Raquel Rodriguez and Women's World Champion Rhea Ripley. After both women gave it all they had, the match went to the outside of the ring. While outside the ring Nia Jax made her big return by attacking Rodriguez and giving her a Samoan Drop costing her the match.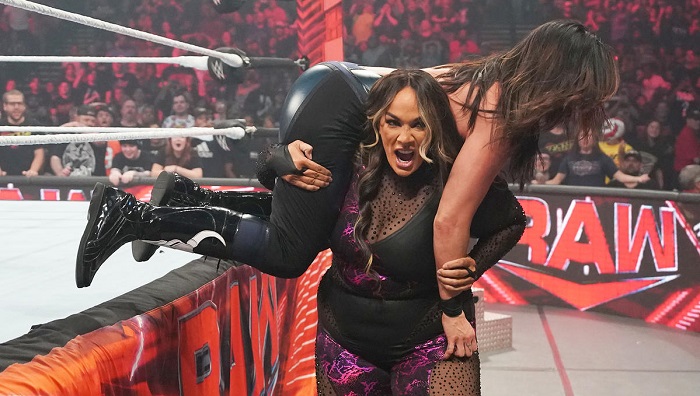 After Ripley's hand was raised in victory, she and Nia Jax shared the ring. It was unclear at first if the two women were working together. This confusion was immediately clarified when Jax Headbutted Ripley.
RELATED: LA Knight Talks Big Similarities Between Himself, Miz and MJF
Nia Jax began her beatdown on Ripley. The grand finale was a huge Banzai Drop from the turnbuckle onto Ripley.
A New Challenger Enters The Women's Division
Nia Jax's return brings in a new challenger to the women's division and may breathe new life into the division. She is a credible threat to Ripley's championship. She is someone who has a lot of experience in high profile matches.
RELATED: Bray Wyatt: Big Names In The Wrestling Industry Pay Respects to Wyatt's Impact
However, Nia Jax's return has angered a lot of fans. The thing she is most known for in wrestling is being perceived as a dangerous worker. She has injured a lot of the women on the roster. Her most famous botch is when she punched Becky Lynch in the face and broke her nose. It catapulted Lynch's career and her "The Man" gimmick into the huge star Lynch is today. However, Nia Jax was heavily criticized for her careless and dangerous work in the ring.
Many women in wrestling, including those in WWE and outside, showed their support and excitement for Jax's return in her latest Instagram post. Fans on the other hand are very concerned about her hurting her opponents.
The Start Of Nia Jax's Career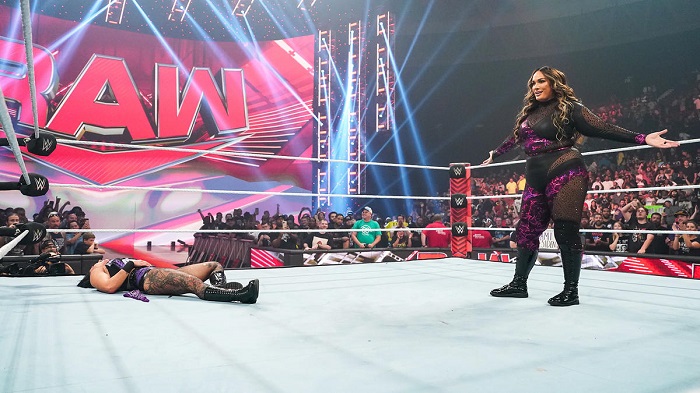 Nia Jax first signed a developmental deal with WWE in 2014. She moved up the ranks in NXT. She changed for the NXT Women's Championship multiple times, but she was unable to take home the gold.
RELATED: Chelsea Green Recalls Which Divas Match Inspired Her To Want To Wrestle
In 2016 Nia Jax made her main roster debut. In 2018 she defeated Alexa Bliss to become the Raw Women's champion. This was the only singles gold she has won in her career. She eventually found herself in the tag division. While she was teaming with Shayna Baszler she was able to win the Women's Tag Championship on two separate occasions.
Budget Cuts Lead To Nia Jax's Release
In the years of the budget cuts Jax found herself a victim. In November 2021 she was released.  It was surprising because she was one of the top women on the roster. However, Bray Wyatt and Braun Strowman were released just months prior and they were involved in top tier title matches.  No one was safe during that time.
Despite being a free agent, Jax never wrestled for any other promotion.  Earlier this year Jax appeared in the Women's Royal Rumble match.  It was a one-off appearance, but it showed that Jax and WWE were still on good terms and left the door open for a return.
RELATED: BOOKER T PRAISES THE MIZ AND THINKS HE WILL GO DOWN AS AN "ALL TIMER"
It will be interesting to see what is next for Jax. She attacked both Rodriguez and Ripley. She could have a good feud with either woman as both have styles which will work well with Jax. However, it is also possible Jax will just start attacking all the women on the roster and show them she is a massive threat.
What do you think of Jax returning to WWE? Are you excited or scared to see what she can do in the ring?  Would you rather see her feud with Ripley or Rodriguez? Do you think Jax adds anything missing in the women's division? Let us know if you think she should beat Ripley for the Women's World Championship.
KEEP READING: Cody Rhodes Is Proud Of His WWE Run So Far And Talks His Scary Injury
Source: Wrestling Inc.