Halloween celebrations are here, and Marvel Studios already has its trick-or-treat token to offer its fans this year. Werewolf By Night, Marvel Studios' 2022 Disney+ special, will now be available to watch in color for this year's Halloween season. Initially presented in black-and-white, the episode will now get a colorful upgrade, bringing the special's exquisite practical effects, striking VFX work, and detailed and captivating costume and make-up work on the characters.
The previous year, Marvel Studios began Halloween celebrations with its debut Special Presentation set in the MCU, Werewolf By Night. Michael Giacchino, famous for scoring several Marvel films and DC Elseworlds' The Batman, fulfilled his dream to helm the directorial duties for Marvel's first actual stint at its monster-horror catalog from the comics. Starring Gael García Bernal, Werewolf By Night opened to fans' extremely positive response and massive love.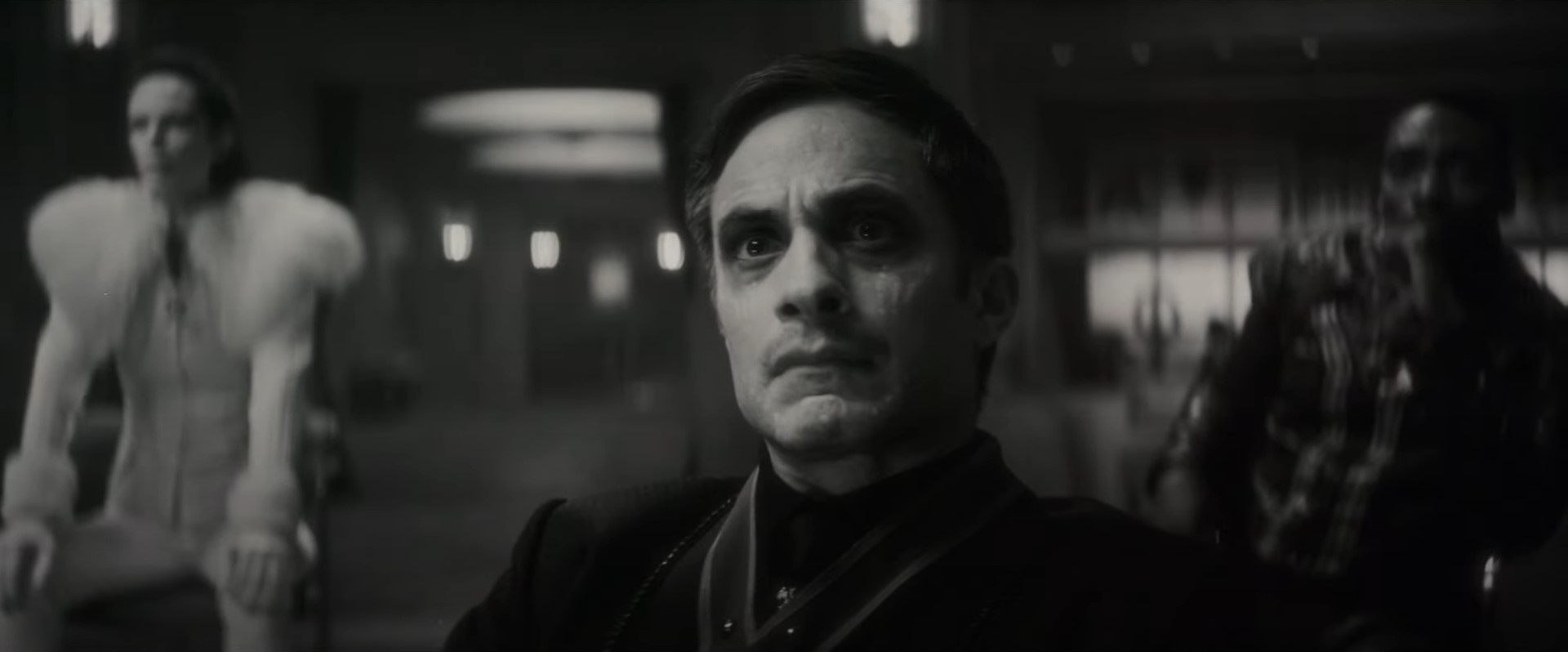 Highlighting MCU's more profound tonal shift to a darker and violent narrative and curation of distinct off-corner origins of the MCU continuity, Werewolf By Night became an instant hit, setting up a visual and thematic reference for the narrative structure of similar projects in the franchise, such as Blade (or Dracula?). But what struck everyone was Giacchino's approach to the special's color grading. Paying homage to classic monster-horror movies, Werewolf By Night was released in Black-and-White, carrying traditional horror-inspired music and background score.
RELATED: Werewolf By Night Review: The 1st MCU Halloween Special Is Thrilling But Unbalanced
Now, treating fans with a unique new look to Werewolf By Night, Disney+ will make a colored version of the episodic MCU entry available to stream on October 20. Notably, the original version had a few sequences presented in color toward the end of the episode. It featured Elsa Bloodstone's eccentric red-soaked costume and an impressive first look at the fine CGI work done on Man-Thing. Now, these characters will be available to see in some colorful action, adding more attributes to ManThing's mystical appearance, Werewolf's terrifying alter-ego, and Bloodstone's dark and intense magic – which shall put Werewolf By Night in a direct contrast against the CGI work previously seen in Doctor Strange and WandaVision.
Beyond the visual aesthetics, a colored version will also emphasize the dark tone and more cynical and eerie setting of Werewolf By Night, thus making the violent action more astounding and breathtaking. All we hope for is that Werewolf By Night retains its classic horror vibe, gloomy visual elements, and character traits.
It's a fair move from Disney+ and Marvel Studios to familiarize the audience with the original look and feel of the characters that Werewolf By Night introduced in the Marvel Cinematic Universe. The colored version's release will help bridge the gap between the special and the forthcoming Blade, which would seemingly feature similar tonal and narrative elements. Moreover, Marvel fans need a dose to feel alive after the disappointing finale of Secret Invasion. And, after all, any future appearances of Bernal, Elsa Bloodstone, or Man-Thing would primarily be in color formats, given that they may also crossover in other MCU projects. The black-and-white version was Michael Giacchino's personal passion project; the colored version would be Werewolf By Night's re-entry into the expansive MCU lore.
Werewolf By Night May Be a Directional Shift for the Franchise
With continuity events getting violent and dark – be it Kang's cataclysmic debut, Multiverse of Madness's terror-stricken multiversal venture, Deadpool's R-rated introduction, or Blade's seemingly violent character arc – MCU needs to change tones and visual style to accommodate such stories. Werewolf By Night blended screenwriting and visual changes to MCU's previous phases perfectly. It mixed Marvel's signature high-octane action-adventure, superheroic music, and VFX craft with the special's distinct tenebrosity. And it worked well.
Such distinct visual styles would fit well moving forward with characters like Blade, Black Knight, Deadpool, and Moon Knight. Furthermore, Marvel Studios would also bring freshness to its long-standing continuity, which has recently seen a divisive response from fans.
Several Marvel Studios' movies are on production halt amid the ongoing WGA and SAG-AFTRA strikes. Therefore, there is no telling what direction the ventures above will take going forward in the continuity. Until then, let fans dive into Werewolf By Night's colorfully brutal MCU debut on October 20.
Will you be watching this colorful edit of Werewolf By Night? Are you a fan of Elsa Bloodstone? Let us know on social media. Follow us for more content like this. We're always watching.
KEEP READING: DONALD GLOVER'S NEW STAR WARS LANDO SERIES NOW HEADING TO BIG SCREEN AS A MOVIE
Source:Bloody Disgusting