The rumors of Jade Cargill jumping over to WWE are gaining a little more credibility. Cargill is the latest wrestler who is rumored to be making the jump between AEW and WWE.  The rumors of her making the jump to WWE have been spreading like wildfire for the past week or so. Earlier this week, those rumors started to gain more substance.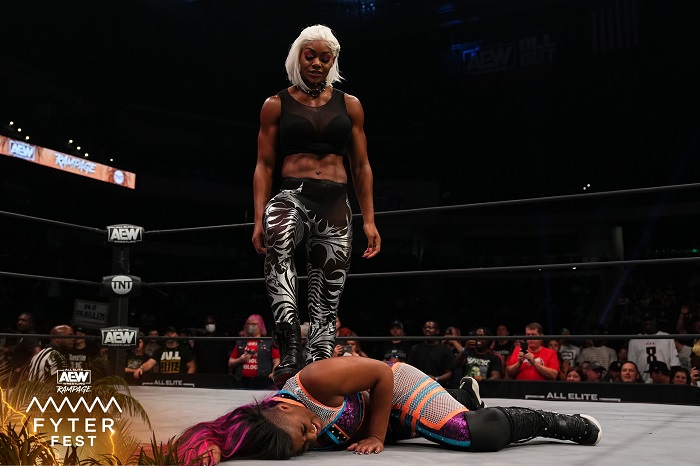 Dave Meltzer of Wrestling Observer Radio revealed that Cargill was in Orlando, Florida the other day. Orlando also happens to be the home of the WWE Performance Center, where it's believed Jade Cargill is reported to begin her WWE career. Meltzer stated during his radio show:
"She was in Orlando today [Sept. 18], right? I asked if she was at the Performance Center. People had not seen her, [but] that doesn't mean she wasn't there. I was told that, you know, 'Doesn't mean she wasn't there. We didn't see her.'

"They're doing main roster creative for her right now. It's high priority. So they're not, like, bringing her in to be like, you know how they would bring in some of the NXT people like Von Wagner or Alba Fyre? Alba Fyre's actually a good one. Like Alba Fyre, she was brought up, or Kacy Catanzaro, Katana Chance, that are brought up, and they have no idea what to do with them, and they just kind of disappear into the dust. It's almost like, 'Why did we even bother calling them up?' She [Cargill] is not earmarked to be like that. She's earmarked for real stuff."

H/T to Wrestling Inc. for the transcription
RELATED: Bryan Danielson Weighs In On CM Punk's Firing, Nick Khan Shares WWE's Surprising Thoughts on a Punk Return
WHY IS JADE CARGILL IN ORLANDO?
According to PWInsider, a fan was on the same flight as Cargill leaving Orlando, so two different sources confirm she was in Orlando.  However, there are many reasons why she might be in Orlando. If she was indeed there to go to the Performance Center it may be that she is headed to NXT; WWE's developmental brand. NXT also has its own weekly primetime series that airs on Tuesday nights on USA Network.
Since the rumors of Cargill leaving AEW started, fans have debated whether she will go to NXT or the main roster.  Based on Meltzer's comments, it appears WWE is planning on bringing Cargill straight to the main roster instead of NXT. Cargill was one of the top women's wrestlers in AEW with a reign of over 500 days as TBS champion. 
Jade Cargill is hardly inexperienced in wrestling, but she is a little rough around the edges.  Some time in NXT can certainly polish those rough edges. Fans have also wondered if Cargill left AEW on good terms.  She had a long run as TBS champion, and one would think that would lead to a run at AEW Women's World Championship, but that never materialized.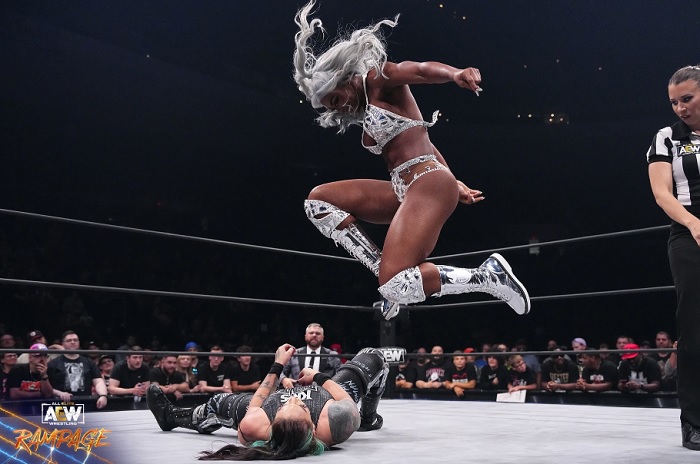 In a recent interview with Superstar Crossover, AEW President and CEO Tony Khan discussed his thoughts on Cargill and whether she would be welcomed back to AEW. The AEW owner stated the following:
"As far as Jade goes, I can't really comment on that except to say that Jade's been a great wrestler for AEW and certainly [is] always welcome in AEW. You know, [she] could always be somebody we would always love to work with here in AEW."

H/T Wrestling Inc. for the transcription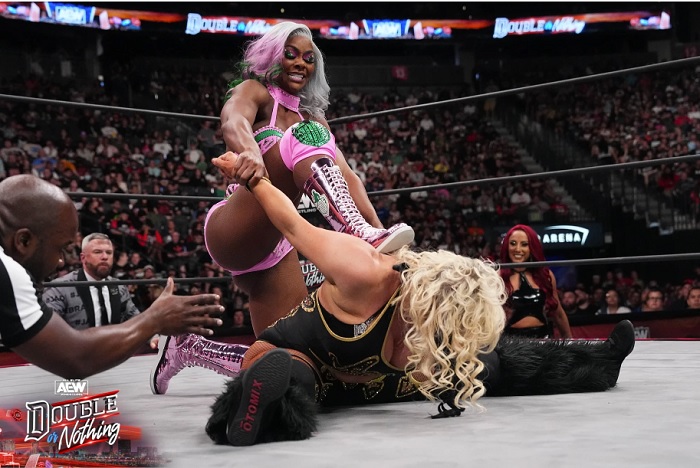 Khan's statement definitely sounds like Cargill has left AEW.  She has also been removed from AEW's roster page.  During last week's AEW Rampage, she faced Kris Statlander in a rematch for the TBS Championship, which Cargill lost. It was later rumored that the bout was Cargill's last match in AEW.  And if it was the end of her previous AEW contract, it appears Cargill could show up at any time in another promotion.
Cargill didn't show up on Raw or NXT this week, so if she is going to appear this week it may be on SmackDown. However, that has not been confirmed if she's making her WWE programming debut this week.
Jade Cargill is someone with whom fans have seen a lot of potential.  She looks like a star and is exactly what WWE likes in their Superstars.  She is, strong, in great shape with an incredible physique, has charisma, is good on the mic, and looks like someone who can dominate everyone on the roster.  I can see her having solid feuds with women with similar skills like Rhea Ripley, Charlotte Flair, Raquel Rodriguez, and Bianca Belair.
WWE LOVES EX-AEW WRESTLERS
WWE has been treating people from AEW like Cody Rhodes well.  It stands to reason Cargill will be the same. Plus Rhodes will most likely look out for her as she was one of his homegrown AEW talents, and Cody worked with Jade for her AEW and in-ring debut in a tag team match on Dynamite when Jade Cargill and Shaquille O'Neal defeated Red Velvet and Cody Rhodes. If she is joining WWE, Jade Cargill will most likely have a very good run in WWE and Meltzer said they have plans for her.
RELATED: Dr. Britt Baker D.M.D. Talks Balancing New Dental Career With Huge Wrestling Career
Do you think Jade Cargill will debut on the main roster or NXT?  Should she debut in NXT or is she ready for the main roster?  Do you think her leaving AEW leaves a huge hole in the women's division? Do you ever think we'll see Cargill in AEW again? If she goes to the main WWE roster, would she do better on the SmackDown or Raw brands?  Let us know who you would like to see her feud with if she does make it to WWE on The Illuminerdi's social media.
SOURCE: Wrestling Observer Radio, Wrestling Inc., PWInsider, Superstar Crossover, Wrestling Inc.
KEEP READING: AEW's Jon Moxley Talks About The Pride He Takes In His Work And Toll On His Body