Netflix has been a great platform for anime and animation, and their recent DROP 01 event was no exception. This virtual showcase not only gave fans a taste of what's to come but also celebrated the best of the streamer's animated series. From surprise announcements to exclusive sneak peeks, DROP 01 was a treat for fans worldwide. Let's dive into the highlights!
Castlevania: Nocturne Takes Center Stage
The digital premiere of Castlevania: Nocturne was undoubtedly the star of the show. Fans were treated to the first three episodes of this highly-anticipated series during the global livestream. And for those who missed out, the first 7 minutes of episode 1 were teased, setting the stage for its official debut on September 28th.
RELATED: BOOM! STUDIOS' 'MECH CADETS' MAKES MIGHTY ANIMATED PREMIERE ON NETFLIX
Lara Croft Returns in Tomb Raider: The Legend of Lara Croft
In a surprise reveal, the upcoming series Tomb Raider: The Legend Of Lara Croft was announced. Produced in collaboration with Legendary and Crystal Dynamics, and animated by Powerhouse Animation, this series promises to bring the iconic character back to the screen in 2024.
Devil May Cry Joins the Roster
Another unexpected announcement was the new anime series Devil May Cry. This series, based on the beloved video game, is a collaboration between the streaming company, Capcom, Studio Mir, and Adi Shankar.
RELATED: MATTEL MAKES A NOSTALGIC 90S DIVE AND REVIVES "STREET SHARKS" FOR NEW 30TH ANNIVERSARY LINE
Dive into Edo-period Japan with Blue Eye Samurai
Blue Eye Samurai promises a unique blend of adult animation with a touch of live-action. Set in Edo-period Japan, this series follows Mizu, a mixed-race sword master on a quest for revenge. With its provocative visuals and compelling storyline, this series is sure to captivate audiences.
Scott Pilgrim Takes Off Offers a Fresh Spin
Fans of the cult classic will be thrilled with Scott Pilgrim Takes Off. This 8-episode series, premiering on November 17, promises a fresh take on the beloved story.
RELATED: DIGIMON ADVENTURE 02: THE BEGINNING REVEALS NEW UNSEEN IMAGES AFTER LATEST TRAILER
Race with Sonic Prime Chapter 3 and Sonic Prime Dash
Sonic fans, rejoice! We're got a new teaser for Sonic Prime Chapter 3 and an official game trailer for Sonic Prime Dash, a high-octane running game featuring the iconic blue hedgehog.
RELATED: NARUTO X BORUTO ULTIMATE NINJA STORM CONNECTIONS RELEASES NOVEMBER 17
Embrace the Remix with Captain Laserhawk: A Blood Dragon Remix
Ubisoft and Adi Shankar are bringing a new series to the streaming giant, complete with an exclusive trailer and a stellar cast. Captain Laserhawk: A Blood Dragon Remix promises to be a unique experience for fans.
A Glimpse into Pluto and Masters of the Universe: Revolution
Also showcased were teasers for the upcoming anime series Pluto, based on the Astro Boy arc, and an exclusive clip from Masters of the Universe: Revolution, set to premiere in 2024.
RELATED: The Boy and The Heron Review – Not The Best 1st Miyazaki Film to Watch
What's Next for Netflix?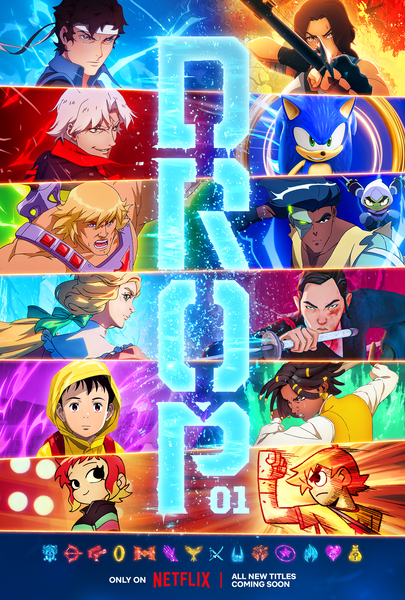 With such a stellar lineup, the streaming platform giant continues to solidify its position as a leader in entertainment. From reviving beloved classics to introducing fresh narratives, the platform promises a diverse range of content for fans worldwide.
What were your favorite moments from the DROP 01 event today? Which series are you most excited about? Which are you least excited about? Let us know your thoughts and hype for these upcoming series on social media!
Source: Netflix
KEEP READING: BOLD CLAIM: ONE PIECE IS THE NEW HARRY POTTER