Set against the diabolical backdrop of The Boys, Gen V embarks on an audacious exploration not only of a lesser-seen corner of this already complex universe but also of society's multifaceted challenges that resonate with the youth of today. Showrunners Michelle Fazeka & Tara Butters, along with a commendable lineup of executive producers, use this series as a mirror, albeit grossly exaggerated, reflecting issues unique to a younger generation, compounded with the superhero factor.
The New Kids On Campus
Gen V sets its stage in the esteemed Godolkin University, where young supes are molded into marketable heroes, complete with enviable endorsements. As we delve deeper, the show ingeniously depicts ambition's price and the blurry lines of morality these youngsters grapple with. The question remains: are they destined to be the story's heroes or its villains? By using superheroes as an allegory, Gen V taps into universal themes like ambition, identity, peer pressure, and the paradoxes of higher education.
RELATED: WATCHMEN CREATOR ALAN MOORE DEMANDS ALL FUTURE DC ROYALTIES BE DONATED TO BLACK LIVES MATTER
As with its predecessor, Gen V doesn't shy away from violence. Yet, rather than just using it as a tool for shock and awe, the show intertwines this violence with its narrative, employing it to highlight and magnify societal issues and dream-like solutions. The impact of this approach is twofold: it lays bare the gravitas of the dilemmas these young heroes face and critiques the extreme measures society sometimes takes in its desperate quests for solutions.
The Children Are The Future
The cast is, without doubt, the linchpin of the show's success. Jaz Sinclair, portraying the series lead Marie Moreau, showcases an extraordinary depth, exuding a raw charisma that keeps viewers captivated. However, the dual performance of Derek Luh and London Thor, playing Jordan Li, stands out with a chemistry that binds the narrative threads. Their on-screen presence is both cohesive and evocative, channeling the spirit of a generation in flux.
RELATED: ONE PIECE RENEWED FOR SEASON 2 WITH HILARIOUS ANNOUNCEMENT BY ODA-SAN!
Yet, the show is richer with the inclusion of seasoned actors like Ken Watanabe, Allison Janey, and Gemma Chan. Their performances add layers of complexity, contrasting the naivety and freshness of the younger leads with a world-weariness only years in the industry can bring.
There's Something Very Relatable About Watching Youthful Naivety Get Broken
One of the most compelling aspects of Gen V is its authentic portrayal of youthful naivety juxtaposed against the inevitable corruption brought about by societal pressures. It's a reflection on how systems, especially institutions like higher education, can often shape and sometimes misshape young minds. The manner in which this series depicts these challenges, from the students' innocence to their subsequent disillusionment, strikes a chord, making it highly relatable for many viewers who've navigated the choppy waters of young adulthood.
RELATED: MR. & MRS. SMITH BEGIN THEIR TOP SECRET MISSION ON PRIME VIDEO IN 2024
Given the rich tapestry of characters, subplots, and themes, one might expect Gen V to feel long-winded. Yet, surprisingly, it doesn't. The narrative flows effortlessly, making the episodes feel shorter than they are. While the series deftly weaves through its plots, there's a hint of rushed emotional arcs that may leave viewers wanting more depth in certain areas.
Gen V Might Be Ignored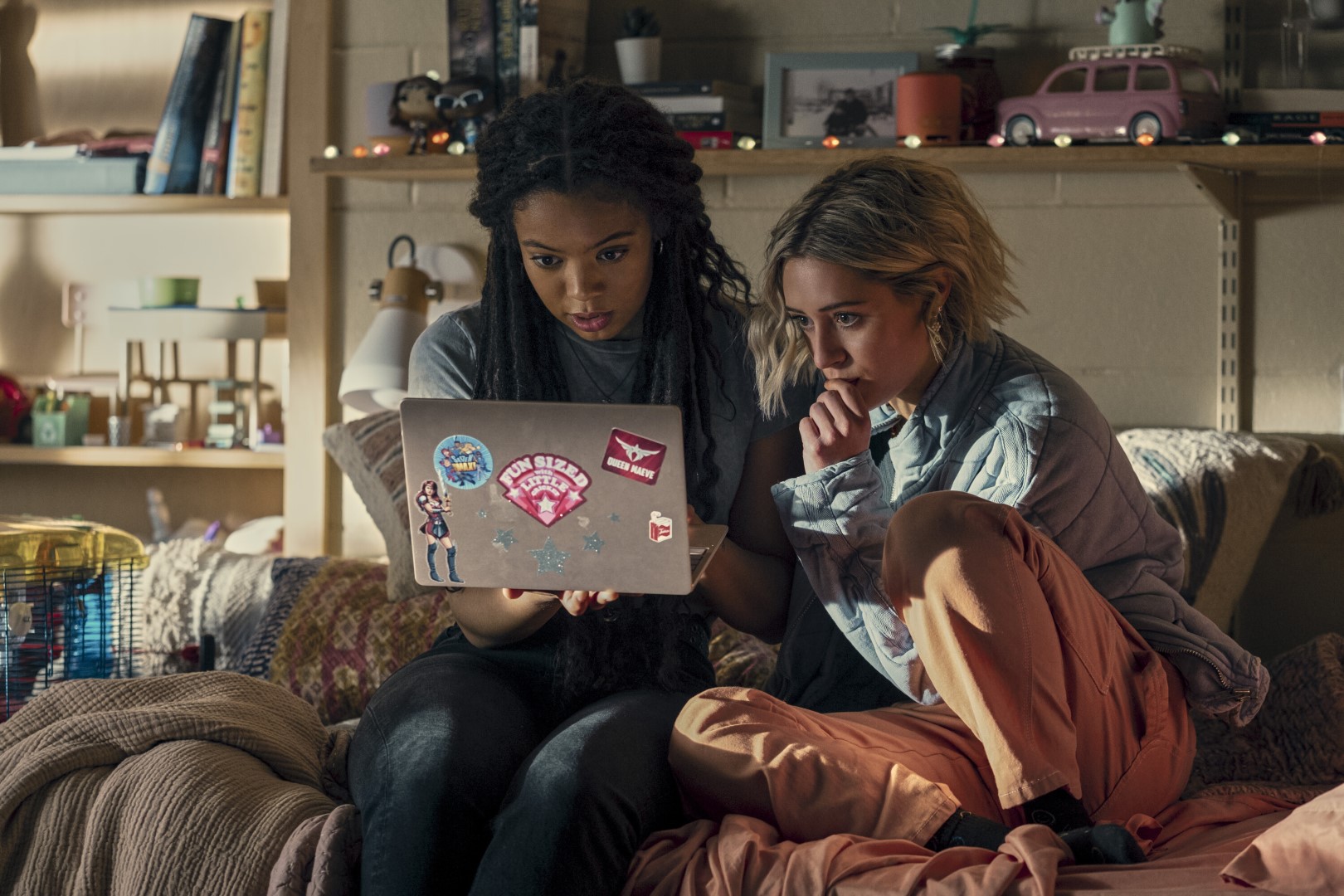 As much as I thoroughly enjoy the series, I can foresee why many will not see it as necessary. Gen V is very much the spawn from the loin of The Boys. But much like an unwanted child, the attention is coming from one direction. It will be easy for fans of The Boys to miss this spin-off, and not feel they are missing out on part of The Boys' experience.
The series has an almost entirely new cast and a very unique feel that might be too much for people to try to invest in. Also, there's the sect of fans who fully misinterpret Homelander. They will be using the word "woke" to replace the slurs they want to use to describe the series.
RELATED: THE WHEEL OF TIME S2 INTERVIEW – THE UNKNOWN AND ESSENTIAL WORK OF THE STUNT TEAM THAT DESERVES ALL THE FLOWERS
But I think that's the charm of Gen V. It is not just another spinoff; it's a narrative triumph that combines the dark allure of The Boys universe with a fresh perspective on youth and society. With its compelling characters, brilliantly executed themes, and a balance of brutal realism with relatable issues, it stands as a testament to the evolution of the superhero genre. While it's a wild, sometimes surreal ride through the corridors of Godolkin University, it's also a poignant reflection on the journey every young person takes while finding their place in the world.
For geniusly expanding the world of The Boys and being its own unique entity that uses the same "exaggerated" storytelling to reflect the realities of very different demographics, I give Gen V a 7/10.
Gen V premieres exclusively on Prime Video on September 29, 2023.
About Gen V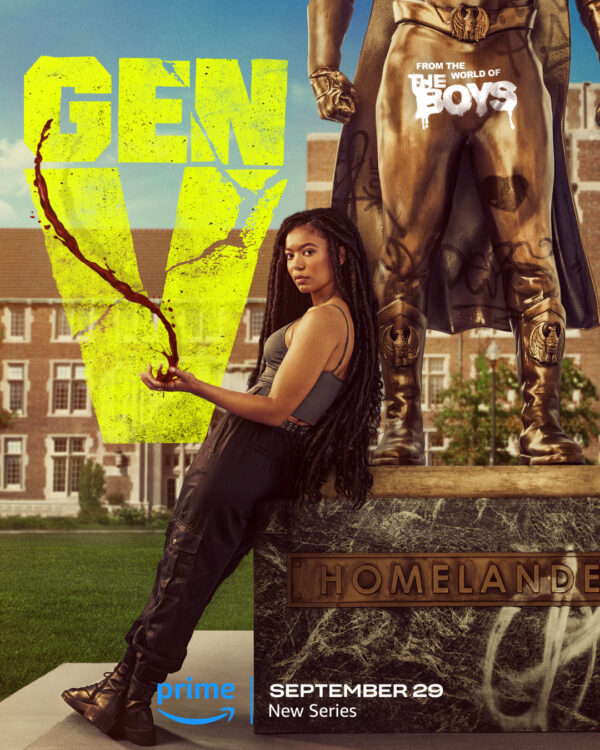 Release: September 29, 2023
Showrunners: Michelle Fazeka & Tara Butters
Executive Producers: Michelle Fazeka, Tara Butters, Eric Kripke, SEth Rogen, Evan Goldberg, James Weaver, Neal H. Moritz, Ori Marmur, Pavun Shetty, Ken Levin, Jason Netter, Garth Ennis, Darick Robertson, Craig Rosenberg, Zak Schwartz, Erica Rosbe, and Michaela Starr
Co-Executive Producer: Brant Engelstein
Produced by: Sony Pictures Television and Amazon Studios, in association with Kripke Enterprises, Point Grey Pictures, and Original Film
Cast: Jaz Sinclair, Chance Perdomo, Lizze Broadway, Shelley Conn, Maddie Phillips, London Thor, Derek Luh, Asa Germann, Patrick Schwarzenegger, Sean Patrick Thomas, and Marco Pigossi

Synopsis
From the world of The Boys comes Gen V, which explores the training of the first generation of superheroes to know about Compound V, and that their powers were injected into them, rather than God-given. These young, competitive heroes put their physical and moral boundaries to the test, competing for the school's highly coveted top ranking. They quickly come to learn that ambition comes with sacrifice, and the difference between right and wrong is not as clear as they once believed. When the university's dark secrets come to light, the students must come to grips with what type of heroes they are going to become.
Are you excited to dive into the world of Gen V? Can you love another series in the world of The Boys? Will Godolkin University's students rise to the occasion or fall from grace? Share your thoughts and let us know what you think on social media!
KEEP READING: THE WHEEL OF TIME SEASON 2 REVIEW – THE WHEEL IS SPINNING MAGIC NOW