Everyone wants to be seen, but unfortunately, the social climate we live in does not permit that for everyone, this is why Disney's Launchpad is needed. This anthology series allows exquisite filmmakers to tell their stories and give representation to the souls that need it most, through captivating and poetic talent.
Watching Beautiful, FL, Blackbelts, The Ghost, Maxine, Project CC, and The Roof feels like witnessing a unique relay that's not a race; the game completely changes each time the baton is handed, but the victory remains the same.
Beautiful, FL
Kicking off season two is Beautiful, FL. This short chronicles the life of a teen girl living in a trailer park on a quest to perfect her aunt's divine ice cream recipe to win a competition.
Director Gabriela Ortega along with the writers Adrian Ferbeyre and Joel Perez used a recipe comprising heart, wit, and culture.
A grand celebration of life is ultimately what's on display here. Grief is addressed from the very beginning, but at no point do we see anyone consumed by sorrow. No one should be told how to grieve, but acceptance is a vital stage in the healing process. I appreciate the diligence that was applied to the script.
RELATED: New Launchpad Short Film Series Prepares To Blast Off On Disney Plus
The family and community all knew that the deceased loved one would want them to keep their spirits high, and continue supporting each other, and that's exactly what they do. We get to see the community operate as one big energetic family doing everything they to help a teen girl succeed.
Beautiful, FL is really a story about community through the eyes of a young girl. It's a beautiful short film that's worthy of launching Launchpad season two.
Black Belts
Enter KJ, a middle-school nerd who dreams of becoming the greatest kung-fu fighter in the world, or at the very least, Compton. KJ lives in the shadow of his father who is regarded as the best fighter in Compton. He's always feeling like he has something to prove but he is far from ready.
KJ looks and feels like an anime protagonist. He wears an old black belt and is always ready to challenge those who are more experienced than him by leaps and bounds. While it's great to have ambitions, patience is a virtue, the already dedicated KJ must learn that being the best at anything also requires time and experience.
Black Belts is the most exciting film in Launchpad's sophomore season. Spencer Glover and Xavier Styles blend fantasy and reality in such an innovative manner that had me hooked from beginning to end. The premise is simple but the execution is excellent. I would like to see Black Belts spin off into a full series on Disney Plus, the potential is undeniable.
The Ghost
Being the youngest in your family can be rough. Having an overbearing parent is one thing, but having an overbearing older sibling can be a special kind of torment. However, everyone's circumstances are different, not everyone has a ghost in their household causing chaos.
The Ghost is about a 12-year-old girl named Clarice Cheung who doesn't feel valued by her older sister Naomi. The strained relationship is not the only problem in the family, in addition to the troubles inflicted by life, there are troubles by the dead, and the sisters must band together to stop a ghost from terrorizing their family.
RELATED: Disney+ Releases Official Trailer & Key Art For Launchpad, A Collection of Short Films From A New Generation of Storytellers
Erica Eng and Kevin Jihyek Park deliver a heartwarming and suspenseful film with mild horror elements demonstrating mastery over misdirection.
There were so many tonal changes, all of which were part of a natural progression. My mood kept changing with the tone. I went from chuckling to being terrified and confused to crying and feeling relieved within the span of twenty minutes.
Maxine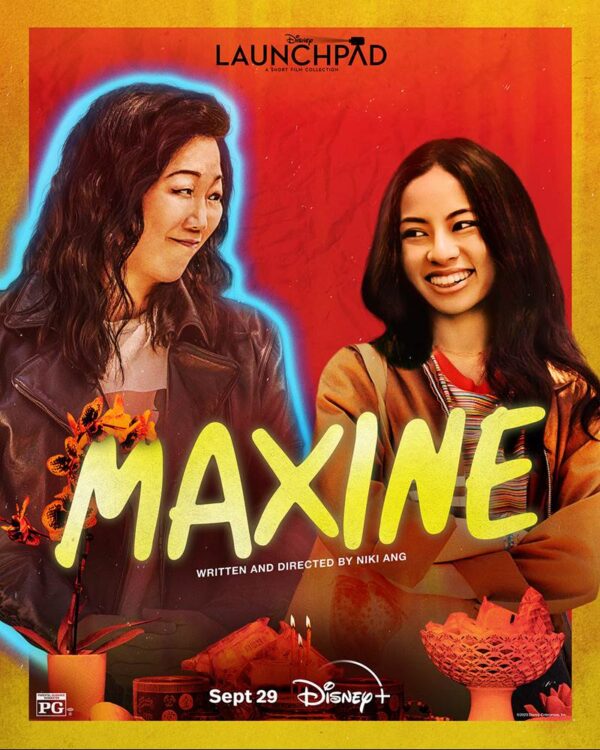 Many people in the LGBTQ community struggle to feel accepted by their families even after they come out. Maxxine does not shy away from this issue at all. This is about an Asian American girl receiving help from her deceased relative to find the courage to introduce her family to her girlfriend.
Writer/director Niki Ang crafted this film with tenderness, honesty, and cultural nuances viewers can appreciate. The storytelling is instrumental, the acting is authentic, and the chemistry is palpable.
Maxxine stands out from the rest of Launchpad's entries because it not only tells a story but two for the price of one, so we get two resolutions and twice the catharsis.
Project CC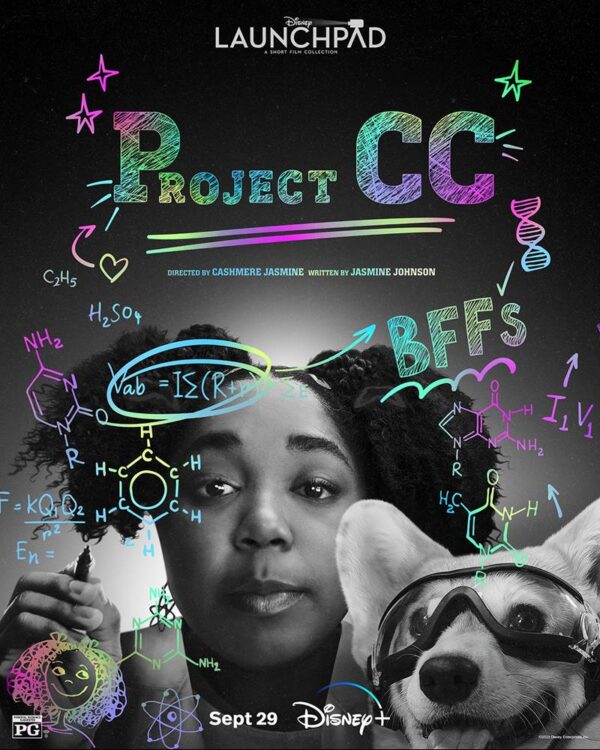 Out of all the episodes in Launchpad Season 2, I'd say that Project CC is the most brilliant and unpredictable.
Project CC features a brilliant pre-teen girl, to say she's a child prodigy would be an understatement, she might be smarter than Albert Einstein, but I digress. While she's incredibly smart, she feels very lonely and depressed so she tries to rectify that by using her scientific expertise to achieve something beyond the control of any mortal being. Unfortunately, as one can imagine, the experiment goes horribly wrong.
The first act fooled me into thinking this was going to be a contemporary take on Frankenstein's Monster. As the story continued to unfold, I not only realized how incredibly wrong I was but was amazed at how much introspection and sentiment into short went into this.
RELATED: THE CREATOR Review – New and Advanced World, Old Primal Emotions
To be quite honest with you, I had never heard of the director Cashmere Jasmine, or the writer Jasmine Johnson prior to watching Project CC. I am elated to know of them now, I want to see more of what they have to offer.
The Roof
Finally, there's the Roof depicting a Northern Cheyenne teenager being sent to stay with their grandfather to learn more about their culture, and identity.
The Roof is the most realistic short film in Launchpad's sophomore collection. There's no use of fantasy or otherworldly means for the purpose of symbolism. What we see is a necessary discussion piece between someone and their grandfather that many can relate to.
The director Alexander Bocchieri, and the writer W.A.W. Parker took an authentic approach that fit the story that needed to be told.
About Launchpad Season 2
Directors: Gabriela Ortega, Spencer Glover, Erica Eng, Niki Ang, Cashmere Jasmine, Alexander Bocchieri
Writers: Joel Perez Adrian Ferbeyre, Xavier Stiles, Spencer Glover, Kevin Jihyek Park, Niki Ang, Jasmine Johnson, W.A.W. Parker
Producers: Helena Sardinha, Phillip Domfeh, Mychal Guyton, Kelly Rutta, Andrew Ahn, Nicole Crespo, Blake Pickens
Cast: Dariana Alvarez, Seth Carr, Hana Marie Kim, Margaret Cho, Jessica Mikayla, Phoenix Wilson
Synopsis
Disney's Launchpad Season 2 is a collection of live-action shorts from a new generation of dynamic filmmakers. This season showcases six writers, five directors, and one writer-director from underrepresented backgrounds who were given the opportunity to share their perspectives and creative visions. Continuing the goal of Disney's first season of Launchpad, which was to diversify the types of stories that are being told by giving access to those who historically have not had it, Launchpad Season 2 is proud to present six new shorts for Disney+ based on the theme of "connection."
ABOUT DISNEY+
Disney+ is the streaming home for movies and shows from Disney, Pixar, Marvel, Star Wars, National Geographic, 20th Century Studios, and much more. This service offers commercial-free streaming with an ever-growing collection of exclusive originals, including feature-length films, documentaries, live-action and animated content, etc. With exceptional access to Disney's long history of incredible film and television entertainment, Disney+ is also the exclusive streaming home for the newest releases from The Walt Disney Studios. Disney+ is available as a standalone streaming service or as part of The Disney Bundle that gives subscribers access to Disney+, Hulu, and ESPN+. For more, visit disneyplus.com, or find the Disney+ app on most mobile and connected TV devices.
RELATED: A Million Miles Away Movie Review: Michael Peña and Rosa Salazar Bring Heart in Compassionate Biopic
Many times, the art of film goes underappreciated, and the stories that are meant to lay the foundations for various movies and television series go undervalued due to how easy it is for executives to compromise the artistic integrity of talented creative minds. It warms my heart to see Launchpad continue to showcase a variety of short films giving room for filmmakers and storytellers to let their voices be heard.
I'm delighted, having seen all six episodes of season two, each one of them has found a special place in my heart. It gives me great pleasure to give Launchpad a perfect score of 10/10.
All six episodes of Launchpad season 2, will premiere on September 29th, only on Disney Plus.
Will you be watching season 2 of Launchpad? Let us know on social media, and keep following us for more content like, we're always watching.
KEEP READING: The Marvels' Huge Production Budget Reported To Be Over $270 Million