Jade Cargill has officially left AEW for WWE. Cargill was one of AEW's brightest up-and-coming women's wrestlers.  She was a homegrown talent and developed very quickly.  She started her training in 2019 and by 2022 she was the inaugural AEW TBS champion. 
The TBS Championship was around her waist for over 500 days.  Two weeks ago she wrestled her last match in AEW.  The rumors said she was headed to WWE, but rumors aren't always correct. However, on Tuesday WWE tweeted Cargill arriving at the WWE Performance Center in Orlando, Florida.
IS JADE CARGILL BOUND FOR NXT OR THE MAIN ROSTER?
Two questions come up immediately with the tweet.  The first is if Jade Cargill will be able to keep her name.  If WWE was smart they would let her keep it so they could piggyback off her AEW name recognition.  Secondly is if she will start in NXT.  Her going to the Performance Center suggests she will.
Cargill did an interview on Tuesday with the WWE logo in the background with ESPN.  During the interview, she was asked who her dream match in WWE would be. She stated the following:
RELATED: Matt Hardy Praises Bryan Danielson's Excellent Work In New Mentor Role
"To be honest it's everyone. These women are the top women's wrestlers in the world, that's why I came here, iron sharpens. I would have never come here if I didn't think I was going to be better. I'm here to get better. I'm here to create those moments that are going to have people wanting to come back, wanting to bring their friends. I think everybody is a dream match because you've never seen me with these women ever before so everybody is going to be invested.

"My first opponent can be a dream match because people have never seen me, so they're going to come in and tune in and want to see it. I'm just here to create magic moments."

H/T to Wrestling Inc. for the transcription
AEW LOSES A TOP STAR WITH A TON OF POTENTIAL
One of the critiques of AEW which luckily is less true now, but many have said that AEW's women's division is weak. WWE on the other hand has a lot of women waiting for big matches and feuds. They would love to prove themselves against Cargill and show her what the women in WWE can do. Bayley has already welcomed Cargill to WWE and told her to watch her match on SmackDown this week to learn something.
Cargill was asked about the dream match fans want to see, Cargill vs. Bianca Belair. She said she is very interested and thinks it can be a WrestleMania main event match.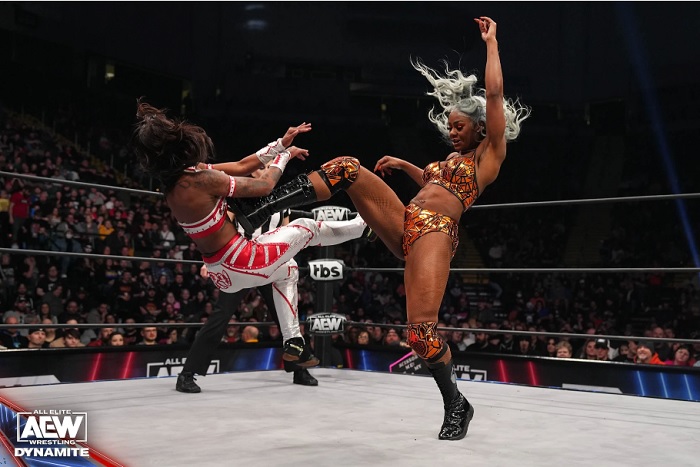 Cody Rhodes was the first big AEW name to leave the company early last year. With Rhodes becoming one of WWE's biggest stars it showed the world that WWE can and will push former AEW wrestlers. Cargill was asked if Rhodes coming to WWE and being successful influenced her decision to come to WWE.
"Top three reasons and [Cody Rhodes] was top two," Cargill said. "Cody is a phenomenal wrestler. He's a phenomenal father. He's very honest, even when he has to get brutal with it. I respect Cody. I respect him trusting the system. And when I first came in [to AEW], he was one of the few people that sat me down and was honest with me about this entire industry, and I appreciated that. So one thing I'm not gonna do is let him down. I'ma come in here and do the work and show him why I'm a great pick."
JADE CARGILL ON BEING MENTORED BY CODY RHODES
Cargill did much of her training at Rhodes' wrestling school, Nightmare Factory.  Rhodes also helped her as she was coming up in AEW because he was very hands-on during his time there.  He acted as a mentor to her and she also told The Ringer that he was a major factor in convincing her to move to WWE.
RELATED: WWE Cuts A Long List Of Talent With Some Shocking Names
Cargill's move to WWE was a little surprising because she was being booked so well in AEW.  The next step for her was undoubtedly to go after the AEW Women's World Championship.  Moving to a new promotion that has some huge women's wrestlers is a risky move.  It would be very easy for her to get lost in the women's division. Jade Cargill told The Ringer's The Masked Man Show why she decided to leave the comfort of AEW for WWE.
"I want to create a legacy. I want to be in the Hall of Fame. I want to wrestle with the best women in the world. I mean, there is no grander stage than this stage, the opportunities are endless with this company. It was a no-brainer. It was very welcoming. I didn't have any second thoughts about it at all. It was just an easy choice. It wasn't easy, but it was easy [laughs]."

H/T to the Wrestling Inc. for the transcription
Jade Cargill is coming in with a lot of momentum from her time in AEW.  For more hardcore wrestling fans she is a big name, but casual fans may not know who she is.  However, she has the look and carries herself like the big deal she is.  No one is going to see her and not be intrigued by her. The wrestling world is very excited to see Cargill's debut and what she can do in WWE.
Are you excited to see Jade Cargill in WWE?  Do you think leaving AEW was a smart move for her?  Should she debut in NXT, RAW, or SmackDown?  Who should her first feud be against?  Let us know if you think WWE should do something where Rhodes and Jade Cargill interact as a nod to AEW.
SOURCE: WWE.com, Wrestling Inc., ESPN, Wrestling Inc., The Ringer, Wrestling Inc.
KEEP READING: Chris Jericho Talks About Why Edge Going To AEW Would Be So Beneficial