For many pop culture enthusiasts, the original Bag of Holding was more than just a bag. It was a symbol of adventure, a trusty companion that carried swag from conventions worldwide. But as time wore on, these iconic bags began to show their age, with tape patching up tears and zippers giving way. The need for a revamped, modern version was evident.
Enter Rollacrit, a gaming lifestyle brand formed by former ThinkGeek employees. Recognizing the nostalgia and love for the Bag of Holding, they've embarked on a mission to bring it back for the 2020s. This isn't just a mere reissue; the new Bag of Holding promises to be bigger, more durable, customizable, and, as they put it, more "holdier" than ever before.
Kickstarter Campaign: A New Chapter for Rollacrit
On September 5th, 2023, Rollacrit launched a Kickstarter campaign, marking a significant milestone in the company's journey. The base tier for the bag is set at $125.00 for early backers, offering a substantial discount from the expected retail price of $175.
RELATED: 'DISNEY VILLAINOUS: FILLED WITH FRIGHT' EXPANSION ADDS NEW HORROR TO THE BELOVED GAME
This isn't Rollacrit's first rodeo with Kickstarter. In 2021, they successfully crowdfunded their pun-filled dungeon exploration tabletop game, Heroes of Barcadia. Garnering support from over 13,700 backers, the game has since seen a widespread retail release. With such a track record, the anticipation for the new Bag of Holding is palpable.
Features Fit for Modern-Day Adventurers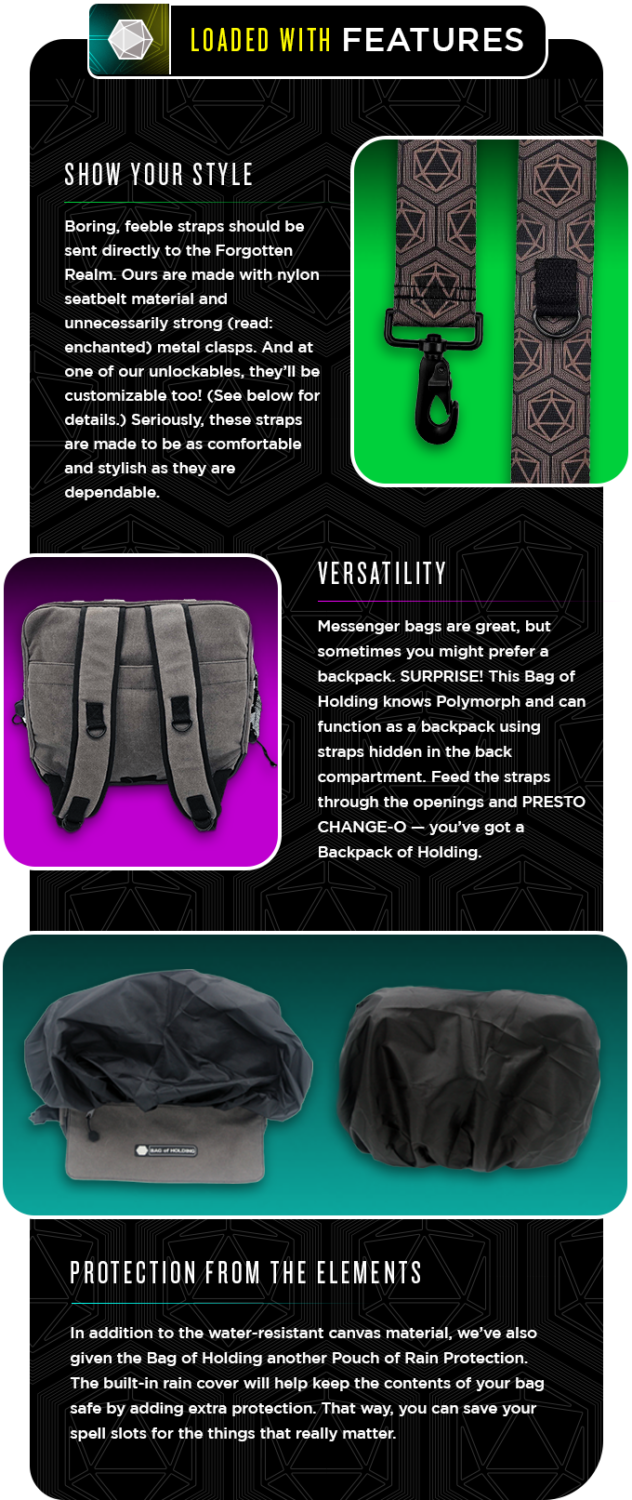 The revamped Bag of Holding isn't just about aesthetics. It's designed to be functional and durable. Meeting TSA requirements for carry-ons, it's perfect for travelers. And for those who prefer a backpack style, it seamlessly transforms with hidden straps in a back compartment.
RELATED: WHY DIGIMON TCG SHOULD GET A VIDEO GAME
Erin Zipperle, Rollacrit's CEO, shared the company's vision, stating, "When Rollacrit was formed, one of our missions was to resurrect some of our favorite old products with a new twist. We've learned a lot since that original Bag of Holding and we've put some solid time into research, development, and magic."
The Bag of Holding is Now Funding on Kickstarter
The success of the new Bag of Holding rests in the hands of its fans. Rollacrit's Kickstarter campaign is not just about funding a product; it's about reviving a beloved classic for a new generation. As Zipperle puts it, "We're ready to bring the bag into the 2020s with a new and improved Bag of Holding, but it can only be revived with fans' support via Kickstarter!"
RELATED: BoxLunch Unveils Exclusive Horror Merchandise Just in Time for Halloween 2023
For those who remember the original Bag of Holding with fondness and for newcomers eager for a reliable adventure companion, now is the time to act. Join Rollacrit in bringing this iconic bag into the modern era. Pledge your support on Kickstarter and be part of the journey to make the new Bag of Holding a reality.
The Bag of Holding Kickstart campaign has already funded over $1 million dollars, and the last chance for fans to get their own will end on October 4, 2023 at 5pm EST.
Did you own the original iconic bag, and if so, what epic tales and adventures did it accompany you on? How do you feel about Rollacrit's modern take on this classic? And most importantly, are you ready to pledge and be part of the next chapter in the Bag of Holding saga? Share your memories, thoughts, and excitement with us on social media!
Source: Rollacrit
KEEP READING: FUNKO POP! YOURSELF – THE ULTIMATE PERSONALIZED GIFT IS NOW AVAILABLE ONLINE