Critical Role is partnering with Bethesda Softworks to run a Critical Role: Doom Eternal One Shot. Doom Eternal was developed by id Software and published by Bethesda Softworks.
Critical Role is a weekly live stream Dungeons & Dragons game played by eight voice actors (Matthew Mercer, Sam Riegel, Taliesin Jaffe, Laura Bailey, Travis Willingham, Liam O'Brien, Marisha Ray, and Ashley Johnson). The group is currently on their second campaign and on episode 98. Critical Role also streams one shots, which are self contained games that take place in a single episode. This one shot will be based on the upcoming video game, Doom Eternal.
RELATED: CRITTERS CAN NOW EXPLORE WILDEMOUNT WITH MUNCHKIN CRITICAL ROLE
How Will Critical Role Take On Doom Eternal?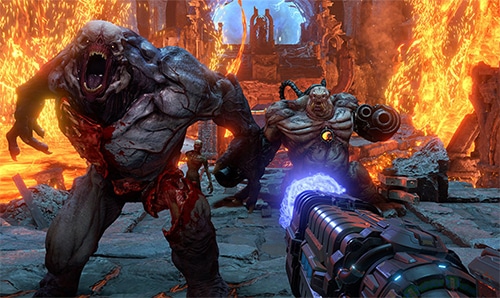 Doom Eternal is a first person shooter video game and a direct sequel to 2016's Doom, set two years after the events of that game. Earth is overrun by demonic forces and The Doom Slayer returns, after being teleported to an unknown location, with new weapons to save the human race from extermination.
Unlike the first person shooter, this Critical Role One Shot will be played from the perspective of the monsters. "Join DM Matthew Mercer as he leads a horde of demons on a mission to invade Earth," the players request. The horde of demons will played by:
Laura Bailey (Critical Role) as The Mancubus
Anjali Bhimani (Runaways, Indivisible) as The Pain Elemental
Sam Riegel (Critical Role) as The Archvile
Jasmine Bhullar (Relics & Rarities) as The Revenant
Taliesin Jaffe (Critical Role) as The Marauder
This will not be Anjali's first time on Critical Role, as she played in the four episode game Undeadwood. It will be Jasmine Bhullar's first time appearing on the program, however.
Critical Role: Doom Eternal will be streamed on March 16 at 7pm Pacific Time on twitch.tv/criticalrole, and the VOD will be available March 18 via their Youtube channel. Doom Eternal will be released on March 20 for Microsoft Windows, PlayStation 4, Stadia, and Xbox One platforms. A Nintendo Switch version is planned for a later release.