It's about time for another reboot of an iconic horror franchise. The next franchise coming back to the big screen is Hellraiser. The reboot of the 1987 horror classic is on the way from Spyglass Entertainment, with prominent screenwriter David S. Goyer involved as producer and scriptwriter. This reimagining of the iconic character of Pinhead was announced last year.
According to THR, the script of the new Hellraiser will be written by Ben Collins, Luke Piotrowski, and directed by David Bruckner. This will be a reunion for the filmmaking team behind the 2020 Sundance Film Festival sensation The Night House.
Hellraiser is a 1987 supernatural horror film written and directed by Clive Barker, based on Barker's novella The Hellbound Heart. This film marked Barker's directorial debut. While he has since made his mark in many industries including careers as a playwright, author, writer, producer, and director of many horror-themed movies, Barker has earned his place in the pantheon of horror masters.
RELATED: THE 1ST TRAILER FOR SPIRAL: FROM THE BOOK OF SAW REVISITS THE FRANCHISE'S SINISTER TERROR
The original film became a smash hit and achieved a cult status, which led to nine sequels, with Barker only directing the first installment. The original movie introduced audiences to a puzzle box that opens a gateway to a horrific world and creatures named Cenobites. These monsters are dedicated to torture and led by one lead Cenobite, later identified as Pinhead in the sequels. The iconic Hell Priest was played exceptionally well by Doug Bradley, who continued the role in seven sequels.
The New Hellraiser Team
David Bruckner will direct the new movie, which summons the Hellraiser yet again from a story by Goyer, Collins, Piotrowski and also Clive Barker returns to the writing board. Not much is known about this new take, but Spyglass Studio described the reboot as "loyal, yet evolved" adaptation of the classic. Casting for this movie is yet to be made.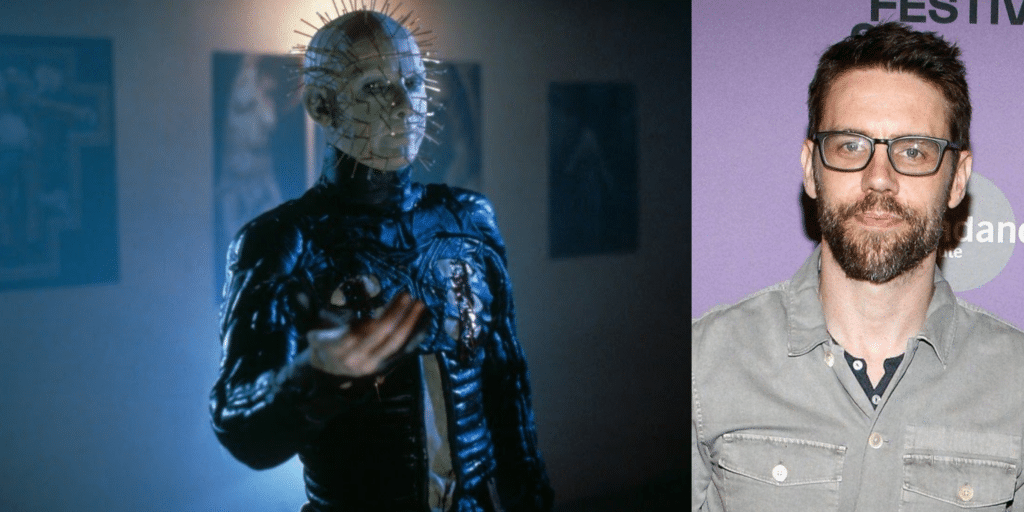 Spyglass launched as a partnership between Gary Barber and Lantern Entertainment Co-Presidents Andy Mitchell and Milos Brajovic. According to THR, the studio is also developing a reboot of the 1990s iconic horror franchise Scream.
Bruckner made his directorial debut with the 2007 sci-fi horror film, The Signal. He's also known for his acclaimed work in 2017's The Ritual and the horror anthology V/H/S, Southbound, and he recently directed episodes of Creepshow. Collins and Piotrowski wrote the indies Super Dark Times and Stephanie. These three filmmakers collaborated with Goyer on The Night House, which received high praise and closed a $12 million deal with Searchlight for its worldwide rights. The filmmakers chosen by Spyglass certainly have a proven career in the horror genre.
RELATED: FEDE ALVAREZ TO DIRECT 16 STATES A ZOMBIE PANDEMIC FILM
For generations Barker's brilliantly twisted and imaginative Hellraiser haunted the minds of moviegoers with its strikingly horrific imagery of Pinhead. The Hellraiser series is long overdue for a big-screen comeback. The first film remains the best of the bunch, though, with the sequel, Hellbound: Hellraiser 2 a close second, but later sequels in this series failed to achieve the Clive Barker's magic. Some horror classics can stand on their own and they don't need a reboot, but the 2018 reboot of Halloween franchise proved its worth to continue the franchise.
The filmmaking team should keep hopes high that they'll be able to do justice to the franchise, while delivering a new take that will shock and provoke longtime fans, along with newcomers. However, it's yet to be seen if audiences feel the need to revisit this franchise again.
Synopsis of Hellraiser (1987)
Sexual deviant Frank inadvertently opens a portal to hell when he tinkers with a box he bought while abroad. The act unleashes gruesome beings called Cenobites, who tear Frank's body apart. When Frank's brother and his wife, Julia, move into Frank's old house, they accidentally bring what is left of Frank back to life. Frank then convinces Julia, his one-time lover, to lure men back to the house so he can use their blood to reconstruct himself.
Are you a fan of the original Hellraiser movie? What are your thoughts on choosing David Bruckner as the director? What other horror classics do you wish to have a reboot? Let us know in the comments below.