Lionsgate is moving forward to make a Now You See Me 3 installment, and Eric Warren Singer was hired to write a "new take" on the franchise.
The Now You See Me franchise is a successful one that is entirely an original concept, not based on any existing property. The series centers on an Ocean's 11-style group of mastermind criminals with the twist that these heroes use the artifice of hand and stage magic to pull off heists.
RELATED: RESIDENT EVIL REBOOT: HANNAH JOHN-KAMEN OFFERED JILL VALENTINE ROLE AND NEW REMAKE DETAILS
The first two movies in the series have grossed $687 million at the global box office cumulatively. The previous films starred high profile actors like Jesse Eisenberg, Woody Harrelson, Isla Fisher, Dave Franco, Lizzy Caplan, Mark Ruffalo, Daniel Radcliffe, Mélanie Laurent, Michael Caine, and Morgan Freeman. Casting has yet to be set for the third installment, however.
Now You See Me Rises Once More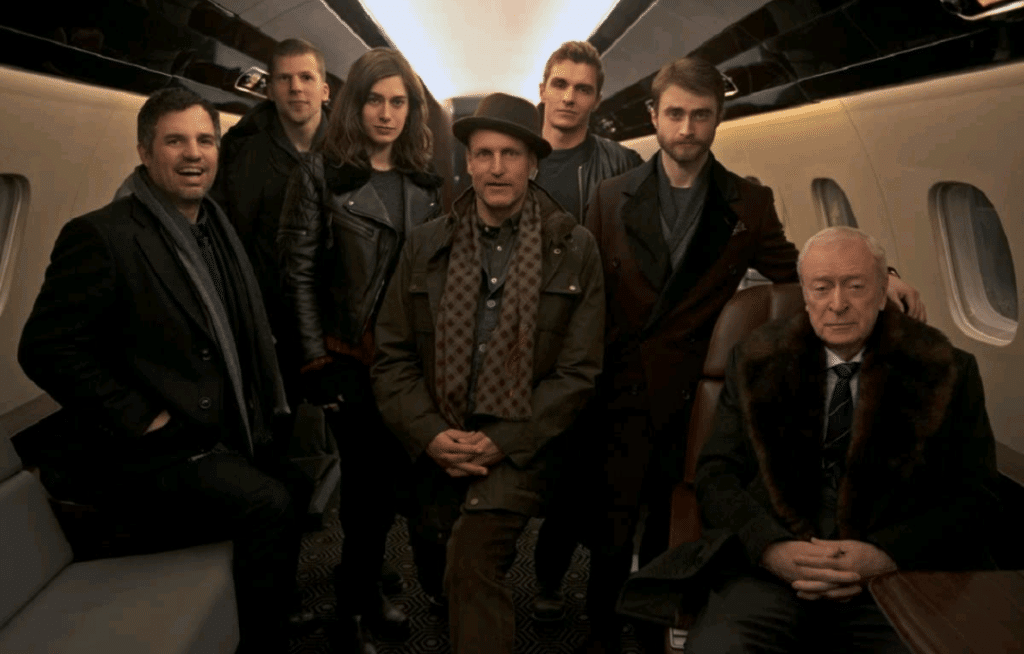 Previously the studios have planned to make a third movie after the release of the second part in 2016, but nothing was officially announced back then. Now Lionsgate has announced that they are officially developing a third entry in the Now You See Me franchise, although no release date has been scheduled.
Eric Warren Singer, best known for the acclaimed American Hustle film which got him an Oscar nomination, is also one of the writers for the upcoming Top Gun: Maverick. His 'fresh take' might suggest that the most or all of the original cast will not be back. But the initial reports suggest that the new movie leaves an open door.
It is clear that this is not a reboot, but Singer's take will introduce new characters into this established world while also creating room for the original cast to reprise their roles. The opportunity is up to the franchise vets to return if they desire to pop up.
Nathan Kahane, the president of the Lionsgate Motion Picture Group, said in a statement that:
"Eric has always been fascinated with the fine art of deception and illusion in all of its forms and he came to us with a great story that takes the mythology of Now You See Me and pushes The Four Horsemen to a whole new level with our key returning cast and new characters. The Now You See Me franchise has been built on keeping the audience surprised and guessing. Any great magician knows you can't keep doing the same tricks. And Eric and his team of illusionists have something special up their sleeve for this new film."
Jonathan Bayme and his company Theory 11 will serve as a magic consultant to the filmmakers. Also teaming up are Secret Hideout's Bobby Cohen and Alex Kurtzman, who will produce alongside Lionsgate's Meredith Wieck and Aaron Edmonds. Kurtzman and Cohen were the producers on the first two Now You See Me movies.
Lionsgate's Need For Bringing Back This Franchise
Lionsgate's Hunger Games franchise was the last top-tier blockbuster franchise for the studios. After that, there were only a few that were original concept movies which brought good numbers at the box office. Those few were Now You See Me, John Wick, and Knives Out.
Now You See Me was released in 2013 and made $118 million domestic and an extraordinary $351 million worldwide on a $75 million budget. The follow-up movie swapped a pregnant Fisher for Lizzy Caplan, brought back the original cast, and added Daniel Radcliffe. It was released in 2016 and, despite not mesmerizing the audience as much the first one did, grossed $65 million domestic and $335 million globally on a $100 million budget.
Similarly, Rian Johnson's Knives Out earned $306 million worldwide on a $40 million budget, and John Wick: Chapter 3 earned an impressive $322 million on a $75 million budget.
As they are bringing back Hunger Games through the prequel, The Ballad of Songbirds and Snakes, and the Saw franchise through Spiral: From the Book of Saw, continuing Now You See Me franchise is a good option for Lionsgate.
There is still potential in this unique series. With an all-star ensemble (both new and few core actors), the appealing hook of the concept of criminal magicians, and also a marquee director can make audiences and mainly this franchise fans show up. Let us hope Now You See Me 3 will be more or at least as the good first film. Also, let us hope the original four horsemen and Morgan Freeman will be returning in some capacity in this movie.
Are you interested in a third Now You See Me movie? Do you like to see the original cast return to this franchise? Let us know in the comments below.