Neil Gaiman announces the voice cast for Audibles's upcoming DC Comics' Sandman audio drama adaptation.
Audible, the popular audiobook company, is adapting Neil Gaiman's graphic novel series The Sandman into an audio drama. Gaiman wrote the original Sandman series which was published by DC comics, will serve as executive producer and creative director for the project. Gaiman will also be the narrator for the audio drama. Dirk Maggs is a longtime audio collaborator of Gaiman's, having adapted some of his other works into audio dramas including Good Omens, Neverwhere, Stardust and Anansi Boys. Maggs is wearing many hats as well serving as executive producer, writer, and director. award-winning composer and musician James Hannigan will create an original score for the project as well.
Sandman's Star-Studded Voice Cast
Gaiman announced on his Twitter account that the Audible Sandman audio drama will premiere on July 15th, as well as the full cast.
The star-studded cast features X-Men star James McAvoy as the main character Morpheus, aka Dream of the Endless himself. The full cast includes Riz Ahmed (Venom) as The Corinthian, Kat Dennings (Thor: The Dark World) as Death, Taron Egerton (Rocketman) as John Constantine, Samantha Morton (The Walking Dead) as Urania Blackwell, Bebe Neuwirth (Madam Secretary) as The Siamese Cat, Andy Serkis (Black Panther) as Matthew The Raven, and Michael Sheen (Good Omens) as Lucifer.
RELATED: DC ANNOUNCES A NEW SANDMAN AUDIBLE STORY WITH NEIL GAIMAN
The cast will also include Justin Vivian Bond as Desire, Arthur Darvill as William Shakespeare, William Hope as Doctor Destiny, Matthew Horne as Hob Gadling, Reginald D. Hunter as J'onn J'onzz aka Martian Manhunter, Sue Johnston as Unity Kinkaid, Paterson Joseph as The Demon Choronzon, Josie Lawrence as Mad Hettie, Anton Lesser as Doctor John Hathaway, Joanna Lumley as Lady Johana Constantine, and Miriam Margolyes as Despair.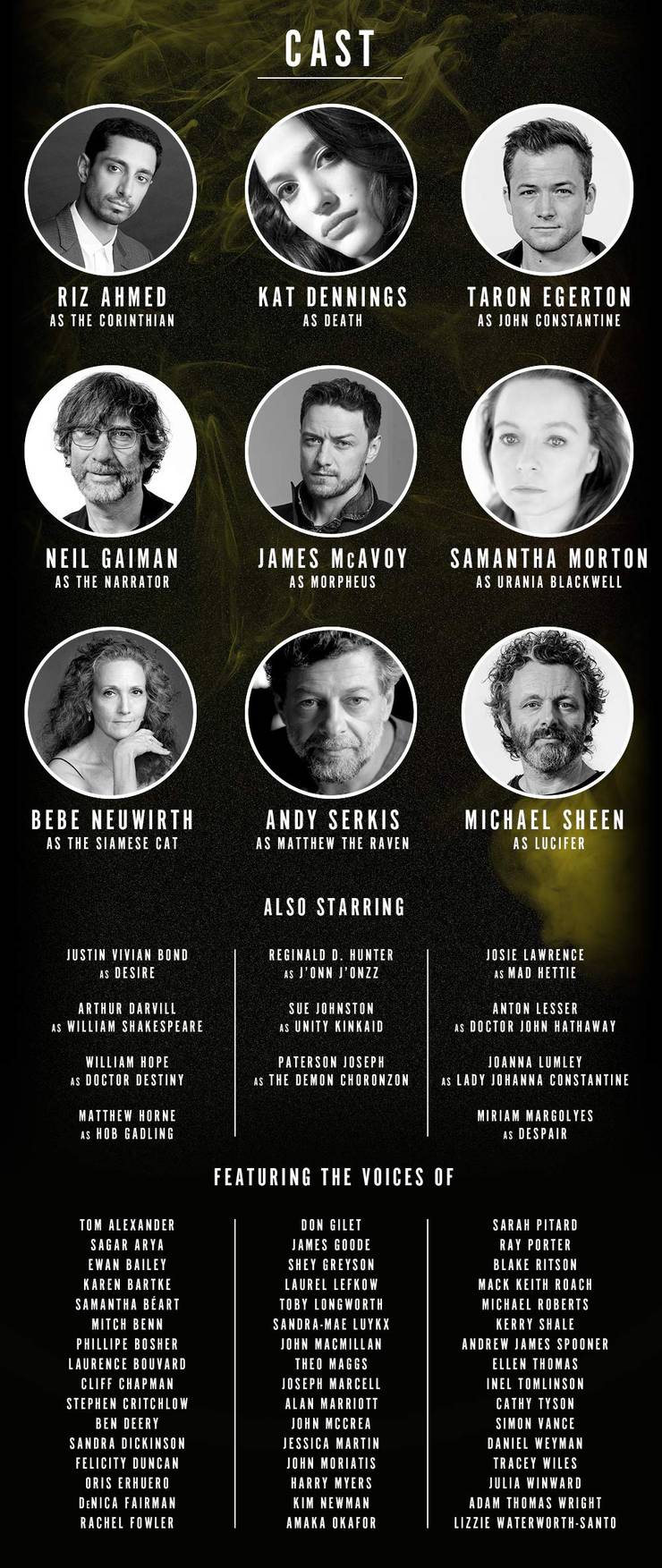 The original Sandman graphic novels, written by Neil Gaiman, featured multiple artists over its 75-issue run from January 1989 to March 1996. The Sandman was one of the first graphic novels to be included on the New York Times Best Seller List. The Sandman is also being adapted into a live action television series for Netflix. Allan Heinerg is set to serve as showrunner on the Netflix series with Gaiman as executive producer. The synopsis makes it obvious that this multi-part drama will begin with the first graphic novel of The Sandman, Preludes & Nocturnes. The drama will also include elements of the second and third graphic novels The Doll's House and Dream Country according to Gaiman.
In The Doll's House Morpheus is trying to find rogue dreams that escaped his realm, the Dreaming, while he was being held captive which leads him on a number of adventures. Dream country is made up of four independent stories which follow Calliope the muse who has been held captive by a couple writers to deter writers block, a cat using dreams to change the world following the brutal killing of her kittens, the "true" origin of William Shakespeare's Midsummer Night's Dream when it debuts to an audience of creatures from Faerie, and Element Girl (Urania Blackwell) a shape shifting immortal who is longing for death.
Official Synopsis for Audible's Sandman Audio Drama
When an occultist attempts to capture the physical embodiment of Death in a bargain for eternal life, he instead mistakenly traps Death's younger brother Morpheus, the King of Dreams. After his seventy-year imprisonment and eventual escape, Morpheus goes on a quest to reclaim his lost objects of power and rebuild his realm. From there, one of [the] greatest and most successful series of graphic novels ever written begins. Celebrated globally for its vibrant blend of modern myth and dark fantasy – which seamlessly interweaves contemporary fiction, historical drama and legend – The Sandman follows Morpheus, and the people and places he's affected, as he tries to mend the cosmic and human mistakes he's made during his Endless existence.
The Sandman audio drama is set to hit Audible on July 15th and is available for pre-order now. The English version will be available first and other languages will be available at a later time. Are you excited for The Sandman audio drama? What do you think about the cast? Leave your thoughts in the comments below or on our social media.
Source: CBR