Oscar-winning actress Charlize Theron is ready to deliver badass action in Netflix's comic book-based action thriller, The Old Guard.
The film is being directed by Gina Prince-Bythewood, known for Love & Basketball and the pilot of Cloak & Dagger. Netflix released a poster and premiered a brand-new trailer for The Old Guard, both of which are gripping.
RELATED: NEW PHOTO OF RYAN CHOI, AKA THE ATOM, THE LATEST REVEAL FOR ZACK SNYDER'S JUSTICE LEAGUE
The new action fantasy flick is Gina Prince-Bythewood's adaptation of the Image Comics series written by Greg Rucka and illustrated by Leandro Fernández in 2017. Skydance Media picked up the rights to adapt the comic The Old Guard in March 2017, just after the second issue in the series went on the market.
Anatomy of a Film Adaptation
In July 2018, they hired Gina Prince-Bythewood to direct with Rucka adapt his comic book to the screenplay, and Skydance's David Ellison, Dana Goldberg, and Don Granger came on board as producers. In March 2019, Netflix picked up worldwide rights to the film and agreed to finance it with Skydance. Charlize Theron joined the film and will also produce along with Beth Kono, A.J. Dix, Marc Evans, and Stan Wlodkowski.
The acclaimed superhero graphic novel tells the story of Andy, a woman who is one of a handful of humans who cannot die – right up until they do. She leads a squad of immortals across ages, and they are an unstoppable force. Though they are able to heal most would-be fatal wounds, at some point their death arrives. There's no warning or explanation for the fatal blow that fells them when all the previous cases did not. 
The movie stars Charlize Theron (Bombshell), KiKi Layne (If Beale Street Could Talk), Marwan Kenzari (Aladdin), Harry Melling (Harry Potter), Matthias Schoenaerts (Rust and Bone), Van Veronica Ngo (Star Wars: The Last Jedi), Natacha Karam (Homeland) and Chiwetel Ejiofor (Doctor Strange).
The Old Guard Trailer
The story focuses on a group of mercenaries, all centuries-old immortals with the ability to heal themselves. Just as they find another immortal has "awakened", they discover someone is onto their secret, and they must fight to protect their freedom.
The Old Guard may have some familiar themes but it offers an intriguing premise and cool action. The starting of this trailer may feel like it is the same as last year's 6 Underground movie with a group of mercenaries who are ghosts to the world with no data and records about their identity but no it is not, this movie deals with an immortal superhero team.
After Mad Max: Fury Road and Atomic Blonde, Theron wants to show her action skills again but this time on a small screen. She always does a great job in action roles and she looks badass in the new look holding a cool looking axe. The comics are filled with brutal fights and dark themes and this R-rated movie will definitely give us a taste of it.
Charlize Theron plays Andy, also known as Andromache of Scythia, who has been around for generations. She feels a call towards others of her kind, most of whom have grown cloyed over the course of their long lives. They work together as a small, elite mercenary troop to save the world and themselves from it. They have managed to keep their existence in secrecy from the world most of their life. But advances in technology throughout the information age brings a new threat to the continued secrecy of their existence.
The trailer showcases that the movie is going to be faithful to comics, which makes sense as Rucka did the screenplay. In the trailer, we can see certain shots of the characters in an old era which means there will be some backstory through flashbacks. Nile Freeman (KiKi Layne) is a new addition to the team who seems very excited about her brand new skills but unaware of the rough road ahead of her.
Andy will be the mentor for Nile as she adjusts to her eternal life. Chiwetel Ejiofor is playing antagonist Copley who is an old friend of Andy and he is looking to sell their secrets for fame and profit. There is a cool dialogue in the trailer when Nile asks their new friends if they are the good guys or bad guys then Kenzari's character replies "It depends on the century."
The director Gina Prince-Bythewood is new to the action genre. She previously directed beautiful movies like Love & Basketball, The Secret Life of Bees, and Beyond the Lights. It will be interesting to see how she pull off this superhero action movie and the trailer shows the movie is going to be hitting hard in all means.
The Old Guard Poster And Official Synopsis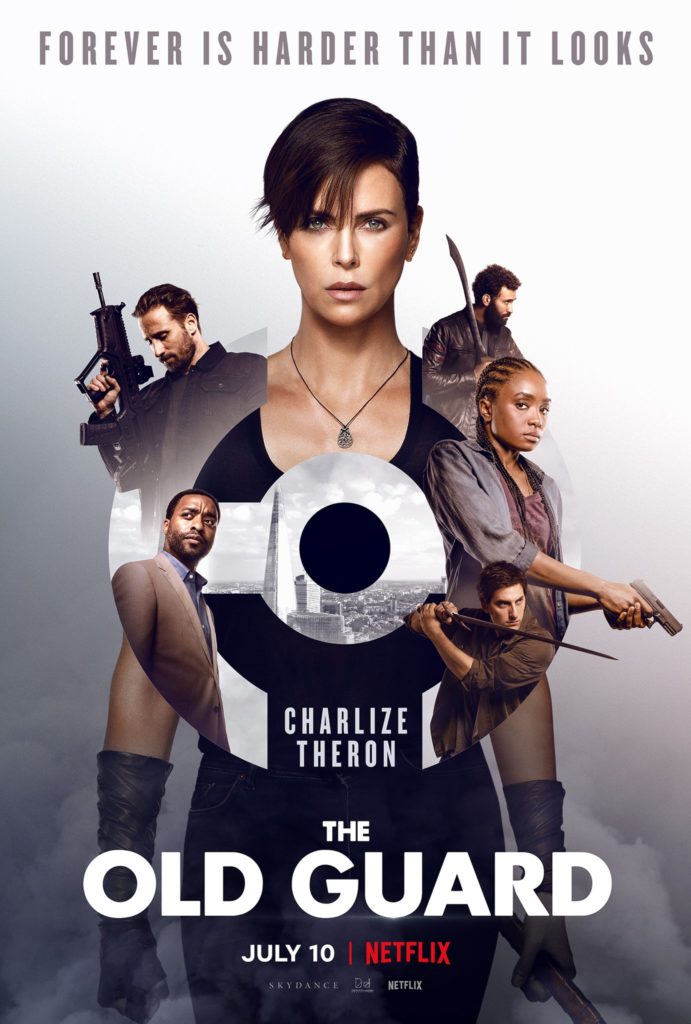 "Led by a warrior named Andy (Charlize Theron), a covert group of tight-knit mercenaries with a mysterious inability to die has fought to protect the mortal world for centuries. But when the team is recruited to take on an emergency mission and their extraordinary abilities are suddenly exposed, it's up to Andy and Nile (Kiki Layne), the newest soldier to join their ranks, to help the group eliminate the threat of those who seek to replicate and monetize their power by any means necessary."
The Old Guard is scheduled to be released on July 10, 2020 on Netflix.
Are you excited about The Old Guard movie? Are you ready to see Charlize Theron pulling off heavy action? What are your thoughts on the trailer? Let us know in the comments below.