Image Comics launches a new spinoff series, CHU, in the world of the "CHEW" comic series.
The New York Times bestselling, two-time Eisner Award and Harvey Award-winning, beloved humor/crime comic Chew by John Layman (Outer Darkness) and Rob Guillory (Farmhand), is returning with an all-new spin-off series from Layman, and this time with the art by Dan Boultwood (It Came).
New spinoff series Chu promises to be a delectable cat-and-mouse story and will stand on its own for new readers, but delight longtime fans of the Chew universe or the Chewniverse. It is a great starting point to jump into this world, you don't need to be a Chew reader to enjoy this comic.
Chew centers on a U.S. Food and Drug Administration (FDA) agent/detective, Tony Chu who is a cibopath (pronounced "see-bo-path"). Tony can solve crimes by receiving psychic impressions from what he eats, it can be food or even people. It means he can read the memories and history of everything he consumes. Set in a world that has banned poultry following a catastrophic outbreak of avian flu.
Chew launched in 2009 and continued the run for about 12 volumes consisting of 60 issues and 4 one-shots. The series concluded with its 60th issue in November 2016. After four years John Layman is surprisingly returning to the world of Chew. But this is not a new Tony Chu story, instead, it's a new story featuring Saffron as the lead. Saffron is a crook and a cibopars, able to learn secrets from who she eats with.
This premise is the flip side of Chew, now an odd-powered female criminal instead of a food powered male cop. And Chu will be a felonious new food-noir comic about cops, crooks, cooks, cannibals & clairvoyants. Tony Chu is a cop and Saffron is a criminal and they are on a collision course. 
In an interview with THR, creator Layman said "The closest comparison I can readily think of to Chew and Chu is Breaking Bad and Better Call Saul — two series set in the same universe, with obvious connections, but widely different in pace, tone, even structure. Chu will be that to Chew, but not a prequel. A story that spins out of the early days of Chew and then runs concurrently, but unlike Saul, which gets closer to Breaking Bad with every episode and season, Chu will spin out of Chew and get progressively further away, hopefully forging its own identity as something completely new and different and distinct."
This is a great start for the new Chu spin-off and as expected, writer John Layman returns to this crazy world of food, crime, sci-fi, and slapstick humor with a bang. He also promised that as the story progresses Chu will be fundamentally different from Chew and more character-driven. So this new spin-off is going to be a fun-filled ride. Right from the start, the readers will find themselves getting ready for a delicious feast.
WARNING: This review will contain minor spoilers so if you do not wish to be spoiled even a bit, I suggest you skip the story section and read the next column.
STORY: THE FIRST COURSE – CHU PART 1 of 5
The story opens with a mob boss prepping his crew of ragtag criminals for a heist to rob the biggest crime lord in town. He orders everyone to use only codenames for the duration of the caper. The comic is a little bit tongue-in-cheek as in the vein of Chew comic. The boss refers to all of them in codenames and we don't get to know the original names of the crew right away except for Saffron.
Mr. Boss then explains the details and everyone's job in the mission. He then arranges a meal cooked by Mr.Cooke, specially designed to give the edge they need for their respective jobs. The crew includes Mr. Knife, a thief; Mr. Gun, the sharp-shooter; Miss Strong, the muscle/thief; Mr. Getaway, the driver; Mr. Lock, a thief, and finally Mrs. Smart a.k.a Saffron, a thief/advanced reconnaissance. Some of the crew have worked together before especially Mr. Lock and Saffron, they are partners.
As per the codenames, everyone in the crew has their own particular set of skills & abilities. Saffron is the one who got the information needed for the operation but the comic didn't explain how exactly but she obviously got it with her cibopars skill. The crew made a perfect plan according to the short window they got for execution while the crime lord's collection crew went for rounds. But the operation didn't go down as planned as the collection crew returned in the middle of their heist because one of their crew became sick. Meanwhile, both Mrs.Strong and Mr.Shooter turned sick and barfed too.
The two factions started fighting and the Saffron's crew tried to escape. But Mr. Getaway ran away from the action leaving behind the rest. Only Saffron and Mr. Lock, real name Eddie Molay managed to escape alive. The reason why both members of the faction turned sick is unknown for now. Did Mr. Boss do this to them? But why would he want to lead his crew into an ambush? This is the beginning of a new mystery just like how the Chew series is filled with crime and mystery.
Another story begins on the next day after the robbery went sideways, which might be familiar to Chew comic readers. During the police investigation, two detectives enter the crime scene, partners Bosco and Tony Chu. The comic gives a short introduction about Tony. Tony tastes the blood of Mrs. Strong to find what happened the before night but he fails to find it because strangely the only food that he can not get a psychic sensation is Beets. Which makes sense considering the meal Mrs. Strong had.
Tony couldn't dig deeper into his process of cibopath in front of federal agents so the partners retreat. Why you ask, for sure it will be explained in detail in upcoming issues or you already knew if you are familiar with Chewniverse. Bosco reminds Tony about his family dinner and the comic moves to Saffron and Edie in a car. With the interaction between both characters, we get to know how much they care about each other.
Eddie drops her at Saffron's home and there we meet her older sister, Rosemary Chushen. This is followed by the reveal of Saffron's full name which is, in fact, happens to be Saffron Chu as she meets her big brother Tony Chu in the kitchen. Which concludes the first issue of the new adventure.
Is Chu As Good As Chew?
Yes, it is totally Chew level good. Chu, like Chew comics, can make the readers hungry for more. For new readers, it may not be enough to get them interested to start reading the 64 previous comics of Chew – but it is intriguing enough to make them stick with this new series. If the upcoming issues are done as well as this one, maybe after the first volume of Chu, the readers might want to dive deep into the Chewniverse.
Saffron Chu's character is completely absent in the Chew comics. Chu will be the story of Tony's secret sister, the black-sheep-of-the-family, who has her own food-based powers who seems to have a different career path entirely. How can she learn secrets from who she eats with? This will be answered moving forward. Saffron looks like an absolute badass and I am interested in knowing about her more.
John Layman is offering a tale of a crime story that sees a brother and a sister on the opposite ends. Well, that is how the initial storyline of this series looks like. Layman maintained the same energy of the original in this. It is balanced with action, humor, and seriousness. Layman himself lettered this comic. The action is shown in the simplest way possible without too much gore.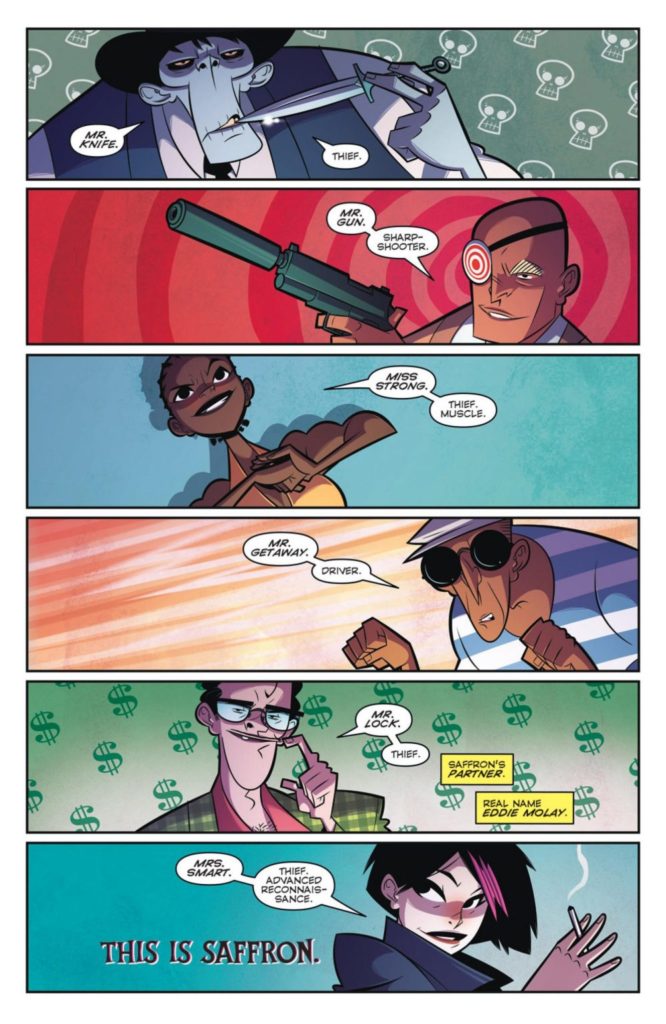 Dan Boultwood's art style is reminiscent of his previous work and it fits perfectly well with this story. Chu is filled with vibrant and striking colors which are eye-popping. The usage of colors and character designs are classy and gave this comic a feeling of watching a classic animated show. Boultwood is a great artist and even in the absence of Chew's artist Rob Guillory, the first issue gave the assurance that this is in great hands.
The first issue of Chu: The First Course Part 1 accomplishes its goal by delivering a solid story and catchy artwork. The Illuminerdi highly recommends picking up Chu issue #1.
Chu returns with issue #2 on August 26th, 2020. Be sure to check back for our review!
What were you're thoughts on Chu #1? Are you going to continue reading the series? Let us know in the comments below on our social media and be sure to come back to The Illuminerdi for more comic reviews in the future.