DC Chief Creative Officer/Publisher Jim Lee moderated the panel for the new CW series Superman & Lois which included executive producer/showrunner Todd Helbing and series stars Tyler Hoechlin and Elizabeth Tulloch. Todd explained a bit about what will set Superman & Lois apart from other Superman adaptations, "The main way that we're going to make this a little different is that Clark and Lois are married in this version. And they're not only married, they have two teenage boys…just to tell, really a story that is as grounded as it can possibly be, to have Superman in it."
Todd continued, "And as a couple we really get to lean into, you know, Clark and Lois not being Superman and the most famous journalist in the world, but, really, as parents. Like what is that like when you have jobs like that? And all the complexities and difficulties that come with having jobs like that. And then with two boys…we wanted to present two kids that had completely different skill sets and how do you deal with that as parents?"
Todd teased why Superman & Lois takes place in Smallville instead of Metropolis, "The story of Superman has taken place in Metropolis for very long…So we wanted to tell a story where you have the parents, after this tragic event happen, move back to Smallville and really find that it's easier to raise kids, maybe in a place where life isn't so hectic as it is in Metropolis."
RELATED: SUPERMAN & LOIS DETAILS REVEALED IN NEW POSTER AND SYNOPSIS
"So we took Crisis as an opportunity to really age up and change things for them as parents, age up the boys, or create two boys, fraternal twins, and make them teenagers, when things really get complicated for parents. So I think just Crisis in general really gave us an opportunity to start with a blank slate, an tell, you know, tell a story in a way we couldn't have otherwise." Todd talked about how the Crisis crossover allowed Superman & Lois to be about two parents raising teenagers instead of an infant which makes it easier to tell stories involving the kids.
Elizabeth talked about the balance between parenting and being successful in high-power careers for Lois and Clark. "But I do think it's one of the things, you know, especially about Lois is that she doesn't really compromise her sense of self or her goals…And Lois wants to change the world with words and Superman does it with his power, but also, you know, how much is that alienating our kids…I've read two scripts now and I find the storyline with the sons really, really compelling."
Tyler also talked about Superman juggling the responsibilities to the world and Clark's own family in Superman & Lois. "I think that's something about Superman is that there is so much needed of him. It's 'When do you turn it off? When is it ok to turn it off? When is enough, enough?'…These are the people that count on you for something only you can fulfill within that structure of a family
TODD HELBING TALKS ABOUT SOME OF THE OTHER CHARACTER IN SUPERMAN & LOIS
"It's fun too when they go back Lana Lang is there, you know. Lana was Clark's first love…And then to see her and her kids and that dynamic…a couple characters that we invented Kyle Cushing, her husband, and Sarah Cushing, who gets sort of wrapped up with the boys and then they have their own love triangle."
"And then a character that I think is really interesting is General Lane, Lois' father and his relationship with the two of them… he's a very military guy. So, he sort of looks at Superman like his soldier. And so, and his relationship with Lois is a little fraught because of the way that he took his job when he was a parent versus the way that Clark is doing his job."
RELATED: SUPERMAN & LOIS CHARACTER DESCRIPTIONS REVEALED: EXCLUSIVE
Jim Lee did want to make clear that this Superman & Lois is still a show about superheroes and supervillains even though that hasn't been the focus of the panel. Todd talked about the heroics of not only Superman, but Lois as well, "There's a lot of heroics, but to us what's just as interesting as when Superman goes out and saves the day…Lois is out there hunting a different sort of villain and using her superpowers to be just as effective, and you see them as a team, kind of this unstoppable force which is a lot of fun to play."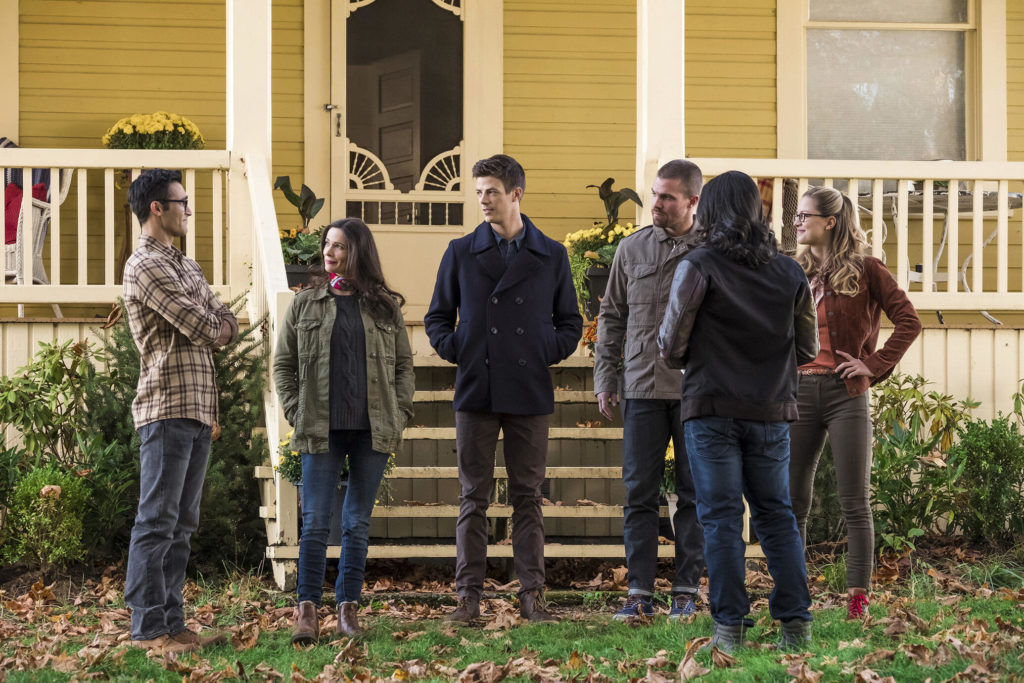 Elizabeth recalled a hilarious moment on set while filming Elseworlds, "The symbol itself is so incredibly iconic that I remember when I started shooting on the show, and it was Elseworlds, and there was a scene with Oliver and The Flash, and Grant Gustin and I both were like we couldn't keep it together when you're wearing a plaid shirt and when you rip it open and it's the 'S'. Like we probably had to do that take quite a few times because of everyone's reaction."
Tyler added, "That was a really funny day on set…But I remember Grant on that take. It was the push-in, and thank God like, the camera pushed in and it had gone just into the 'S' by the time he did this, but when I ripped the shirt open I just remember Grant going [gasping] off screen. With this audible inhale. And it was the funniest thing."
Todd also talked about how the Superman suit from Supergirl was not made to last a series so Superman & Lois will feature a new super suit. "I think just in everything that we were talking about earlier, you know, it gave us this fresh slate, yeah, let's make a new suit. So there's going to be a really badass Superman suit in this show." And Tyler was clearly excited by this news.
Fans can watch the full Superman & Lois panel at the DC Fandome Watchverse, and Superman & Lois is set to premiere to the CW 2021. Are you excited to watch Superman & Lois? Leave your thoughts in the comments below or on our social media.
KEEP READING: SUPERMAN AND LOIS WILL FACE A LEX LUTHOR FROM ANOTHER WORLD: EXCLUSIVE