The highly anticipated season two of the Disney+ hit The Mandalorian will premiere October 30. And Entertainment Weekly spoke with the cast who shared some details about the upcoming season.
"We start very directly after the first [season] and he's going into very dangerous territory," Pascal reveals. "He is very much a passenger to the experience in unexpected ways — not knowing what's to come, not knowing how much or how best to protect the Child. We don't know how far he will go to do that, and they're finding new ways to push the envelope."
At the end of the first season of The Mandalorian, Mando takes on The Child as his foundling officially and vows to find the force sensitive child's family. But, with Moff Gideon determined to hunt down and use The Child as a means to his own ends it isn't a surprise that the second season of The Mandalorian see the bounty hunter diving into "dangerous territory".
Moff Gideon was revealed to be the one hunting The Child at the end of season one, but it looks like he will have an even bigger role to play in season two of The Mandalorian, working to find a way between Mando and his ward. Those who held power in the Empire are known to use manipulation as a tactic as well as violence and force. Moff Gideon will follow in the footsteps of iconic Star Wars villains like Palpatine and Darth Vader trying to tempt the hero into going down a dark path. The trick will be to see whether or not Mando can resist Moff Gideon's manipulations.
RELATED: THE MANDALORIAN SEASON 2 FINALLY GETS A RELEASE DATE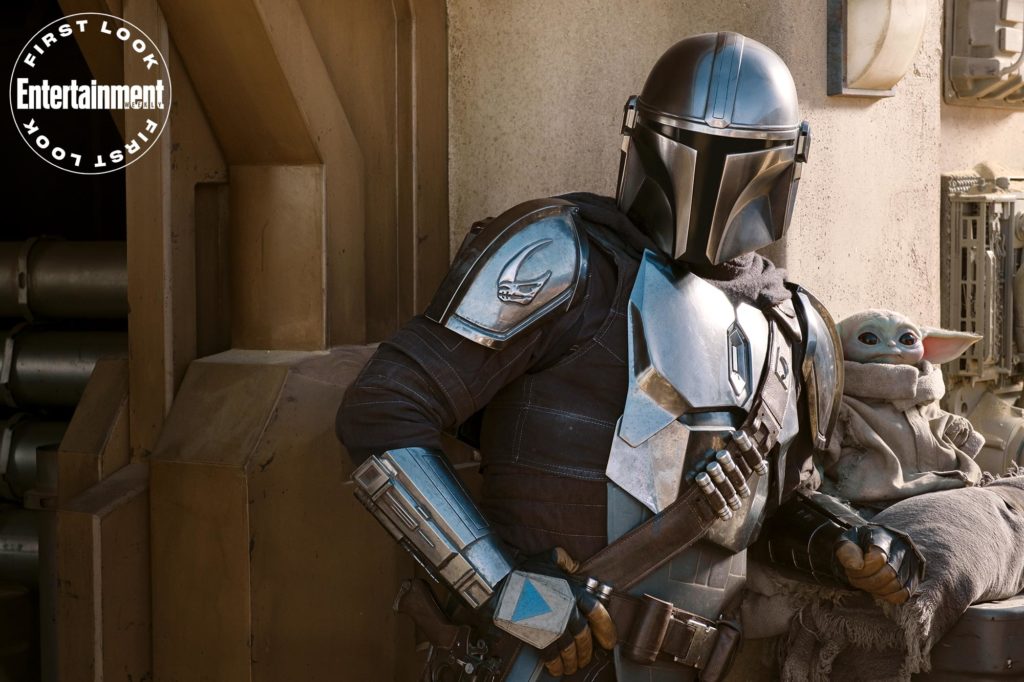 And while new characters will be appearing with Mando running from Moff Gideon some familiar faces will be showing up. As can be seen from the photos Carl Weathers Greef Karga who was in charge of Mando and the other bounty hunters in season one. Karga is "on a quest to be more legitimate," Weathers continues "but I'm not sure there isn't something in the back of his mind that isn't more self-involved." Gina Carano's Cara Dune will also show up again. Cara Dune, a mercenary, and Mando became allies in season one, but in the finale, she stayed behind with Greef Karga. In that time Karga and Dune are at the point where they "almost finish each other's sentences."
MOFF GIEON AND THE DARKSABER IN THE MANDALORIAN SEASON TWO
"I'll be going toe-to-toe with Mando," Esposito says. "It's an iconic battle. I want to disarm him mentally as well. Who knows? Maybe there's an opportunity to get him to fight some battles for me. You may think I'm a villain, but I'm trying to harness some energy and some powers for a path that could be best for all. You'll get to see him be somewhat diplomatic and more of a manipulator."
However, the battle will not be one of wills as The Mandalorian season two will be featuring Esposito wielding the Darksaber. Esposito has been very vocal about his excitement to wield the Darksaber in the new season of The Mandalorian. The Darksaber has become an iconic weapon in the animated Star Wars series and to now have it in the live action world is hugely exciting for Star Wars: Clone Wars and Star Wars: Rebels fans.
RELATED: GIANCARLO ESPOSITO TEASES DARKSABER IS "THE KEY" TO MOFF GIDEON'S DARK PAST IN THE MANDALORIAN SEASON 2
"It's so exciting for me to be in a show where I can wear a cape and own it, and where I can have a lightsaber and really own it," Esposito explains.
It looks like Moff Gieon may succeed in some of his battles against Mando as Entertainment Weekly reports that Moff Gideon will "spend some one-on-one time with the Child". Season two of The Mandalorian will be introducing more characters from the extended world of Star Wars including characters from the animated series, like Ahsoka Tano and Bo-Katan, or the books, Cob Vanth. Season two of The Mandalorian will no longer have Mando and The Child running from a mysterious hunter, but with Moff Gideon revealed as their adversary it looks like there will be an interesting cat and mouse game this season.
The Mandalorian season two will premiere on Disney+ October 30. Are you excited for season two of The Mandalorian? Are you curious about Moff Gideon and what we will learn about him in season two of The Mandalorian? Leave your thoughts in the comments below or on our social media.
Source: Entertainment Weekly
RELATED: MARK HAMILL HAD A SECRET CAMEO IN THE FIRST SEASON OF THE MANDALORIAN