While 2020 has been full of bad news, Whovians are in for a treat with the upcoming Doctor Who holiday special seeing the return of none other than John Barrowman's Captain Jack Harkness. Captain Jack Harkness returned for a brief, but memorable appearance in the episode "Fugitive of Judoon".
While he didn't get a chance to interact with Jodie Whittaker's Doctor, he did meet her three companions and pass along a warning. And as he told the companions "I'm going to see her again. Maybe not soon, but when she needs me, I'll be there."
RELATED: OBI-WAN TV SERIES RAMPS UP CASTING FOR MYSTERIOUS CO-LEAD AND 3 SUPPORTING ROLES: EXCLUSIVE
And given the fact that the season ended with the Doctor locked up in prison by the Judoon, she will definitely need the roguish Captain's help. The Doctor Who holiday special is also bringing back one of the Doctor's most ruthless enemies, the Daleks. It isn't a surprise that the Doctor's current companions will need some help with the Doctor locked away and Captain Jack Harkness is a fantastic choice.
Captain Jack Harkness was introduced during the first season of the revived Doctor Who series in 2005. Jack quickly became a fan favorite character, even getting his own spin-off series, Torchwood, in 2006 which ran for four seasons. His brief appearance earlier this season was the first time Captain Jack returned to Doctor Who in over a decade and fans were ecstatic with quite a bit of speculation about what this could mean. It looks like we'll be seeing him for at least one more epic adventure.
Hopefully this time fans will see Captain Jack and the Doctor reunite. John Barrowman seems just as excited as fans about this news saying in a statement.
"Putting on Jack's coat and setting foot back on the set of 'Doctor Who' was just like going back home," Barrowman said. "It's always thrilling to play Captain Jack. He's a character very close to my heart who changed my life, and to know the fans love him as much as I do makes his return even sweeter. I hope everyone enjoys Jack's heroic adventure with Thirteen."
Check out the poster for Doctor Who: Revolution of The Daleks below: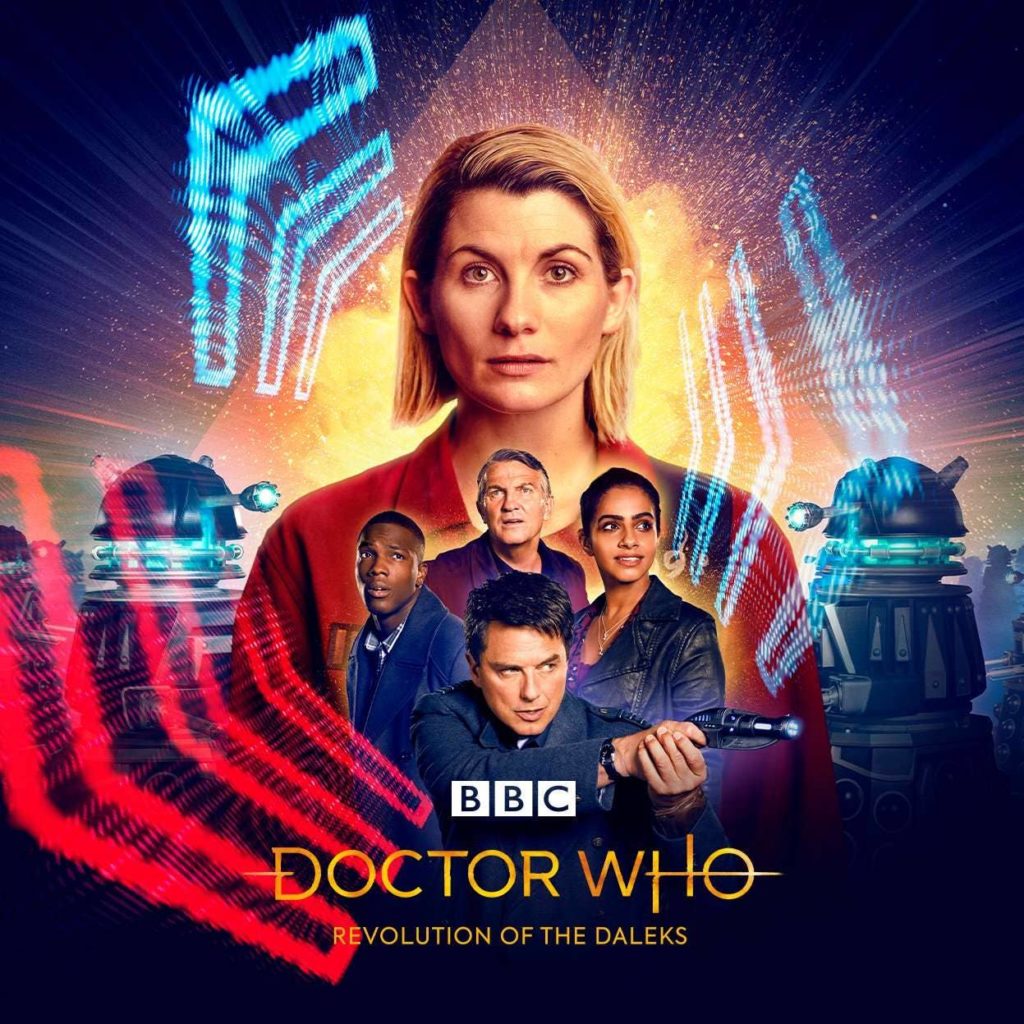 RELATED: DOCTOR WHO'S BRADLEY WALSH AND TOSIN TO LEAVE SERIES…FOREVER?
Doctor Who showrunner Chris Chibnall had this to say in the statement, "A Doctor Who Festive Special means treats galore, and there's no bigger treat than the return of John Barrowman to Doctor Who, for an epic and emotional feature-length episode. If anyone can blast away the sheer rubbishness of 2020, it's Captain Jack. Daleks beware!"
DOCTOR WHO HOLIDAY SPECIAL TEASER FEATURING CAPTAIN JACK HARKNESS
As Jack says in the teaser above "Ohhh, I've missed that sound!" and fans have missed Captain Jack. Hopefully, this is not the last we see of Jack and given the rumors about Tosin Cole and Bradley Walsh leaving during the holiday special this would be the perfect opportunity to have Captain Jack Harkness join the Doctor on her adventures again. Regardless of how long Captain Jack Harkness returns to Doctor Who it will be a welcome holiday treat to see him in an all new epic adventure.
There is no premiere date for the Doctor Who Holiday Special: Revolution of the Daleks yet, but obviously it will debut this holiday season. Are you excited to see John Barrowmen return as Captain Jack Harkness? Are you going to watch the Doctor Who Holiday Special? Leave your thoughts in the comments below or on our social media.
KEEP READING: THE MANDALORIAN SPIN-OFF CASTING 2 NEW SUPPORTING ROLES: EXCLUSIVE
Source: Syfy Wire