Safety is the newest sports movie based on a true story primed to join the Disney collection alongside greats like Miracle, The Rookie, and Remember The Titans. Safety is based on the true story of Ray McElrathbey a Clemson University football player who raised his younger brother, Fahmarr, while attending Clemson and playing on the football team.
In a recent press conference for Disney Plus' Safety, Corrine Foxx who plays Kaycee, talked a bit about how relationships play an important role in Safety.
"…I think that's what this movie is about. There are all these people in Ray's life that are rooting for him that aren't necessarily blood relation, but are there for him in that way. And-and Kaycee kind of acts as a big sister to even, um, Fah and Daniel and everyone else is-is kind of just all working together to-to be there for Ray."
While Safety is no doubt a sports film it's also very much a film about family, community, and brotherhood. Safety focuses on the relationship between Ray and Fahmarr, but the brotherhood of the Clemson football team and the Clemson University community are also integral relationships within the film. Safety shows a young man going from a college kid to a responsible guardian and student athlete. The story is incredible and the fact that it's based on a true story makes it even more poignant.
RELATED: GOMOTHERED REVIEW: THIS MAGICAL DISNEY SATIRE IS A STREAMING SUCCESS
Director Reginald Hudlin (Marshall) spoke about how he managed to balance the comedy and the drama within the film. Safety follows Ray as he is tasked with taking on the responsibility of raising his eleven-year-old brother, while also balancing life as a student athlete. A lot of the comedy comes from moments when Ray is hanging out with his friends at college or with his young brother, Fahmarr.
Here is what Hudlin had to say:
"Uh, well, you know, I make all kinds of movies…and what I loved about this movie, it was a little bit of everything…So that's a-that's a natural part of the-the-the story what we're telling. And I thought that those fun moments helped set up the dramatic moments and vice-a-versa, I mean, you know, that life. Life has all those different layers to it. So you know, you have fun and then the rug gets pulled out from under you and suddenly you feel the hardship, uh, because things are going so well and then they aren't."
Reginald Hudlin also recalled having test screenings with friends to watch their reactions to Safety.
"I sit in the back and I watch. And the last 15 minutes, a friend of mine just was-she was crying for 15 minutes. And I was sitting there going I drink your tears, I'm so happy that I'm actually touching you emotionally, that you care about these characters. That's when I knew that the movie worked and it really made me, uh-made me grateful."
RELATED: GOMOTHERED: ANALYZING THE CREAATION OF THE NEW DISNEY+ CHRISTMAS MOVIE
Reginald Hudlin also talked about how Ray's story shares an important message that everyone should hear.
"And he's the guy who made a way out of no way and the situation with failure was not an option. And I think, you know, that's a really important message. And I knew it was especially important for the times we're living in 'cause right now we've got a country that's really torn apart. And wh-what Ray represents, he represents integrity because he succeeded while maintaining a focus on education, a focus on excellence, which in his case was on the playing field, and most importantly, taking care of his family. And I think those are values that we all think of important, I don't care who you are or where you're from."
SAFETY TRAILER AND OFFICIAL SYNOPSIS
"Safety" is a drama inspired by the empowering story of former Clemson University football safety Ray McElrathbey (Jay Reeves), a young man facing a series of challenging circumstances, whose dedication and persistence help him to triumph over repeated adversities. Aided by his teammates and the Clemson community, he succeeds on the field while simultaneously raising and caring for his 11-year-old brother Fahmarr (Thaddeus J. Mixson).
Safety is directed by Reginald Hudlin and Produced by Mark Ciardi. Safety stars Jay Reeves as Ray McElrathbey, Thaddeus J. Mixson as Fahmarr McElrathbey, James Badge Dale as Coach Simmons, Matthew Glave as Coach Bowden, Corrine Foxx as Kaycee, and Hunter Sansone as Daniel.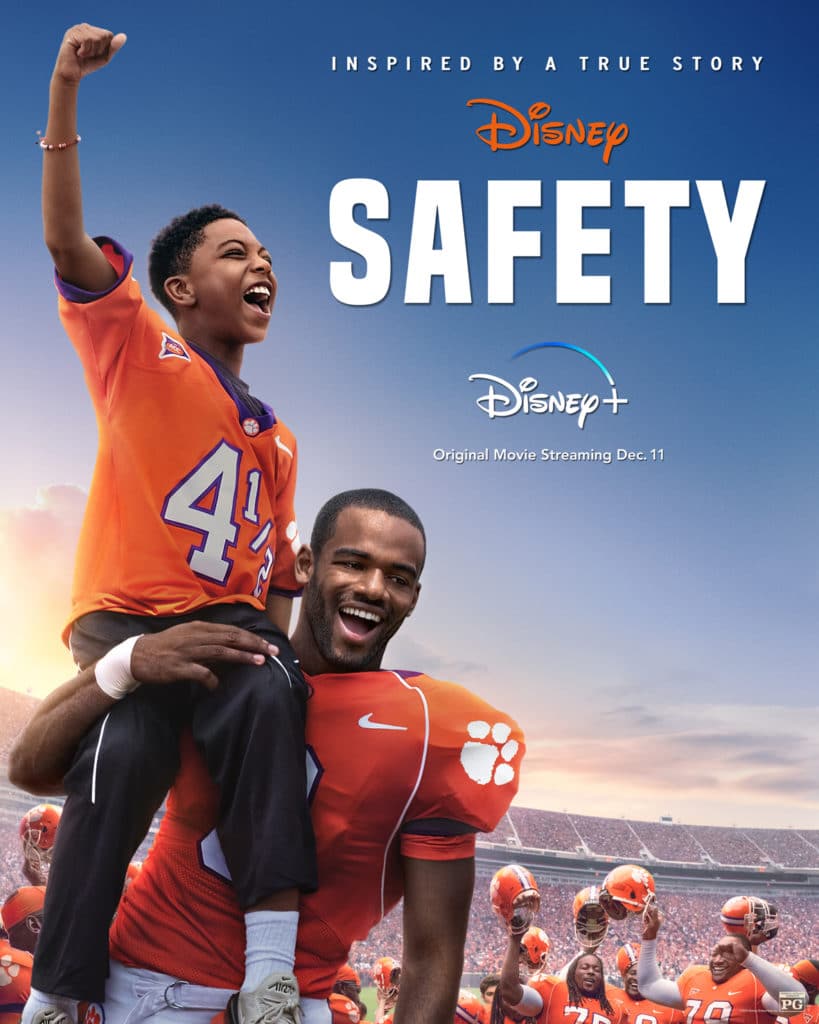 Safety will premiere on Disney Plus Friday December 11, 2020. Are you going to watch Safety? Leave your thoughts in the comments below or on our social media.